16 Best Young Dolph Quotes [RIP]
Young Dolph Quotes with images from the inspiring and sadly dead artist. Gunned down in the prime of his life.
Young Dolph was born in Chicago. He was raised in Memphis along with his two brothers and sisters. He was married to Instagram influencer Mia Jaye. They have two children.
He made his music debut in 2008 with Paper Route Campaign.
Prior to his death, he was assassinated two more times.
First, he was attacked in Charlotte in February 2017. His 300k SUV was shot more than 100 times. Young Dolph survived the assassination unharmed.
Then, he was attacked for the second time. This happened in LA, September 2017. He was shot 3 times and was rushed to the hospital in critical condition. He made a full recovery.
He was in a long-lasting feud with Yo Gotti. Some even speculated that his hit was ordered by Yo. Until our court finds who the real killer is, I wouldn`t speculate with this. Anyway, you can find Young Dolph Quotes below.
*If you are using our images on your website, make sure to put a link back to us. THX.
---
Young Dolph Quotes About Life
What I want people to take away from my music, man, is just how to take care of responsibilities, how to live life and enjoy life
---
Never downplay nobody. You could be like, 'Ay, sh*t, there ain't but seven dollars in my pocket right now.' Who cares? 'Cause guess what? An opportunity could come where you can have seven million tomorrow
---
One year from today, I'll be on another level. Having more, doing more—whole lot of everything, really. More dope music, bigger music, bigger records
---
Been workin' my whole life, but I ain't never punched the clock
---
You know, working with different artists, some people kinda get confused in trying to find their way, I stay true to myself
---
I pay her bills and buy her designer but I don't love her/She just play her part when it's time to smuggle
---
Foreigns all in the garage, remember my first menage/Yeah, Tori and Brittany, I'm shoppin' for diamonds at Tiffany's
---
Just 'cause my money keep runnin' like Forrest Gump/I got niggas hate me like I'm Donald Trump
---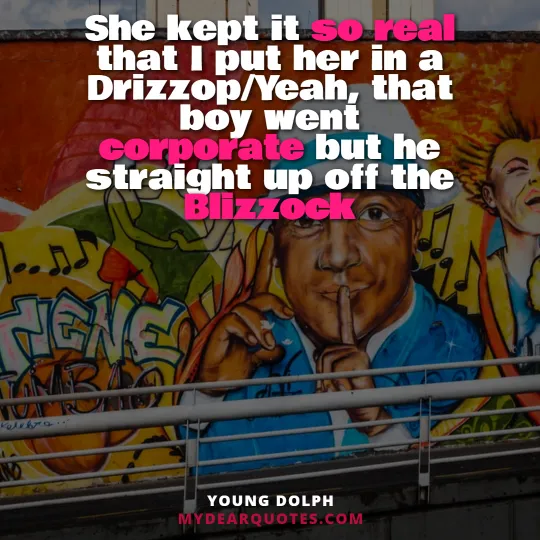 She kept it so real that I put her in a Drizzop/Yeah, that boy went corporate but he straight up off the Blizzock
---
I'm in a coupe, cost half a mill, I just redid my Chevelle/Got 2 Maybachs in both, that's just how I feel
---
I'm embracing the term "crack baby." The only other person who would be embracing that term is probably Tupac
---
Rule number one (What's that?), get the money first (Okay) Rule number two (What?), don't forget to get the money (Ayy)
---
More from this topic
LYRICS AND QUOTES FROM CHIEF KEEF
REGGAE AFFIRMATIONS FROM BOB MARLEY
---
I'm just tripping, I'm just having fun with that shit. It makes sense to take the money labels are offering, I'm pretty sure anybody would jump on it, but it ain't what I want
---
Master P is the reason why the rap game lives in the South right now. I grew up listening to P, C Murder, all of them
---
It's always love in San Francisco. It's all good
---
It is generally agreed that "Hello" is an appropriate greeting because if you entered a room and said "Goodbye," it could confuse a lot of people
---
Share the images on social media to show your support. That was all from our Young Dolph Quotes section. Peace Yalllll…
---