Shareable Nba YOUNGBOY Captions For INSTAGRAM
Our collection of 40+ Nba Youngboy Captions has it all. Love, Sadness, Struggle… We have it all. And they are all shareable. We hope you'll like it.
NBA YoungBoy is an American rapper who first found himself in 2016 as one of the promising stars of the current generation. Very talented, Youngboy started rapping and recording at the beginning of his life.
Inspired by a local artist, he released his debut in 2015, at 16 years old. He soon followed with the release of the trilogy 'Mind of a Menace'.
Just when everything seemed to be completely in sync, fate dealt a major blow to his life when he was arrested on suspicion of attempted first-degree murder and his career plummeted.
Despite these setbacks, YoungBoy didn't stoped his music career and instead got deeply involved in it. Uncertainty about the future of his turbulent career was overcome by the release of his bestsellers in prison.
"Win or Lose" was an important hit and woke him up overnight. Some of his later hits are "Untouchables," "No Smoking," and "Outside Today," each of which he drew in various positions on the Billboard Hot 100.
You can find shareable captions below.
*If you are using our images on your website, make sure to put a link back to us. THX.
---
Nba Youngboy Captions
If they don't appreciate you, they don't deserve you
---
Better stop showing more that people showing you
---
Without loyalty, you won't accomplish anything
---
We all lost a good bond and over some wack sh*t
---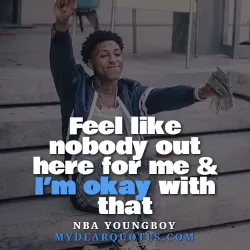 Feel like nobody out here for me & I'm okay with that
---
I don't really talk that much. I just watch and observe
---
I'm leaving and never coming back
---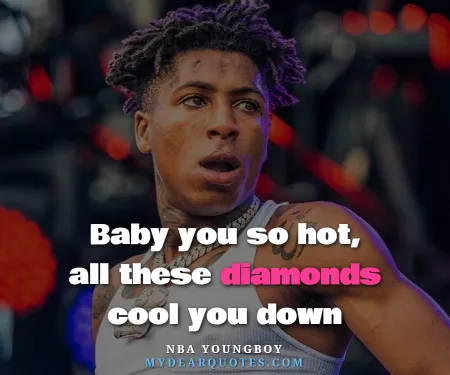 Baby you so hot, all these diamonds cool you down
---
In that cell realized I ain't got no friends
---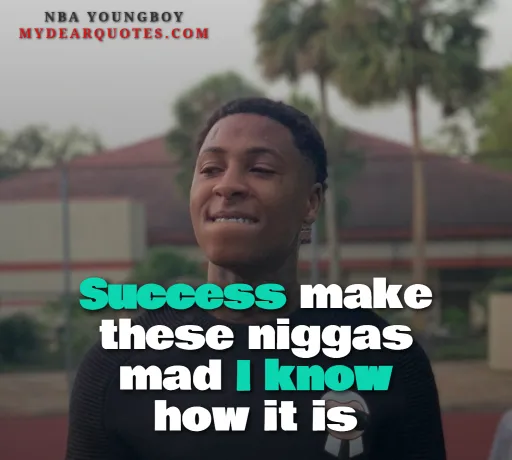 Success make these niggas mad I know how it is
---
Nba Youngboy Rap Quotes
Time is money I ain't wasting time. I'm feelin' like Kobe I'm in my prime
---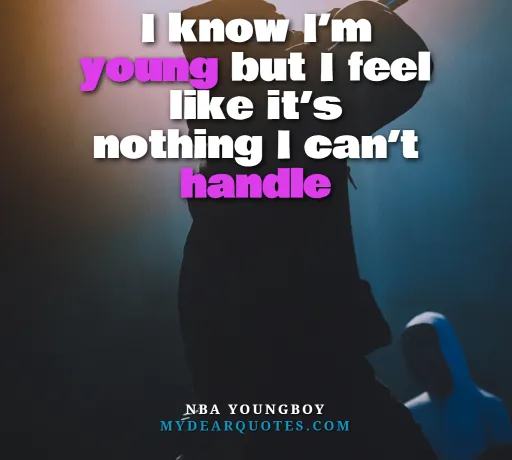 I know I'm young but I feel like it's nothing I can't handle
---
Ain't no pretending, we live like this no acting
---
I got a lot of money, but when you wealthy, that mean that your children is ballin', your grandchildren is ballin
---
So much love so much passion it won't ever end. I can see these haters faces, yeah I got 'em mad
---
Unless you are me, in my position, don't ever tell me how to feel
---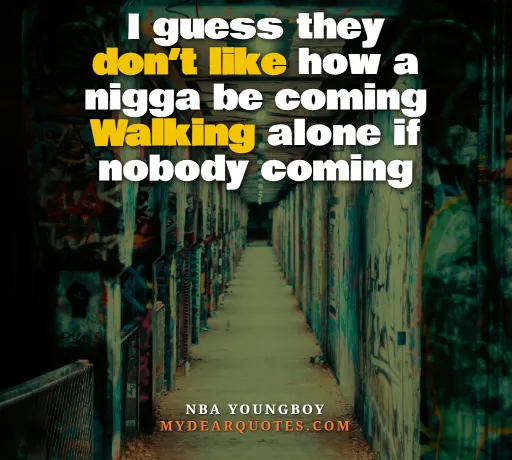 I guess they don't like how a nigga be coming Walking alone if nobody coming
---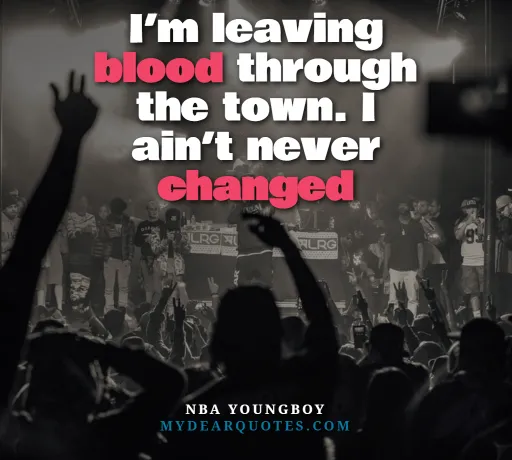 I'm leaving blood through the town. I ain't never changed
---
Love yourself and never let the hate get to you
---
More Gangsta Captions And Sayings
---
Youngboy Quotes About Life
Hold it down for your loved one's up in heaven and they will do the same
---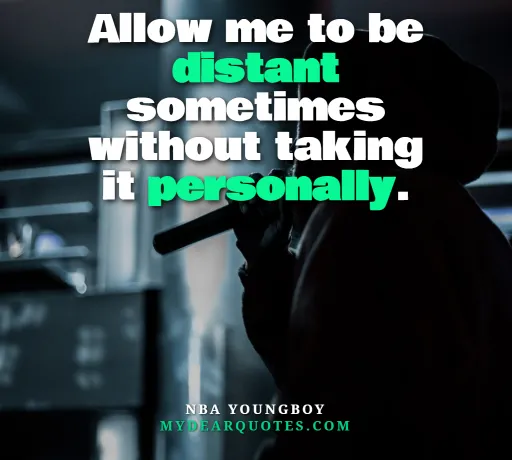 Allow me to be distant sometimes without taking it personally
---
I know when people are with me or not. It's an instinct
---
In this jail I call life, I don't need bail at this time. You all call it a crisis. I don't see failure
---
I don't like being worth it to the point that you have to pretend with me
---
You can get to know me through my music
---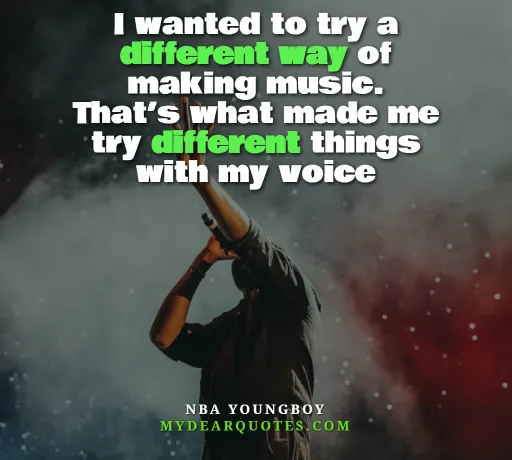 I wanted to try a different way of making music. That's what made me try different things with my voice
---
I'm just trying to be myself – make music how I make music
---
I have all bad days. I think I need help. I got an anger problem
---
At night I need someone on side me just to hold me …I'm tired of thuggin', now I'm tryna see where the love at
---
Great Captions From Nba Youngboy
I know we got one thing in common: we both want the dough
---
You gotta pay the cost to be the boss. Always been my dream for me to make it to the top
---
I really just rap about how I be feeling, the stuff I be speaking about I done went through or I'm going to do
---
Gotta keep my head above water, gotta make it through
---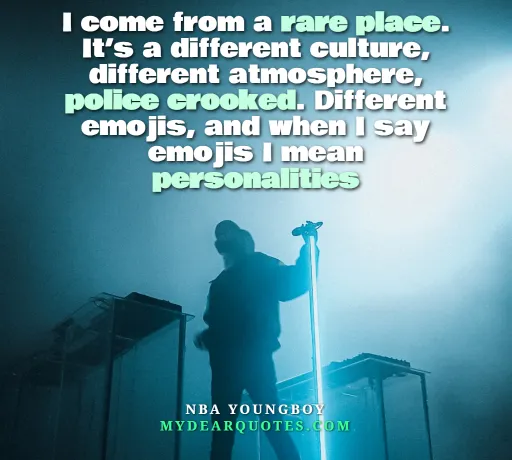 I come from a rare place. It's a different culture, different atmosphere, police crooked. Different emojis, and when I say emojis I mean personalities
---
In the Maybach alone, I don't need nobody
---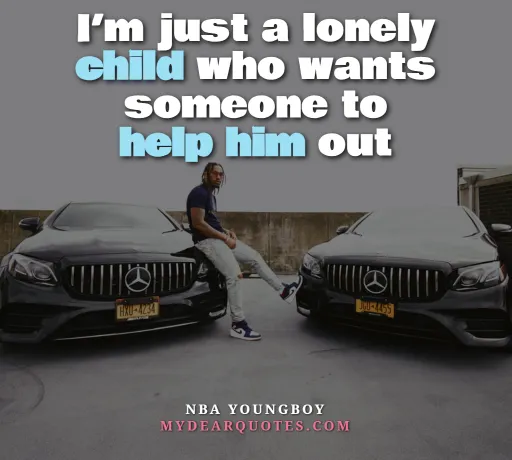 I'm just a lonely child who wants someone to help him out
---
You probably can overcome what you're going through from listening to my music
---
I just keep recording. You never know what you'll come up with
---
Look what I accomplished, I know you see me shining. I know you in the sky you looking down here watching
---
Share the images if you liked our Nba Youngboy Captions. Thank you.
---