Great Retirement Message To Coworker
Inspiring Retirement Message To Coworker To Show Your Gratitude Towards Your Long-Time Colleague And Friend. Congratulating A Retiree Is The Perfect Way To Send Him/Her On A Long-Awaited And Hard-Earned Vacation.
We Have A Collection Of Quotes And Sayings That Will Inspire You To Make The Best Good Buy Message In The Office. All Of The Images Are Shareable. Use Them For Social Sharing. Also, You Can Download Or Send Them Via Messenger.
*If you are using our images on your website, make sure to put a link back to us. THX.
---
Retirement Wishes For Coworker
For the person who gave their best, cheers to your retirement! May you have the best and most fulfilling one
---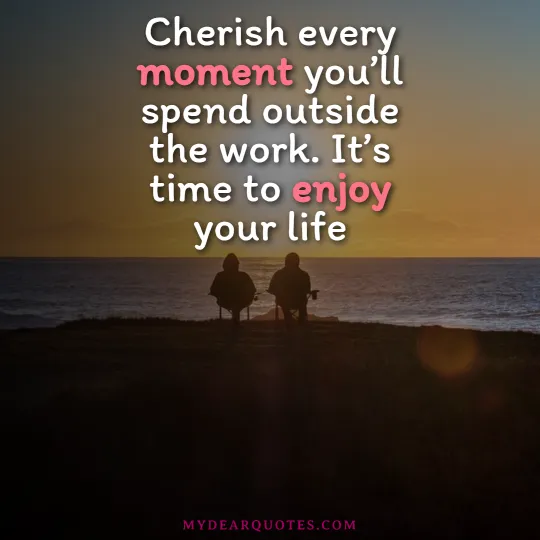 Cherish every moment you'll spend outside the work. It's time to enjoy your life
---
Congratulations, now the fun begins. Best wishes on your new chapter in life. You have earned it
---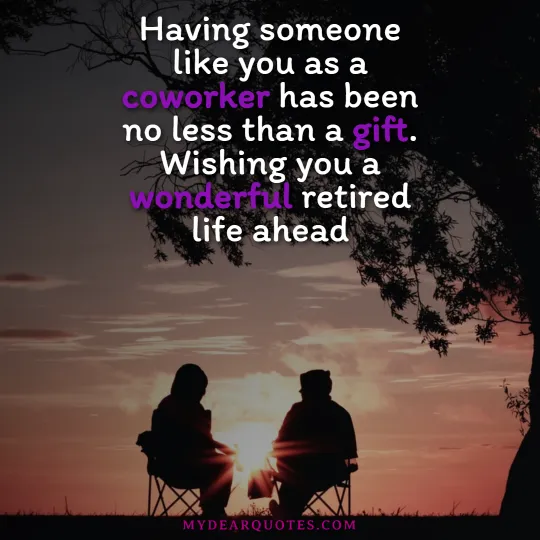 Having someone like you as a coworker has been no less than a gift. Wishing you a wonderful retired life ahead
---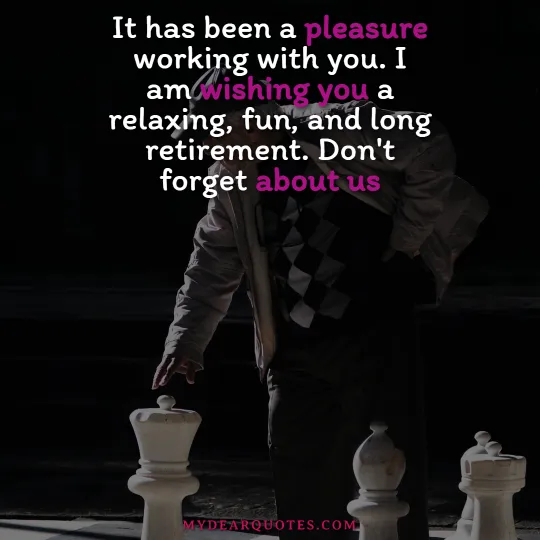 It has been a pleasure working with you. I am wishing you a relaxing, fun, and long retirement. Don't forget about us
---
Congratulations! You've had a brilliant career, and now it's time for a fantastic retirement – enjoy
---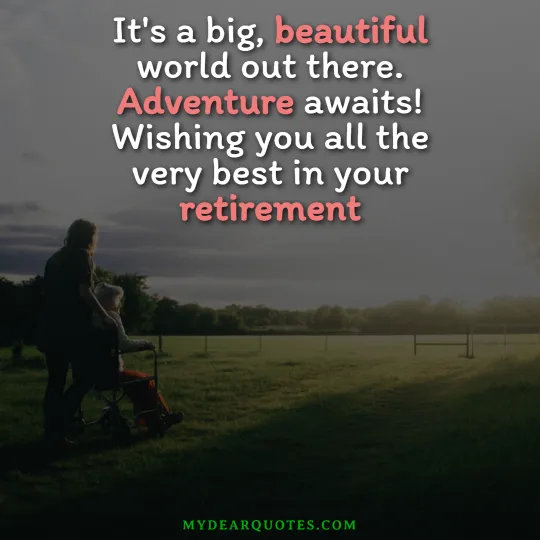 It's a big, beautiful world out there. Adventure awaits! Wishing you all the very best in your retirement
---
Congratulations on your long-awaited retirement – we're so happy for you. Enjoy spending more time with your beautiful grandkids
---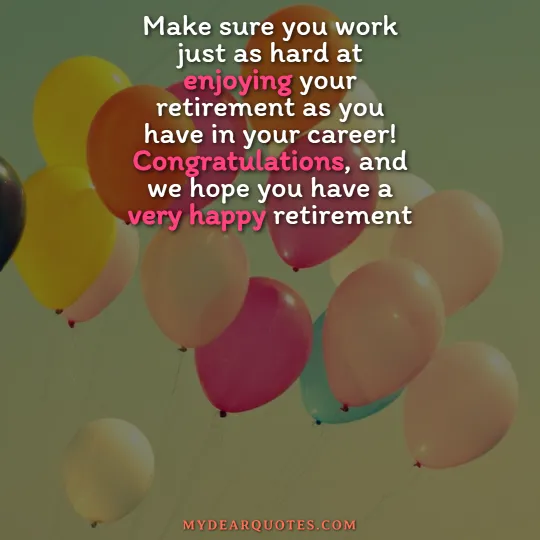 Make sure you work just as hard at enjoying your retirement as you have in your career! Congratulations, and we hope you have a very happy retirement
---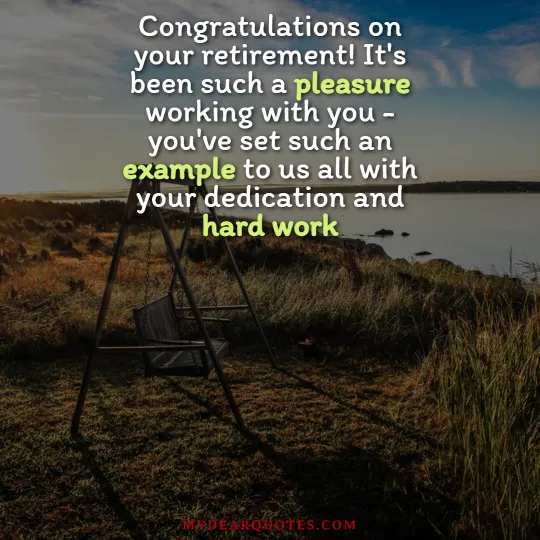 Congratulations on your retirement! It's been such a pleasure working with you – you've set such an example to us all with your dedication and hard work
---
Happy Retirement Messages For Coworker
You got your life back! Enjoy every minute of your retirement
---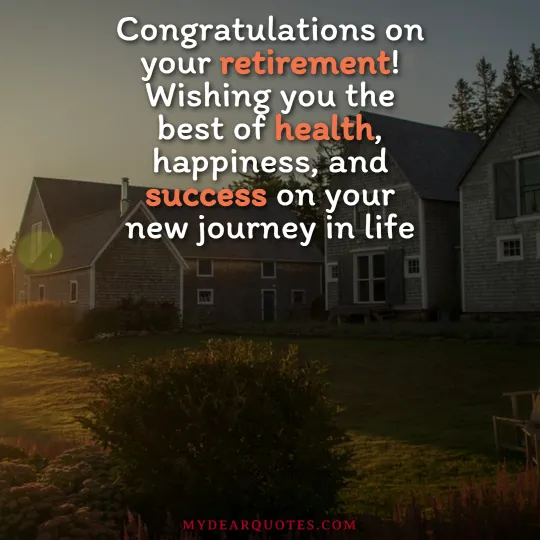 Congratulations on your retirement! Wishing you the best of health, happiness, and success on your new journey in life
---
You've been promoted to the retirement stage of your life. Have a blast and thanks for everything
---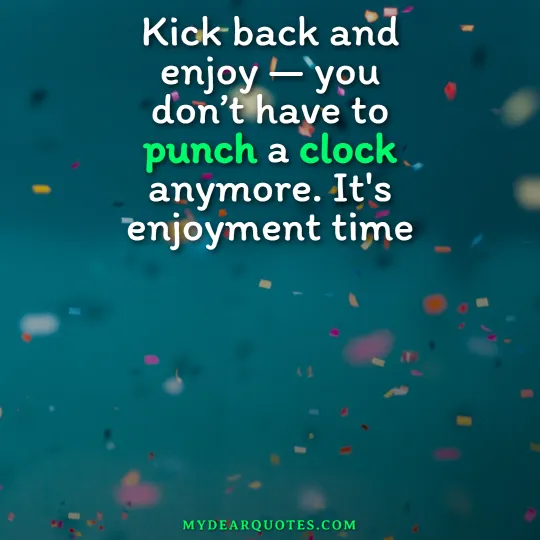 Kick back and enjoy — you don't have to punch a clock anymore. It's enjoyment time
---
We will miss seeing you every day here in the office, but we know how hard you've worked for this
---
You are the kind of person that brings the best in others! Thank you for everything you did. Wishing you a life full of success and happiness
---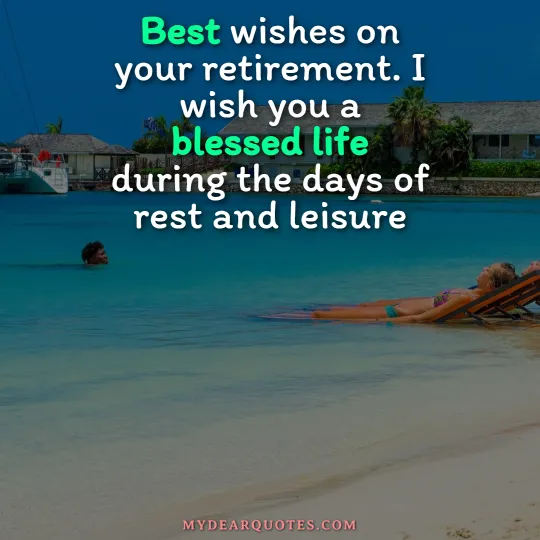 Best wishes on your retirement. I wish you a blessed life during the days of rest and leisure
---
I feel lucky to have had the opportunity to work with you before you retired. I bid you a farewell. Have a pleasant retirement
---
You are the best coworker I have ever had. You will be missed, but you will never be forgotten. Good luck with your retirement
---
It's finally time for you to retire. I wish you a happy and healthy life in the future. Congratulations and farewell
---
Need More Messages And Texts?
HAPPY BIRTHDAY SISTER IMAGES FUNNY
THANK YOU MESSAGES FOR APPRECIATION
EMOTIONAL BIRTHDAY WISHES FOR DAUGHTER [WITH IMAGES]
---
Coworker Farewell Wishes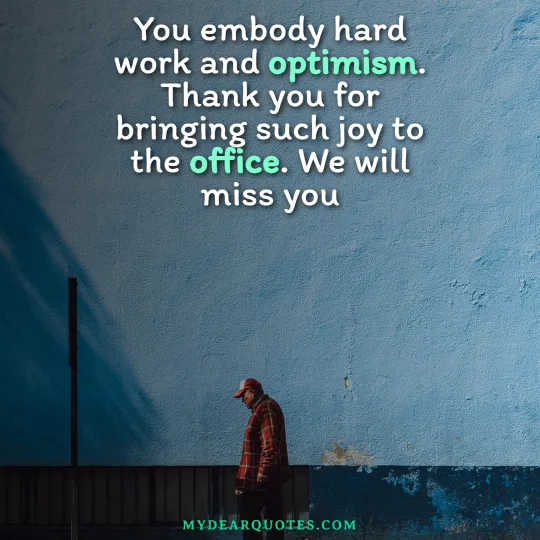 You embody hard work and optimism. Thank you for bringing such joy to the office. We will miss you
---
Congrats, you're now your own boss
---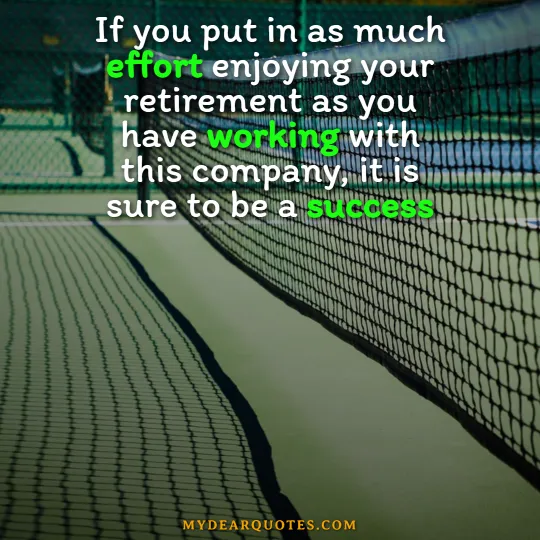 If you put in as much effort enjoying your retirement as you have working with this company, it is sure to be a success
---
Welcome to the next stage of your life, where every day is weekend
---
I'm so happy to see you retire with so many wonderful years left to be enjoyed
---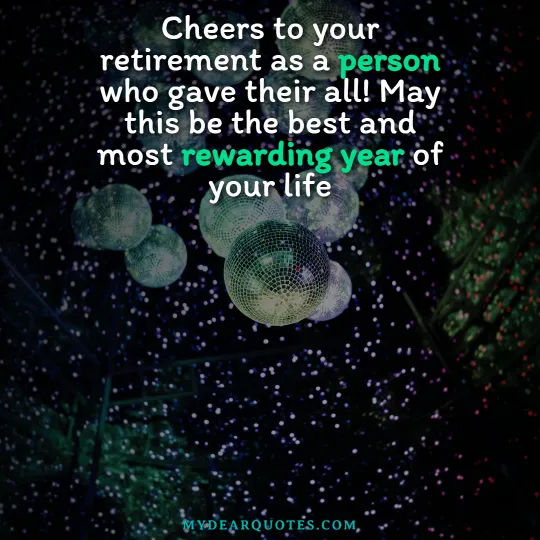 Cheers to your retirement as a person who gave their all! May this be the best and most rewarding year of your life
---
You're a true professional who's shown by example that excellence is something to aim for daily. You inspire everyone around you to be more, and I know that will only continue in your retirement
---
After everything you've done for us, it's only fair for you to give your efforts to others in the world! Best wishes for your new endeavors
---
Whatever comes next for you, may it bring you the same joy and fulfillment as you brought us
---
We hope you enjoy your future with lots of time to enjoy your hobbies, friends and family as much as we've enjoyed having you
---
Funny Retirement Farewell Message To Coworkers
While we're meeting deadlines, you'll be meeting friends on the golf course. We only hate you a little
---
We're still totally shocked you didn't get fired first. Haha. Enjoy your retirement
---
Now you've finally earned that senior discount, you slacker
---
You've been working on it for years, and now you've earned a new title: Grumpy Old Man
---
No more pretending to be mature! Now you can spend all your time acting like the 12-year-old you are at heart
---
For someone who looks forward to lay around all day, retirement must be thrilling. Enjoy, Pops
---
It doesn't matter whether you behave like a grumpy retiree or not, because people are going to assume that anyways. Good luck
---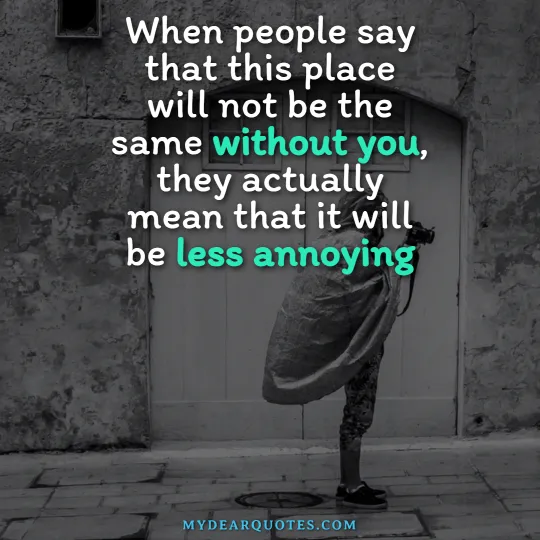 When people say that this place will not be the same without you, they actually mean that it will be less annoying
---
If this workplace were a hell, which it is, you'd be one of the greatest devils of it, and you'll be missed
---
Ah retirement, the days of daydreaming and sleeping till noon, all the things you're good at
---
Creative Retirement Messages
It's time to follow dreams long set aside and enjoy the rewards of work done well. Wishing you the best
---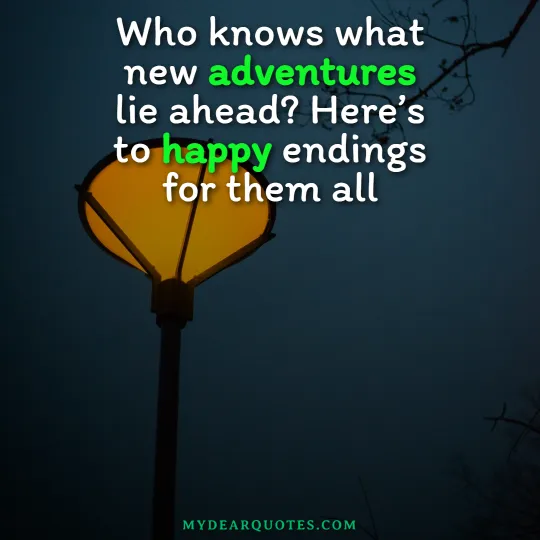 Who knows what new adventures lie ahead? Here's to happy endings for them all
---
You're such a gifted, creative person, your retirement won't be dull for a minute! Congratulations
---
Sincere Congratulations! Your success has been fueled by your intelligence and energy, and you've earned our greatest respect
---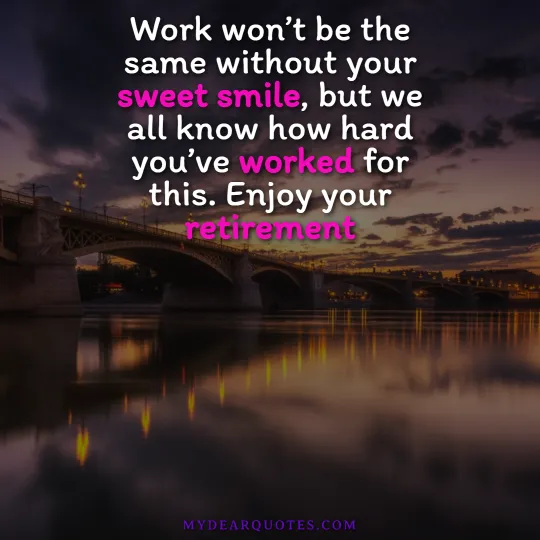 Work won't be the same without your sweet smile, but we all know how hard you've worked for this. Enjoy your retirement
---
Congratulations on a job well done. I am so proud of all your accomplishments. You've been an inspiration personally and professionally
---
Congratulations on your retirement. It's high time you focused on yourself for a change
---
We wish you nothing but good health and joyous days in your retirement. Have a wonderful life and pray that we can carry out your ideals
---
You were more than a coworker to me. You were like a mentor and the best colleague ever. Though it's painful, wishing you a life full of happiness after retirement
---
Life after retirement is like the second innings of life. Reward yourself with a great and joyous vacation that you always craved. Happy retirement
---
More Goodbye Office Sayings
Congratulations on a standout career and best wishes for your retirement
---
Wishing you good times, good health, and good friends beside you in your retirement
---
Remember 8:00 a.m. meetings and year-end reports? Well, now's your chance to stop remembering them. In fact, forget all about 'em
---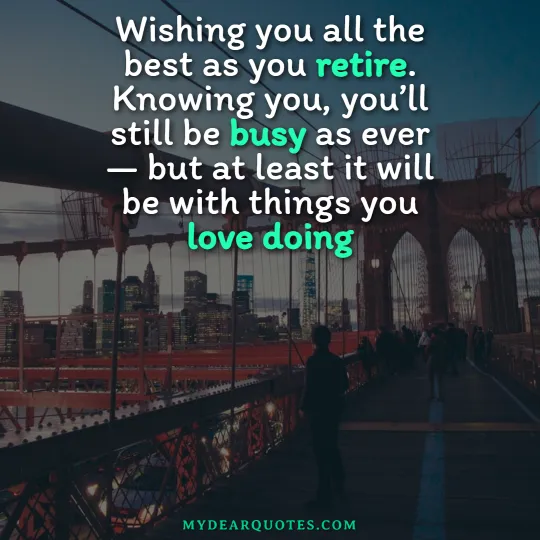 Wishing you all the best as you retire. Knowing you, you'll still be busy as ever—but at least it will be with things you love doing
---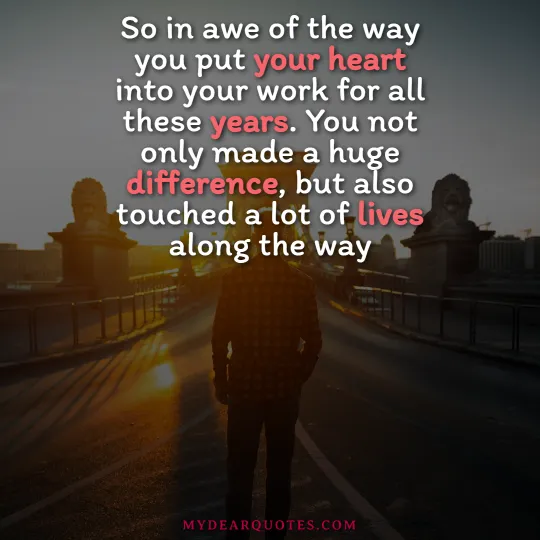 So in awe of the way you put your heart into your work for all these years. You not only made a huge difference, but also touched a lot of lives along the way
---
Retirement is the world's longest coffee break. Enjoy your coffee
---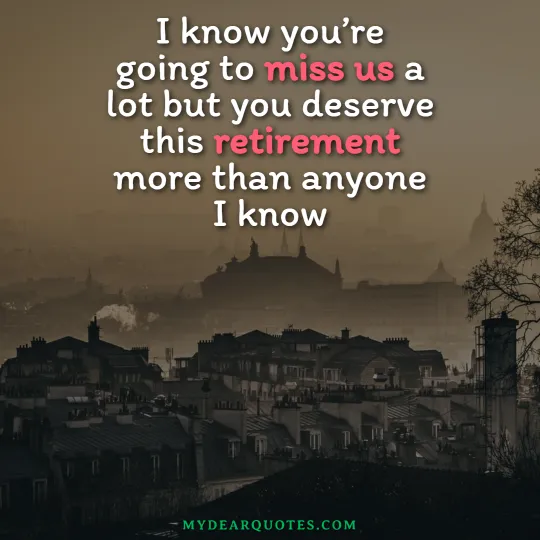 I know you're going to miss us a lot but you deserve this retirement more than anyone I know
---
All of your years of service and hard work have paid off. Congrats on retiring and enjoy your new-found freedom
---
Enjoy the government money, you've contributed enough. Now kick back and relax
---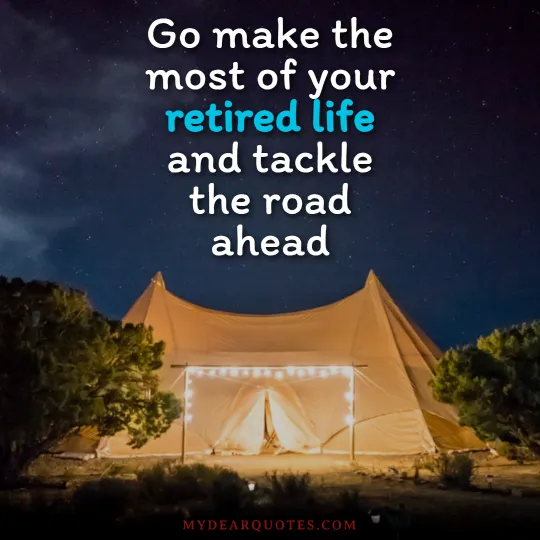 Go make the most of your retired life and tackle the road ahead
---