20+ Funny Hood Quotes
Funny Hood Quotes From Some Of The Most Famous Rappers And Gangstas Like Lil Jon, Snoop Dog And More… All Of The Quotes Comes With Awesome Images, So Don't Forget To Spread The Word Od Social Media.
*If you are using our images on your website, make sure to put a link back to us. THX.
Funny Hood Sayings
---
Ghetto word of the day: Bishop. My girlfriend fell down, so i picked that bishop
---
If fake was a crime, a lot of people would stay locked up
---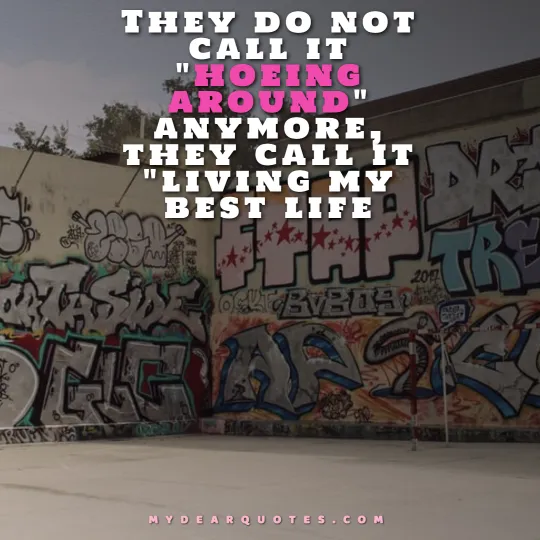 They do not call it "hoeing around" anymore, they call it "living my best life"
---
Sometimes the things in our head are far worse than anything they could put in books or on film
---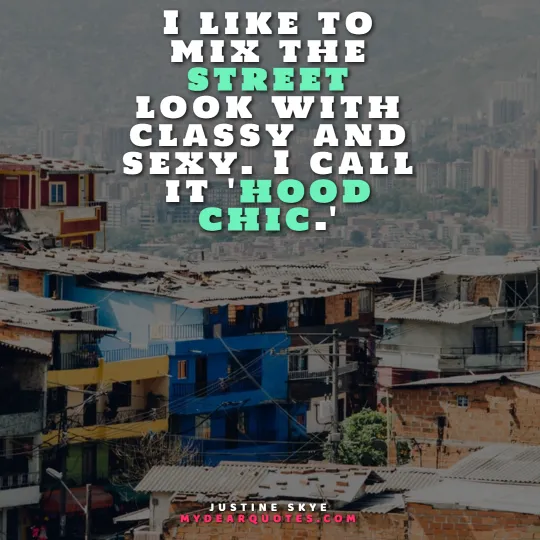 I like to mix the street look with classy and sexy. I call it 'hood chic.' | Justine Skye
---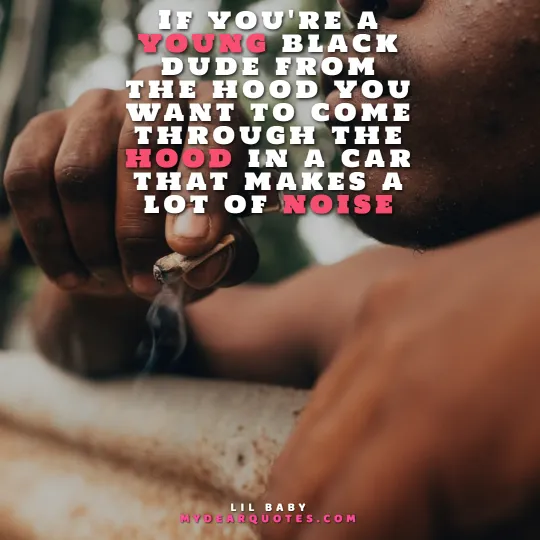 If you're a young black dude from the hood you want to come through the hood in a car that makes a lot of noise | Lil Baby
---
I won't forget the hood. I won't forget the days of catching a bullet on the way to the mailbox | Lil Jon
---
Funny Hood Quotes
---
What people don't understand is joining a gang ain't bad, it's cool, it's fine. We're not just killing people every night, we're just hanging out | Snoop Dogg
---
We are all insects crawling across on the shiny hood of a Cadillac | Tom Waits
---
Cause ni…s is broke aint no bread in the hood. Look what they did they sellin Feds in the hood | Maino
---
Welcome to my hood, Look at all these old school Chevys, 24s so you know we roll heavy | T-Pain
---
Hood ni… livin' like I'm Bruce Wayne. New Ferrari kickin' like it's Liu Kang | Ace Hood
---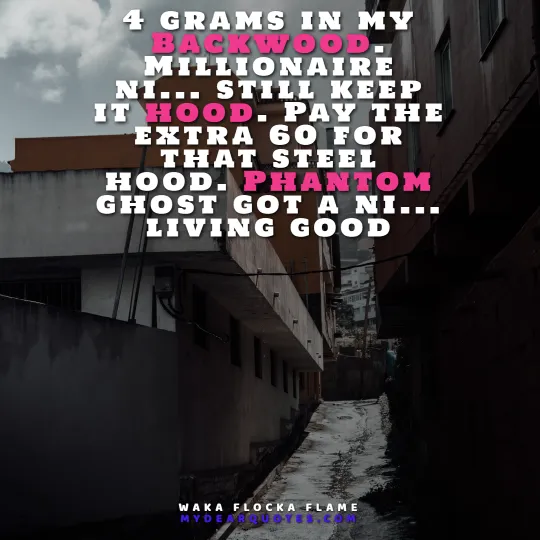 4 grams in my Backwood. Millionaire ni… still keep it hood. Pay the extra 60 for that steel hood. Phantom ghost got a ni… living good | Waka Flocka Flame
---
We Have More Phrases And Quotes
GETTING RID OF TOXIC PEOPLE QUOTES
More Gangsta Sayings
---
how them girls blow up but dont come to the hood. How they turn they nose up like they dont come from the hood | Nicki Minaj
---
Being sneaky will get you killed in the hood | Nelly
---
Come on now. How could you be me and want to be someone else? | Kanye West
---
If he only wants you for your legs, breasts and thighs, send him to KFC | Drake
---
Remember before emojis? You would just text something and people would be like, "Were you angry? Were you happy?" | Childish Gambino
---
And the winner is… Justin Biener. Just kidding, it's Tokio Hotel | Dizzie Rascal
---
Let Prince Charles know he needs to join MMG | Rick Ross
---