Chief Keef Quotes [TOUGH LIFE IMAGES]
Really cool Chief Keef Quotes Complemented With Bad Ass Images. This Gangsta Rapper Has Some Pretty Cool Messages For You People.
Keith Cozart, better known as Chief Keef, is an American rapper, record producer, and mixtape artist. Keef gained fame among local high school students when he was still a teenager. He was an aggressive guy and always called for problems with other children and the law.
However, the musical talent he possessed helped him become a hot commodity among the record labels, who signed him while he was still a teenager. Keef first signed a contract with Interscope Records, and soon after switched to 1017 Brick Squad.
Keef later started his own record label called Glory Boyz Entertainment, and the name was later changed to Glo Gang. In late 2012, Keef released his first album titled 'Finally Rich' and achieved instant success with singles like 'I Don't Love' and 'Love Sosa'.
Although he became successful, he continued to mess with the law. Through his publishing house Glo Gang, Keef released his mixes and continued to make money. His legal problems have constantly hurt his career and he says it definitely takes a toll on his music career.
Although Keef wanted 'Bang 3' to be his second album, in 2014 he released another one called 'Nobody'.
*If you are using our images on your website, make sure to put a link back to us. THX.
---
Chief Keef Quotes With Bad-Ass Images
There ain't gonna be nothing the same. I'm gonna try to go another way. I like to keep going different ways and keep it the same
---
I come up on the scene, and I'm stealing light. B**** I'm high off life, got me feeling right
---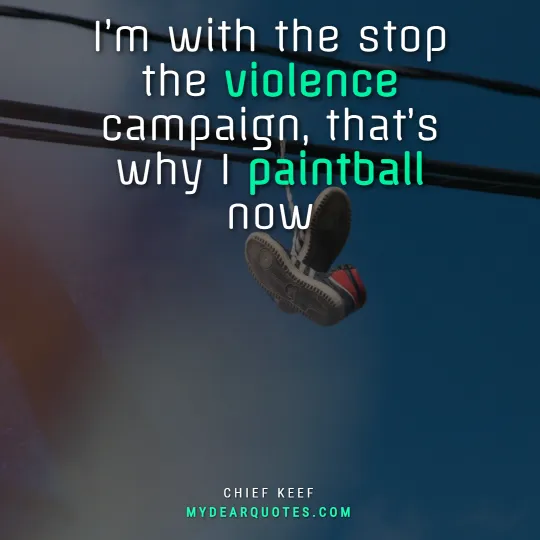 I'm with the stop the violence campaign, that's why I paintball now
---
They don't want to see a young black man be successful and try to do something good. It's crazy
---
I been ballin' so damn hard I swear I think that I'm Kobe
---
I firmly believe the world will sort itself out in the end. Believe it with me. At least none of us will be around to be proven wrong
---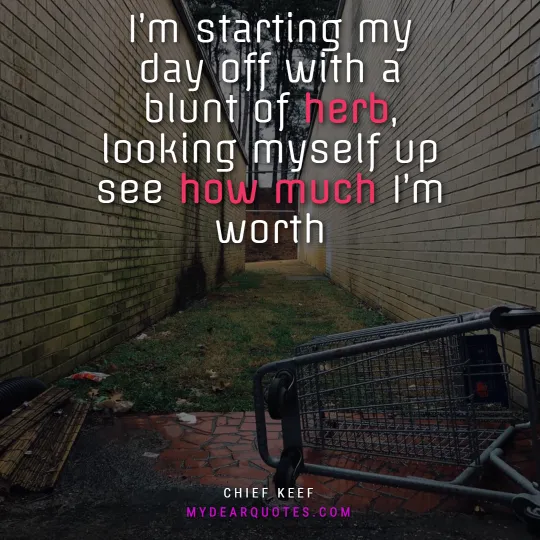 I'm starting my day off with a blunt of herb, looking myself up see how much I'm worth
---
I'm glad to be someone that people listen to and look up to. I'm glad that I can help change the situations and the scenery in Chicago
---
My gun screaming 'what now?' You want that tough shit? Our guns act tough now
---
Tec chop like lawn mowers Feds listening, shit, short convo. Hit a nigga with a combo. What I'mma fight for?
---
More Rap Quotes
40+ DEEPEST RAP QUOTES WITH IMAGES
SHAREABLE NBA YOUNGBOY CAPTIONS FOR INSTAGRAM
---
Lyrics And Quotes From Chief Keef
We are all in the gutter, but some of us are looking at the stars
---
She like Sosa, I'm a big fan. Bitch, I'm leaning like a kickstand
---
This nigga looking at me like he want some. Pistol to his face if he owe some. My boys they keep them tools make em blow some
---
She say she like my car, forgis ride. Seen me with tha stars now she wanna know me now. Unh-unh cause I told her now I'm actin' phony now
---
I'm cooling wit my youngins and what we smoke one hunna. But ni… I'm three hunna. Click clack, pow, now he running
---
I know my cousin would want me to be a better person and do better. When that happened it was like he jumped in me… that was the biggest lesson
---
I got away from all the unnecessary trouble, drama, problems. I came out here to where it's better life-wise, living
---
300 savage with Lamron, Its closed casket O-Block we blitz n*ggas, Like , John Madden
---
Damn I hate being sober, I'm a smoker Fredo a drinker, Tadoe off molly water We can't spell sober
---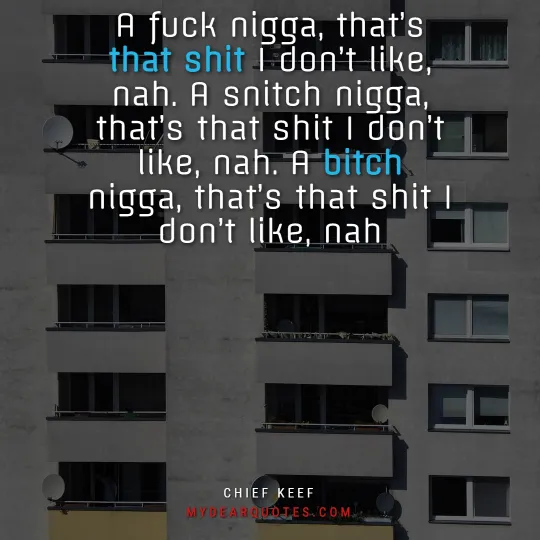 A fuck nigga, that's that shit I don't like, nah. A snitch nigga, that's that shit I don't like, nah. A bitch nigga, that's that shit I don't like, nah
---
Share the images on social media if you liked our Chief Keef Quotes.
---