Mark Twain Quotes
Mark Twain Quotes from one of the greatest American minds. All quotes have beautiful pictures above. We hope you will enjoy our selection.
Mark Twain Quotes bellow
---
If you tell the truth, you don't have to remember anything
---
The man who does not read has no advantage over the man who cannot read
---
Never put off till tomorrow what may be done day after tomorrow just as well
---
Keep away from people who try to belittle your ambitions. Small people always do that, but the really great make you feel that you, too, can become great
---
Substitute 'damn' every time you're inclined to write 'very;' your editor will delete it and the writing will be just as it should be
---
Don't go around saying the world owes you a living. The world owes you nothing. It was here first
---
Kindness is a language which the deaf can hear and the blind can see
---
Of all the animals, man is the only one that is cruel. He is the only one that inflicts pain for the pleasure of doing it
---
The gentle reader will never, never know what a consummate ass he can become until he goes abroad
---
One must travel, to learn. Every day, now, old Scriptural phrases that never possessed any significance for me before, take to themselves a meaning
---
More Great Quotes. Keep Scrolling
---
Continuous improvement is better than delayed perfection
---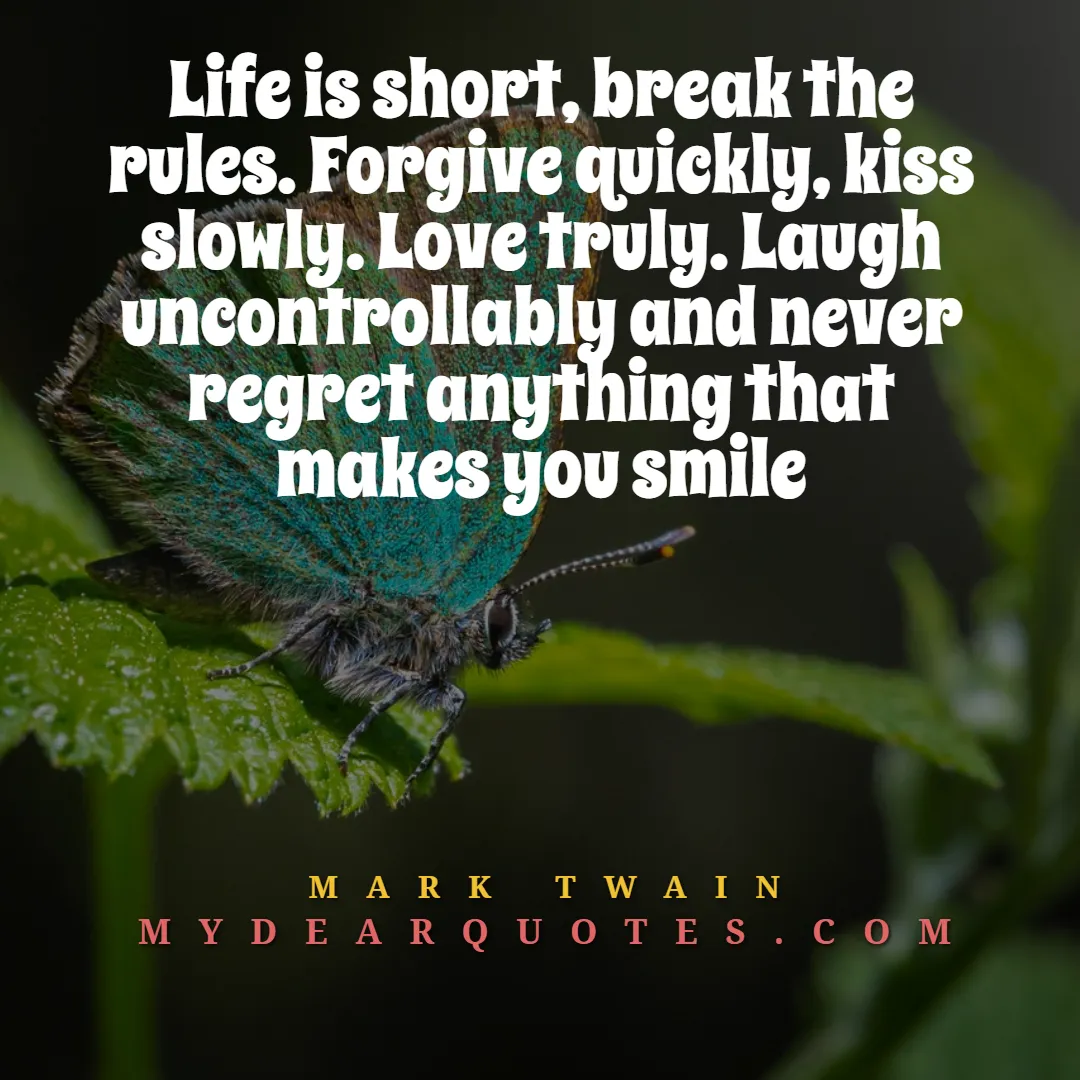 Life is short, break the rules. Forgive quickly, kiss slowly. Love truly. Laugh uncontrollably and never regret anything that makes you smile
---
Give every day the chance to become the most beautiful of your life
---
I can teach anybody how to get what they want out of life. The problem is that I can't find anybody who can tell me what they want
---
Courage is resistance to fear, mastery of fear, not absence of fear
---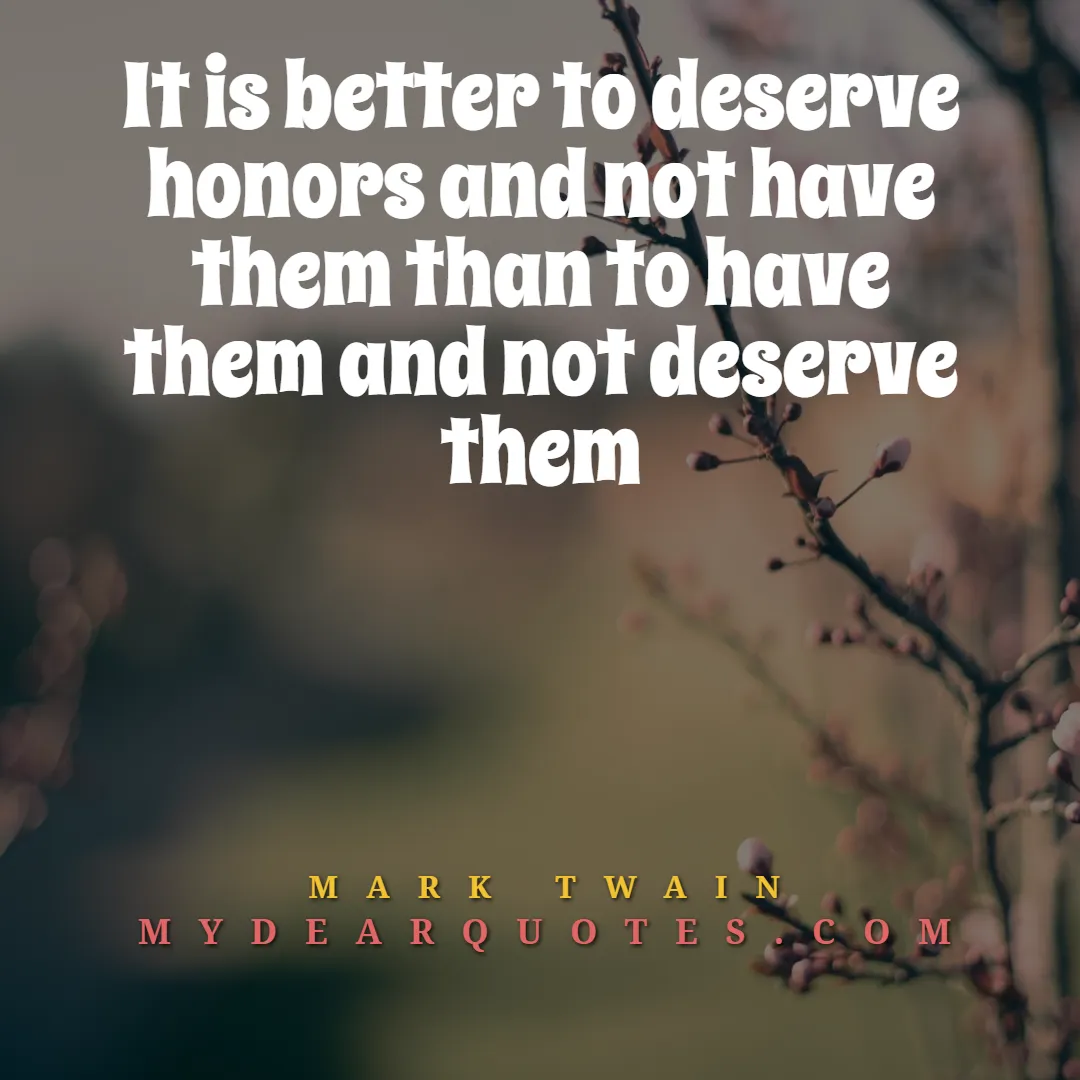 It is better to deserve honors and not have them than to have them and not deserve them
---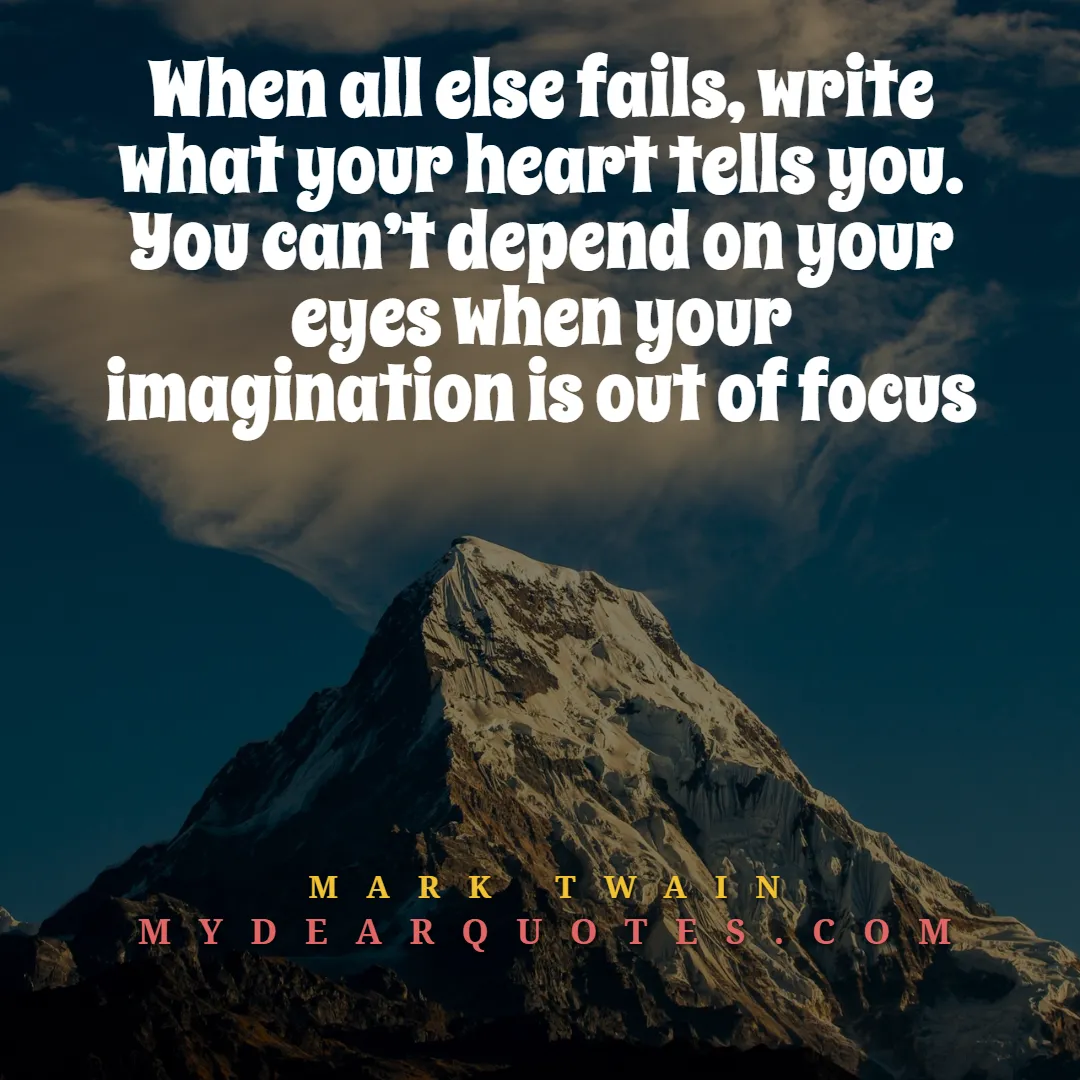 When all else fails, write what your heart tells you. You can't depend on your eyes when your imagination is out of focus
---
A good marriage is the union of the two good forgiveness
---
Patriotism is supporting your country all the time and your government when it deserve it
---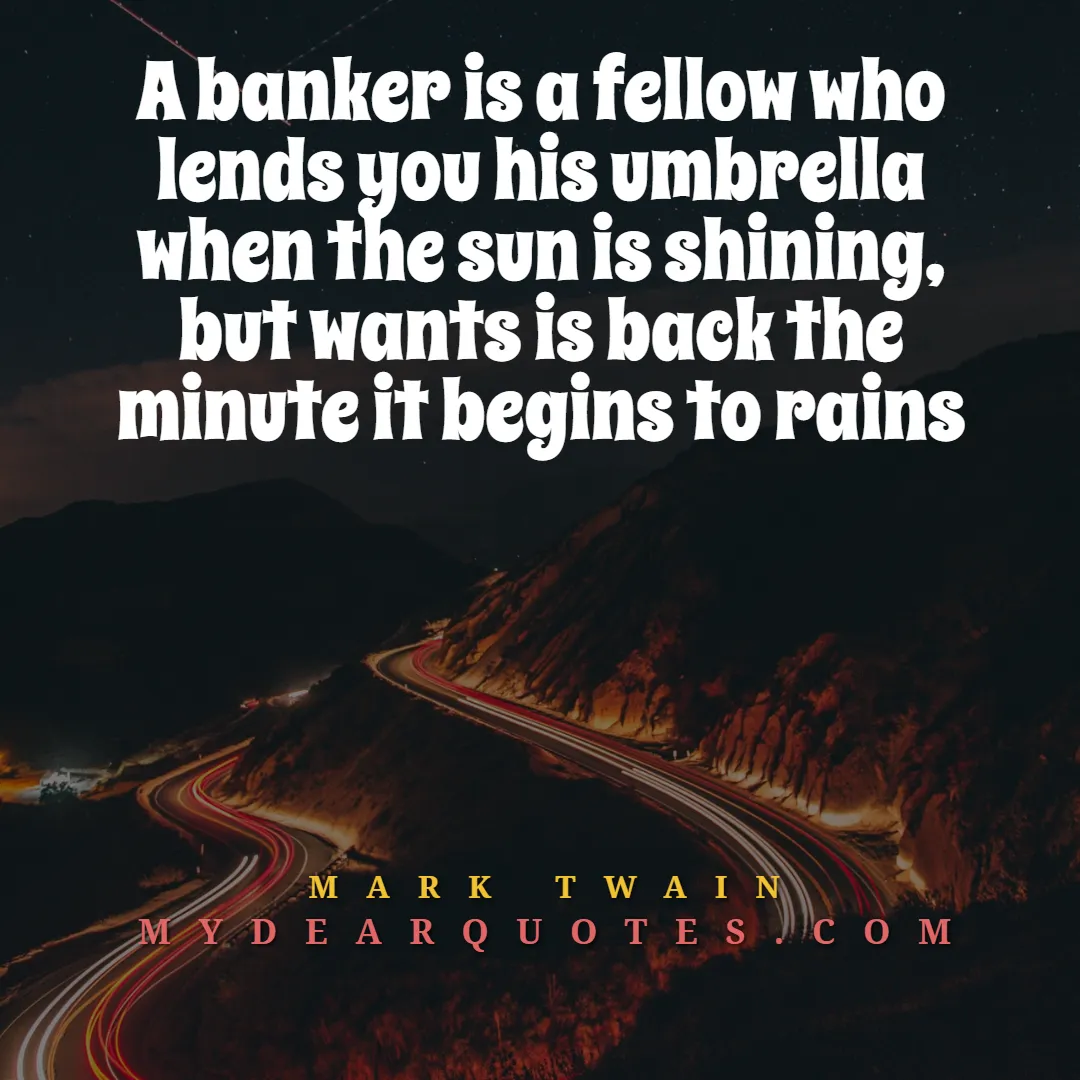 A banker is a fellow who lends you his umbrella when the sun is shining, but wants is back the minute it begins to rains
---
Check Other Stuff From Our Website:
---
When a man loves cats, I am his friend and comrade without further introduction
---
More Quotes Bellow
---
Do something every day that you don't want to do; this is the golden rule for acquiring the habit of doing your duty without pain
---
Don't wait. The time will never be just right
---
When you find yourself on the side oft he majority, you should pause and reflect
---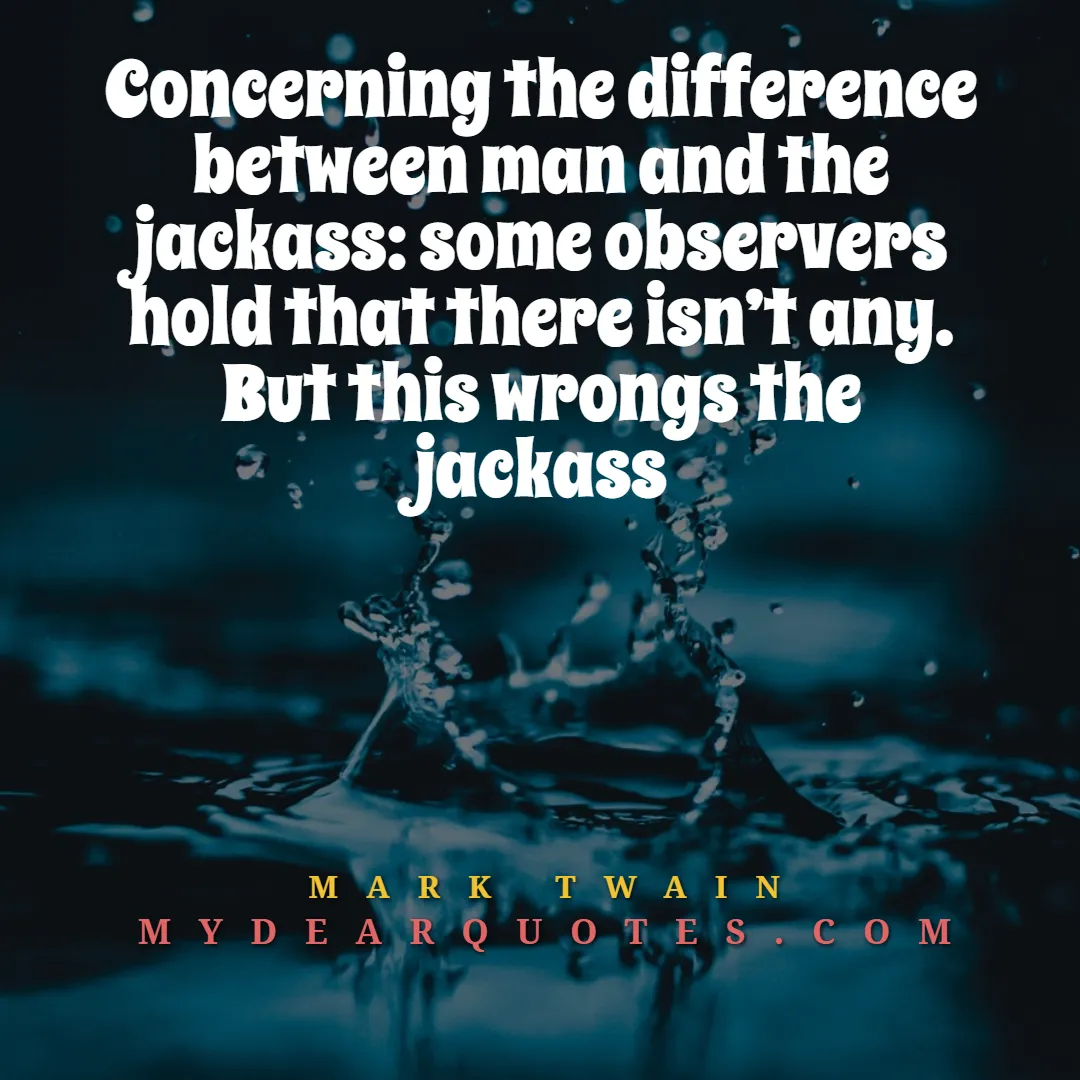 Concerning the difference between man and the jackass: some observers hold that there isn't any. But this wrongs the jackass
---
It is so unsatisfactory to read a noble passage and have no one you love at hand to share the happiness with you
---
You ought never to "sass" old people—unless they "sass" you first
---
That desire which is in us all to better other people's condition by having them think as we think
---
Whenever you find yourself on the side of the majority, it is time to reform (or pause and reflect)
---
Our Civil War was a blot on our history, but not as great a blot as the buying and selling of Negro souls
---
We hope you liked our post about Mark Twain Quotes. Please Share the word on social media. Thank you.
---
---