Greta Thunberg Quotes
Greta Thunberg Quotes from the beloved environmental activist. All of the quotes come with beautiful pictures, created especially for you. Feel free to look around.
Greta Thunberg Quotes
---
I don't want you to listen to me, I want you to listen to the science
---
You must take action. You must do the impossible. Because giving up is never an option
---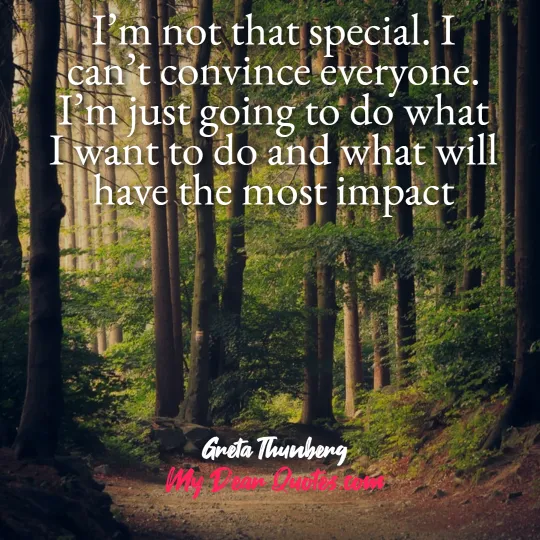 I'm not that special. I can't convince everyone. I'm just going to do what I want to do and what will have the most impact
---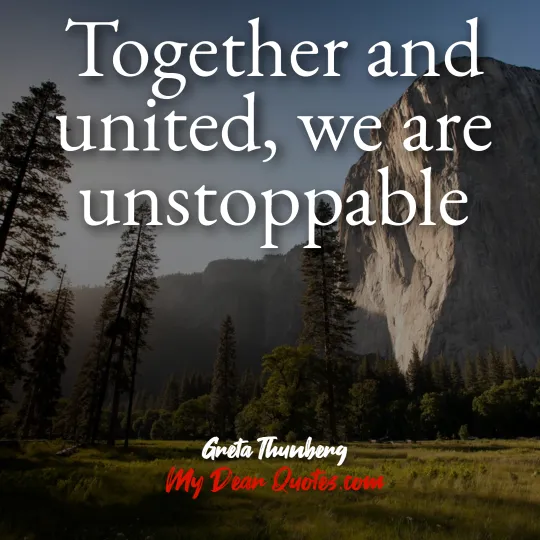 Together and united, we are unstoppable
---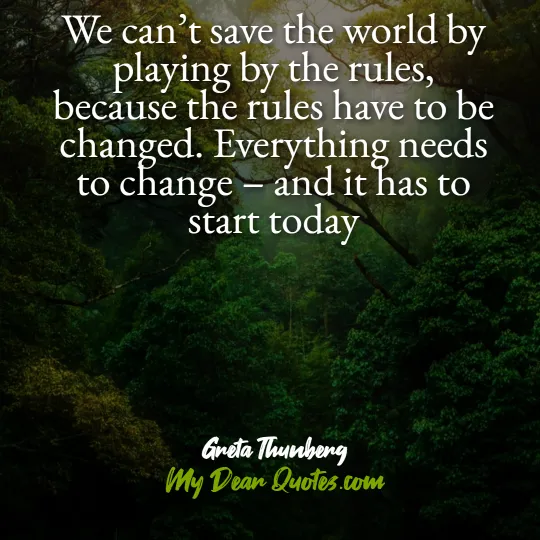 We can't save the world by playing by the rules, because the rules have to be changed. Everything needs to change – and it has to start today
---
We are striking because we have done our homework, and they have not
---
I want you to act as if the house is on fire, because it is
---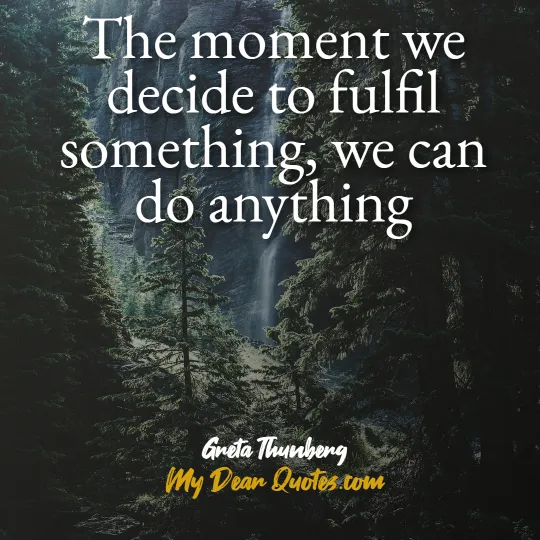 The moment we decide to fulfil something, we can do anything
---
Check These Links
More Greta Quotes Bellow
---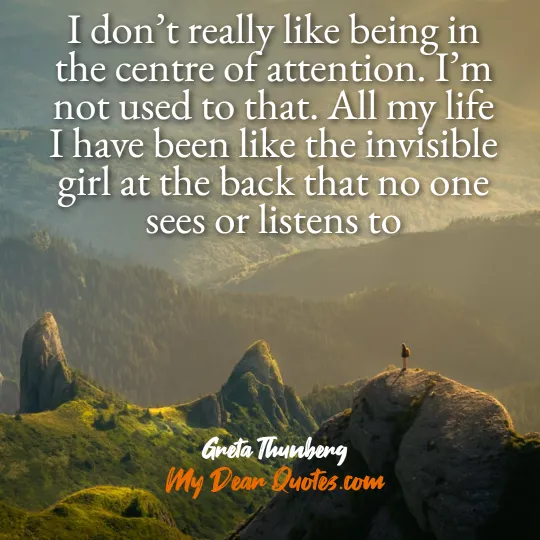 I don't really like being in the centre of attention. I'm not used to that. All my life I have been like the invisible girl at the back that no one sees or listens to
---
The climate crisis has already been solved. We already have all the facts and solutions. All we have to do is to wake up and change
---
Since our leaders are behaving like children, we will have to take the responsibility they should have taken long ago
---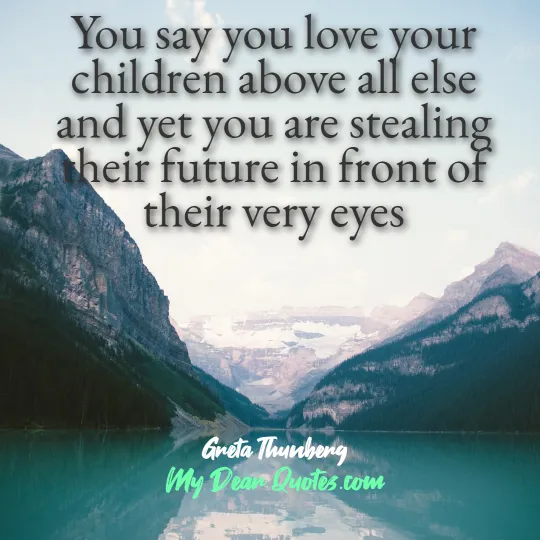 You say you love your children above all else and yet you are stealing their future in front of their very eyes
---
More Quotes From Our Site
---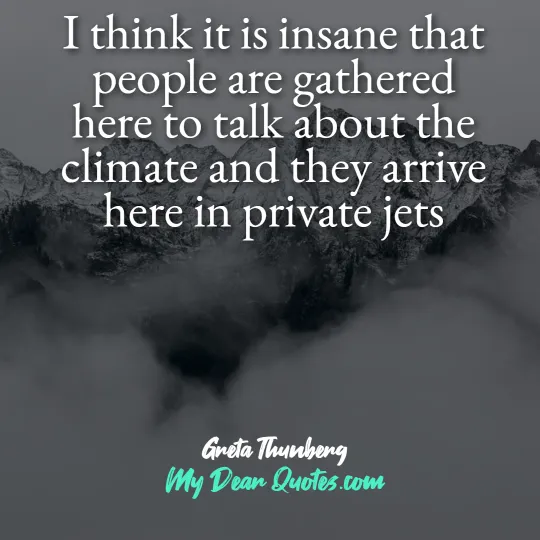 I think it is insane that people are gathered here to talk about the climate and they arrive here in private jets
---
If you still say that we are wasting valuable lesson time, then let me remind you our political leaders have wasted decades through denial and inaction
---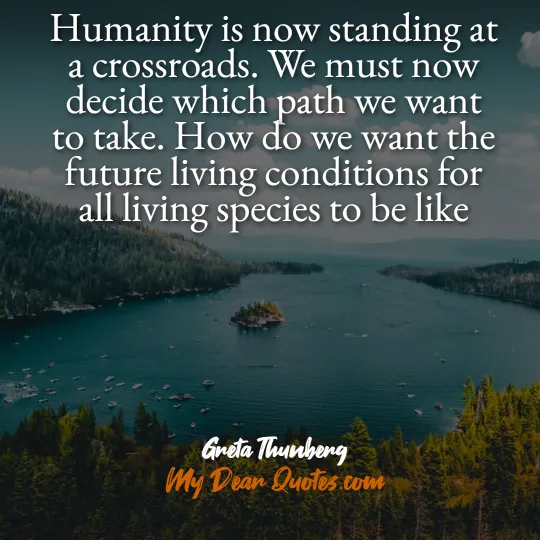 Humanity is now standing at a crossroads. We must now decide which path we want to take. How do we want the future living conditions for all living species to be like
---
Scroll For More Affirmations by Mis Thunberg
---
When haters go after your looks and differences, it means they have nowhere left to go. And then you know you're winning!
---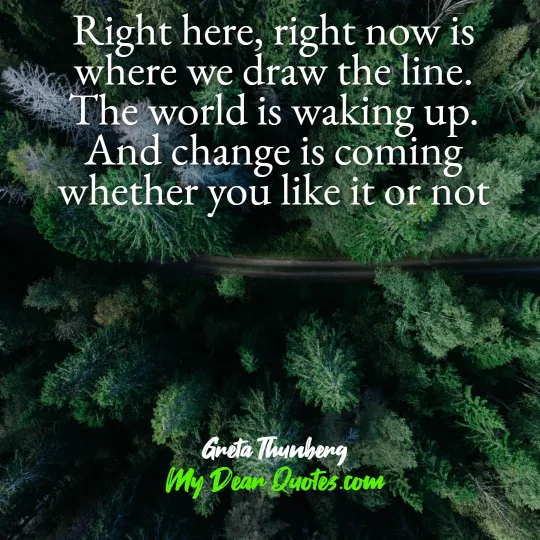 Right here, right now is where we draw the line. The world is waking up. And change is coming whether you like it or not
---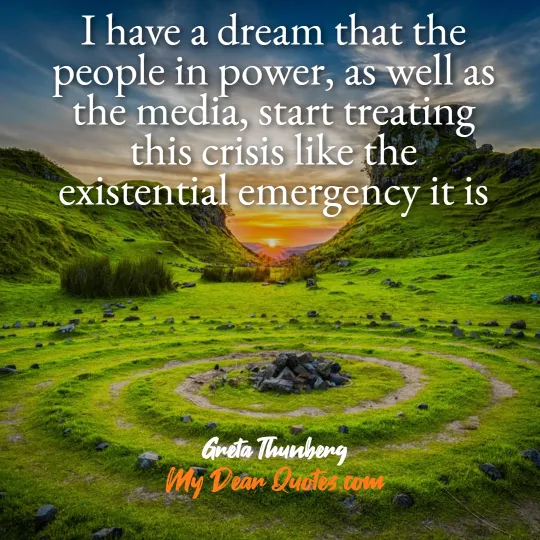 I have a dream that the people in power, as well as the media, start treating this crisis like the existential emergency it is
---
Our house is on fire
---
On climate change, we have to acknowledge that we have failed
---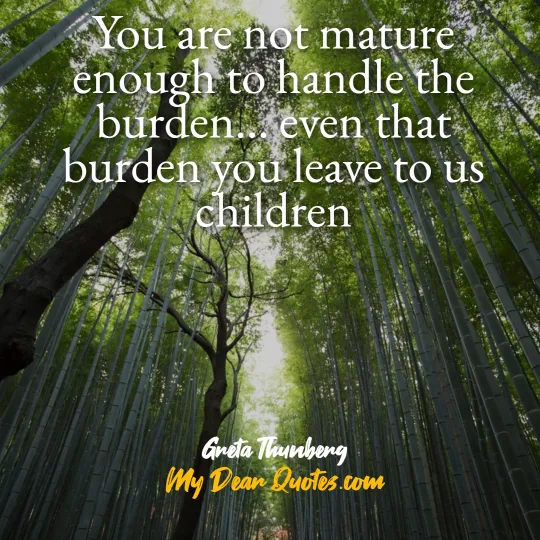 You are not mature enough to handle the burden… even that burden you leave to us children
---
Our environment is being sacrificed for the opportunity for a very small number of people to continue making enormous amounts of money
---
For more than 30 years, the science has been crystal clear. How dare you continue to look away… and then come here and say you're doing enough when the politics and solutions needed are still nowhere in sight
---
We deserve a safe future. And we demand a safe future. Is that really too much to ask?
---
Many people say that Sweden is just a small country, and it doesn't matter what we do, but I have learned you are never too small to make a difference
---
5 Quotes To Go
---
We cannot solve a crisis without treating it as a crisis. And if solutions within the system are so impossible to find, then maybe we should change the system itself
---
For way too long, the politicians and the people in power have gotten away with not doing anything to fight the climate crisis, but we will make sure that they will not get away with it any longer. We are striking because we have done our homework and they have not
---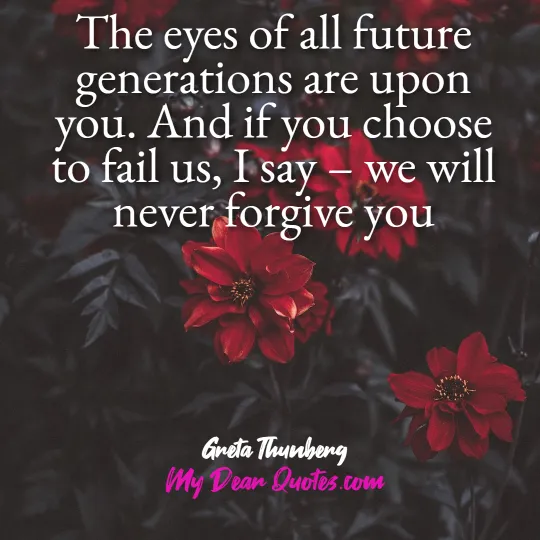 The eyes of all future generations are upon you. And if you choose to fail us, I say – we will never forgive you
---
We have not come here to beg the world leaders to care for our future. They have ignored us in the past and they will ignore us again. We have come here to let them know that change is coming whether they like it or not
---
This ongoing irresponsible behaviour will no doubt be remembered in history as one of the greatest failures of humankind
---
We hope you liked Greta Thunberg Quotes as much as we do. Please share us on social media and spread the word. Thank you.
---
---
---