32+ JayDaYoungan Quotes And GANGSTA Lyrics
JayDaYoungan Quotes with images from the young money making machine. One of the best known and well respected young Rappers in the US.
Who is Jaydayoungan?
JayDaYoungan is an American rapper popularly known as The Real JumpMan23. He first became famous for his single 'Taking Off.'
He grew up in Bogalusa, Louisiana, and grew up listening to hip hop legends like Kevin Gates, Lil Boosie and Lil Wayne. JayDaYoungan entered the music industry at a very young age and released his first mixtape at just 18 years old.
Since then, he has been active as a rapper and has received praise not only from his fans from his hometown, but also from people around the world Globus. He has a decent fan who follows various social media platforms, including YouTube and Instagram.
He is inherently talented when it comes to songwriting and is able to compose lyrics that reflect the exact state of his mind. His vulnerability and ability to express emotions adored him to millions around the world.
After two years of making an effort to build a career as a rapper, he finally started to enjoy it. Over time, he began collecting millions of streams on various major social media platforms. He released his first mixtape called 'Ruffwayy' in 2017 at the age of 18.
Soon after, JayDaYoungan came up with his singles 'Taking Off' and 'Spinning' which became big hits in a few months. He then released a series of music videos, all of which managed to earn countless views.
One such video that became incredibly popular in 2017 was 'Sliding Freestyle' which in an instant exceeded a million views. The rapper then released an R&B song in February 2018 called 'Interstate'. This song and its accompanying video quickly garnered millions of shows and streams online.
You can find our Quotes from JayDaYoungan below.
*If you are using our images on your website, make sure to put a link back to us. THX.
---
Jaydayoungan Quotes For Inspiration
You gotta go through the storm before the sun shine
---
I hate when somebody try to play crazy Face with look of triumph
---
I break my back for you but you won't break a sweat for me
---
If I tell you I love you I mean it I'll never turn my back on you no matter the situation
---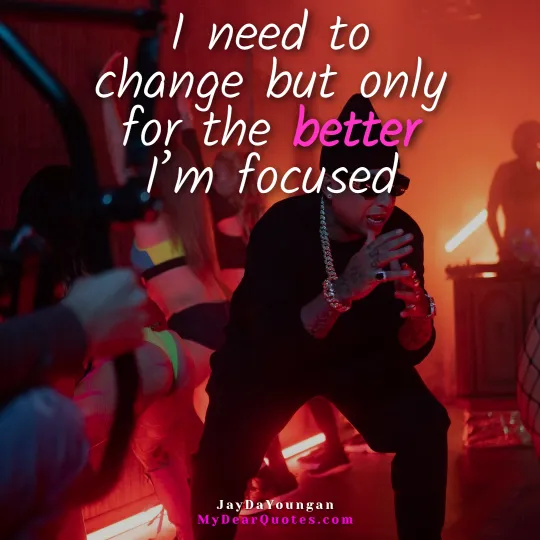 I need to change but only for the better I'm focused
---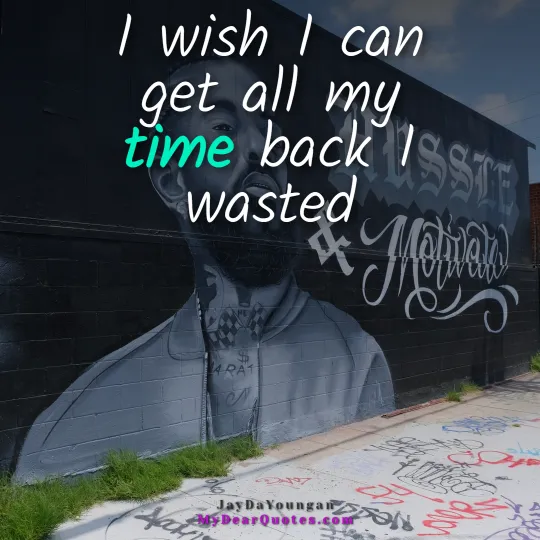 I wish I can get all my time back I wasted
---
You gone receive the same energy you put out
---
I see you begging for my attention shit ain't working tho
---
Watch the ones around you they hurt you most
---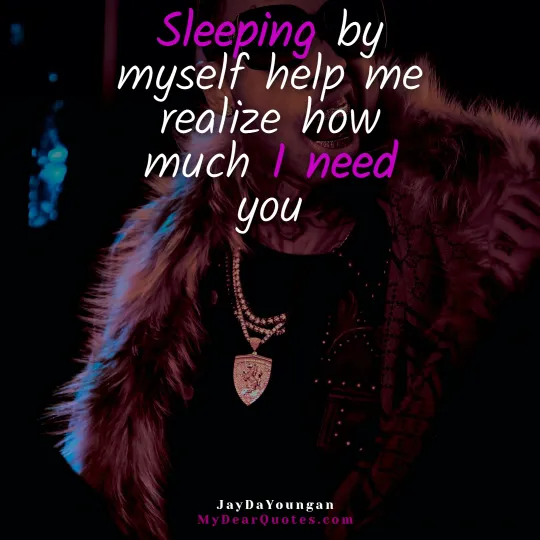 Sleeping by myself help me realize how much I need you
---
Jaydayoungan Images With Quotes
I love my brothers so much I'll put my life on the line for them all
---
I pray my relationship with god keeps growing
---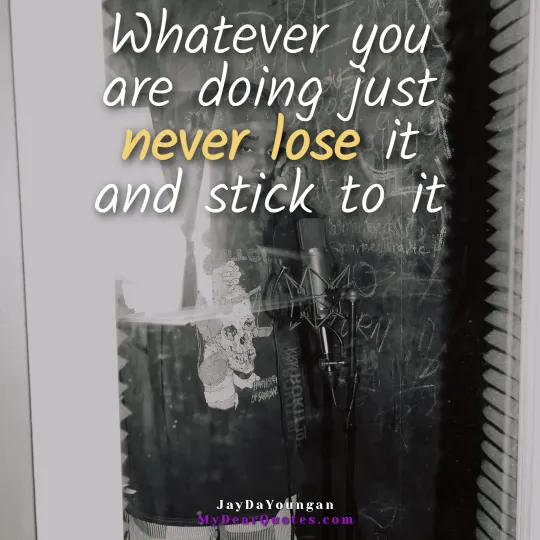 Whatever you are doing just never lose it and stick to it
---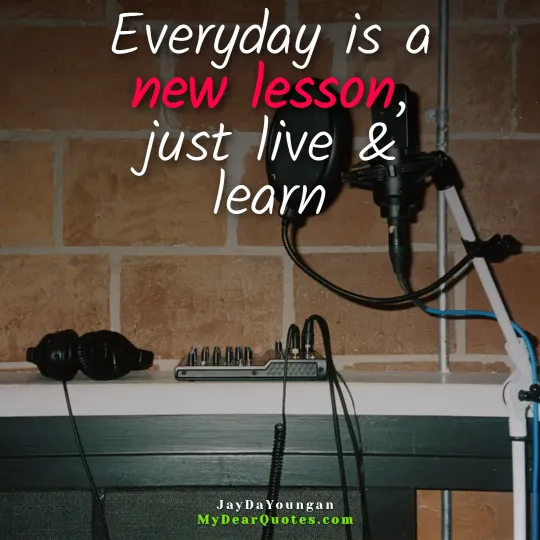 Everyday is a new lesson, just live & learn
---
If you don't know facts about a situation don't speak on that sh*t
---
I'm too busy for all these hoes. I'm too busy for everything. I don't wanna answer no calls, I don't wanna do nothing
---
I snatched the beat off YouTube and then I got up with Kairo. Yeah but shout out to Kairo, it's a nice beat
---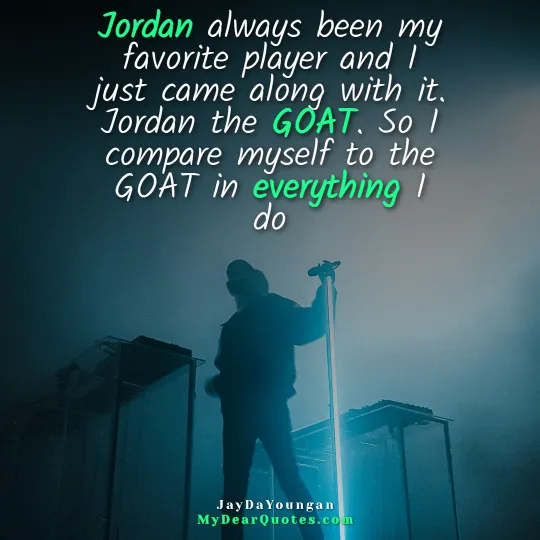 Jordan always been my favorite player and I just came along with it. Jordan the GOAT. So I compare myself to the GOAT in everything I do
---
My aunt, she really always had faith in me and believed in me when nobody else did
---
I put a lot of effort in it. I went with the flow but it was like, it wasn't like a freestyle
---
We have more quotes from this topic
16 BEST YOUNG DOLPH QUOTES [RIP]
33+ KEHLANI QUOTES FOR INSPIRATION
CHIEF KEEF QUOTES [TOUGH LIFE IMAGES]
QUANDO RONDO QUOTES [GANGSTA PHRASES]
---
Awesome Quotes From Jaydayoungan
I remember days I ain't have shit I was just a youngin tryna hit a lick
---
When I was doin' bad, they ain't give me shit I just sit back and reminisce
---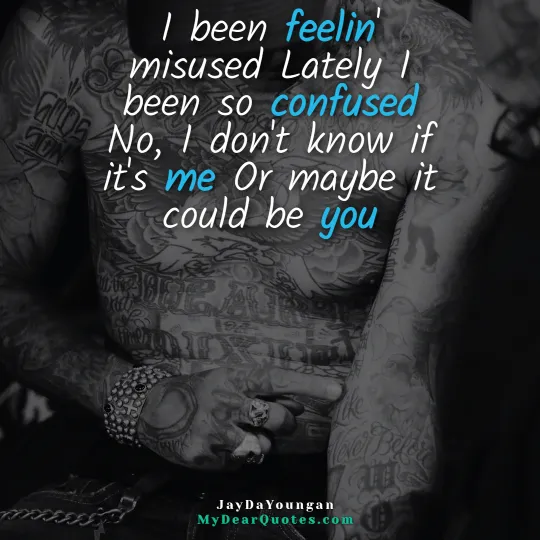 I been feelin' misused Lately I been so confused No, I don't know if it's me Or maybe it could be you
---
It seem all life end with violence Put it all on the line 'cause I'm all-in
---
Sold a pack, stole the back and then I resold it I won't freeze, hit the weed if the police on us
---
Back when I was hungry, they ate in my face and used to laugh Family want it, and they stole from me, damn, that shit sad
---
We forever straight, I promise you gon' worry not again Gon' see better things, I pray that we don't fall down again
---
This for all my people gone but not forgotten, fly high Just make me a promise, you won't ever leave from my side
---
You act like you been worth it In my mix, just like my bitch And no I ain't been servin
---
They tried to hide when that pressures applied Ops want me dead I ain't too hard to find
---
I know a whole lot of shit that I can't tell nobody And I done seen a lot of shit that I wish I wasn't watchin' Slide around through my city, just me and my rocket
---
What's on your mind? Nigga, say somethin' Bitch, you ain't gon' spray somethin', my young niggas'll shake somethin'
---
All images from our Jaydayoungan quotes post are shareable. Hover over them and you will get a Pinterest share option.
---