LONGLASTING Relationship Trust Quotes [+ Lovely IMAGES]
Relationship Trust Quotes Because It Is The Most Important Thing Between Two People Loving Each Other. It Is A Two-Way Street, Meaning You Will Receive As Much As You Give. There Is A Reason People Don't Say Relationships Are Build On Money. It`s Trust.
Without That There Cant Be Love Or Marriage. These Quotes Are A Collection From Some Of The Best Writers In The World. They Are Complemented With Beautiful Images That You Can Share Them On Social Media Or Send Them To Someone.
*If you are using our images on your website, make sure to put a link back to us. THX.
How To Have Trust And Improve Your Relationship – TIPS
Do Small Things Everyday
Become Best Friends
Learn To Listen
Write A Love Letter
Last Bite Goes To Your Partner
Take Care Of Yourself
Use Compliments
Be Helpful And Understanding
Start And End Your Day With A Kiss
Go Out For Walks Together
Be A Yin To His Yang
Share Some Silence
Learn To Listen More Often
Be Forgiving
Use Compromise
Trust Relationship Quotes
---
Don't trust people who tell you other people's secrets | Dan Howell
---
Don't trust people whose feelings change with time… Trust people whose feelings remain the same, even when the time changes | Ziad K. Abdelnour
---
Trust starts with truth and ends with truth | Santosh Kalwar
---
Better to trust the man who is frequently in error than the one who is never in doubt | Eric Sevareid
---
Peace and trust take years to build and seconds to shatter | Mahogany SilverRain
---
Relationships are about trust. If you have to play detective, then it's time to move on
---
TRUST take years to build, seconds to break and forever to repair
---
Never trust someone who lies to you. Never lie to someone who trusts you
---
Love Quotes Trust Relationship
---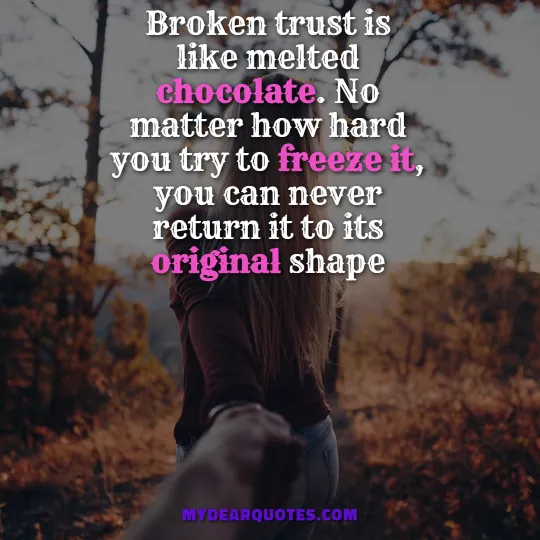 Broken trust is like melted chocolate. No matter how hard you try to freeze it, you can never return it to its original shape
---
You may not always trust the people you love, but you can always love the people you trust
---
Trust, once lost, could not be easily found. Not in a year, perhaps not even in a lifetime | E.B. Spredemann
---
You know, sometimes you've got to trust the people you love. You've got to trust that if they're good people, they'll make good decisions | Janette Rallison
---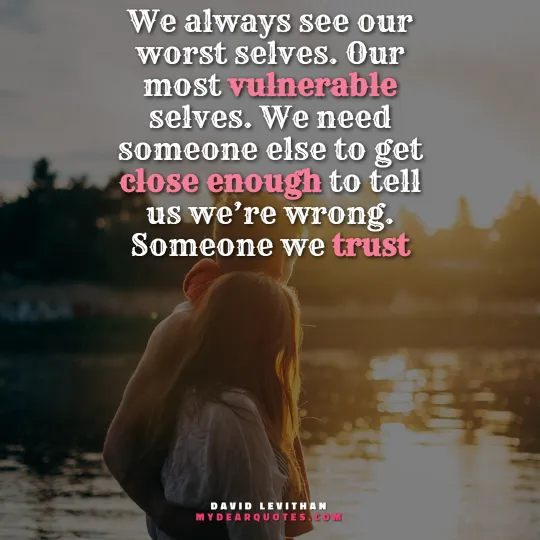 We always see our worst selves. Our most vulnerable selves. We need someone else to get close enough to tell us we're wrong. Someone we trust | David Levithan
---
Trust is like a mirror, you can fix it if it's broken, but you can still see the crack in that mother fucker's reflection | Lady Gaga
---
People that have trust issues only need to look in the mirror. There they will meet the one person that will betray them the most | Shannon L. Alder
---
Quotes About Trust Issues In A Relationship
---
To be trusted is a greater compliment than being loved | George MacDonald
---
Never trust the advice of a man in difficulties | Aesop
---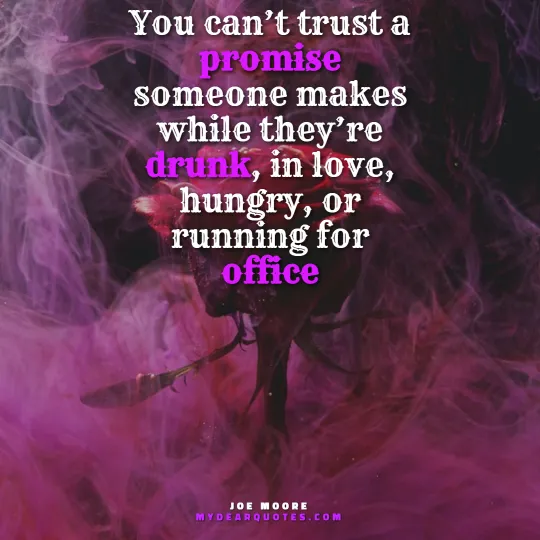 You can't trust a promise someone makes while they're drunk, in love, hungry, or running for office | Joe Moore
---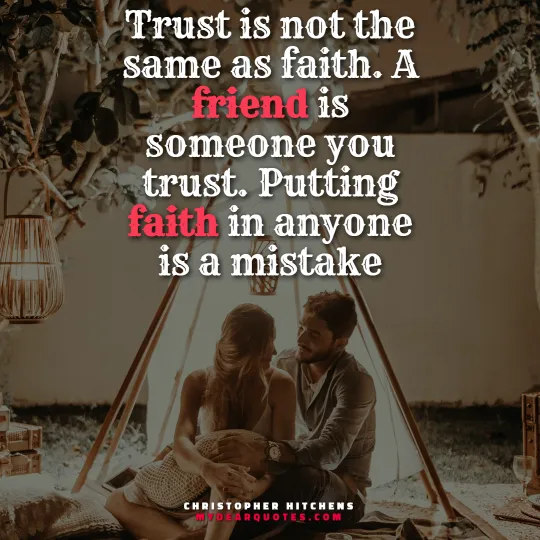 Trust is not the same as faith. A friend is someone you trust. Putting faith in anyone is a mistake | Christopher Hitchens
---
The worst thing about being lied to is knowing you are not worth the truth | Jean-Paul Sartre
---
Trust thyself: every heart vibrates to that iron string | Ralph Waldo Emerson
---
The inability to open up to hope is what blocks trust, and blocked trust is the reason for blighted dreams | Elizabeth Gilbert
---
Choose Another Quote
MINDFULNESS QUOTES [40 STUNNING IMAGES]
30+ THINGS WILL GET BETTER QUOTES
More Trust Issues Sayings
---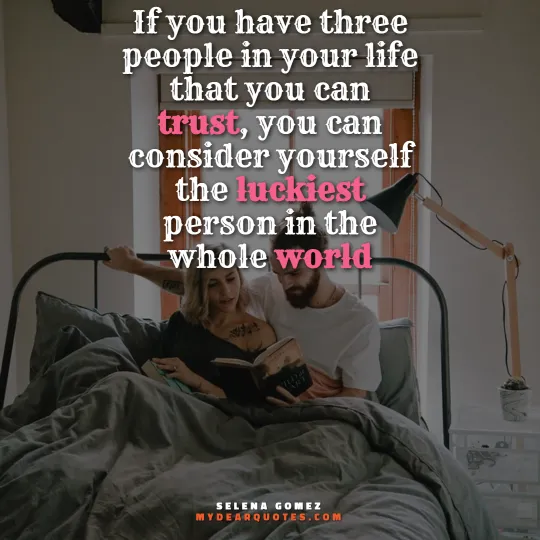 If you have three people in your life that you can trust, you can consider yourself the luckiest person in the whole world | Selena Gomez
---
None of us knows what might happen even the next minute, yet still we go forward. Because we trust. Because we have Faith | Paulo Coelho
---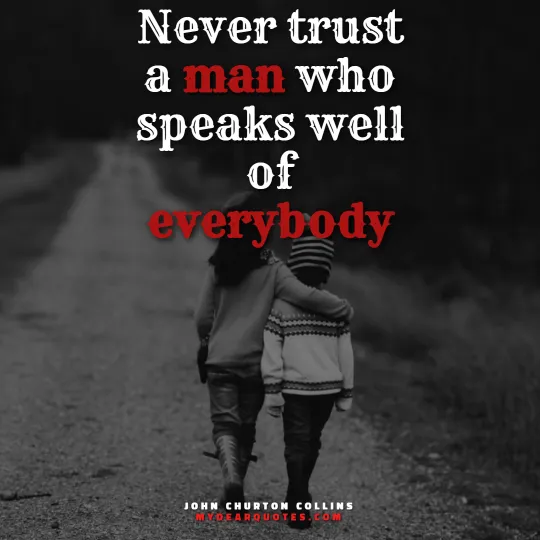 Never trust a man who speaks well of everybody | John Churton Collins
---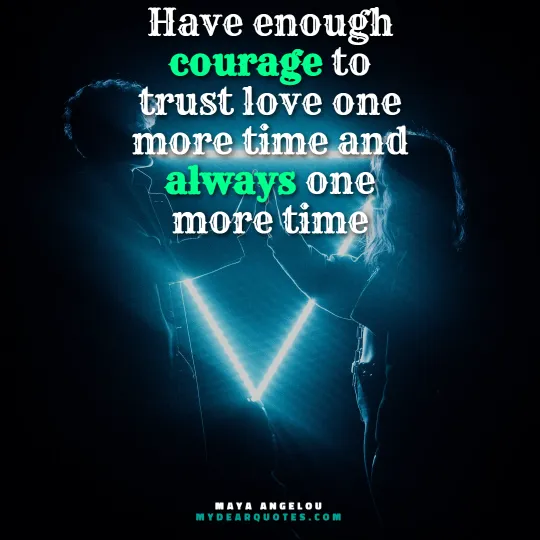 Have enough courage to trust love one more time and always one more time | Maya Angelou
---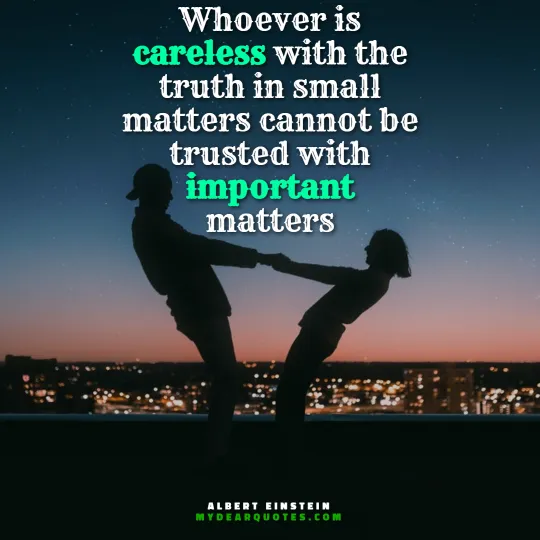 Whoever is careless with the truth in small matters cannot be trusted with important matters | Albert Einstein
---
Keep your promises and be consistent. Be the kind of person others can trust | Roy T. Bennett
---
I would rather trust a woman's instinct than a man's reason | Stanley Baldwin
---
Trust is like a vase, once it's broken, though you can fix it, the vase will never be same again | Walter Anderson
---