Positive Verses In The Bible [LUCK Magnet]
Awe-Inspiring Sayings And Positive Verses In The Bible To Chase That Negative Thoughts And Bring In The Positive. All Verses Come With Beautiful Pictures For Social Sharing.
The Bible is a place that many people turn to for advice, and guidance on how to live. The Bible is found in the drawers of hotel rooms and was often the only book people brought when they immigrated to America.
It contains many verses that provide wisdom and bring comfort in difficult times. There are also many verses about happiness that help lead you to a happy life.
*If you are using our images on your website, make sure to put a link back to us. THX.
---
Positive Verses From The Bible
Cast all your anxiety on him because he cares for you | 1 Peter 2.7
---
So do not fear, for I am with you; do not be dismayed, for I am your God. I will strengthen you and help you; I will uphold you with my righteous right hand | Isaiah 41:10
---
I have told you these things, so that in me you may have peace. In this world you will have trouble. But take heart! I have overcome the world | John 16:33
---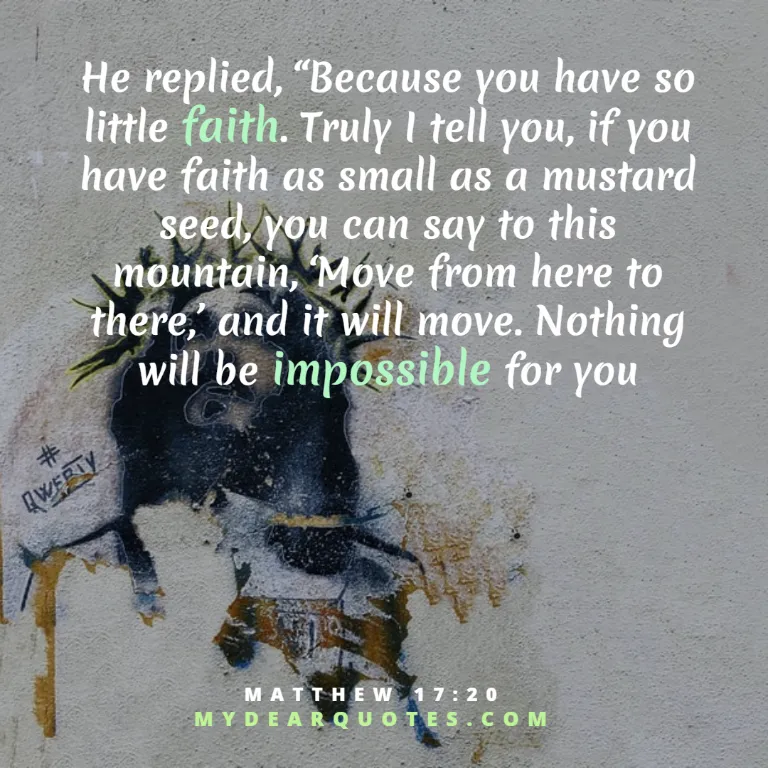 He replied, "Because you have so little faith. Truly I tell you, if you have faith as small as a mustard seed, you can say to this mountain, 'Move from here to there,' and it will move. Nothing will be impossible for you | Matthew 17:20
---
Be strong and take heart, all you who hope in the LORD | Psalm 31:24
---
My help comes from the Lord, the maker of heaven and earth | Psalm 121:2
---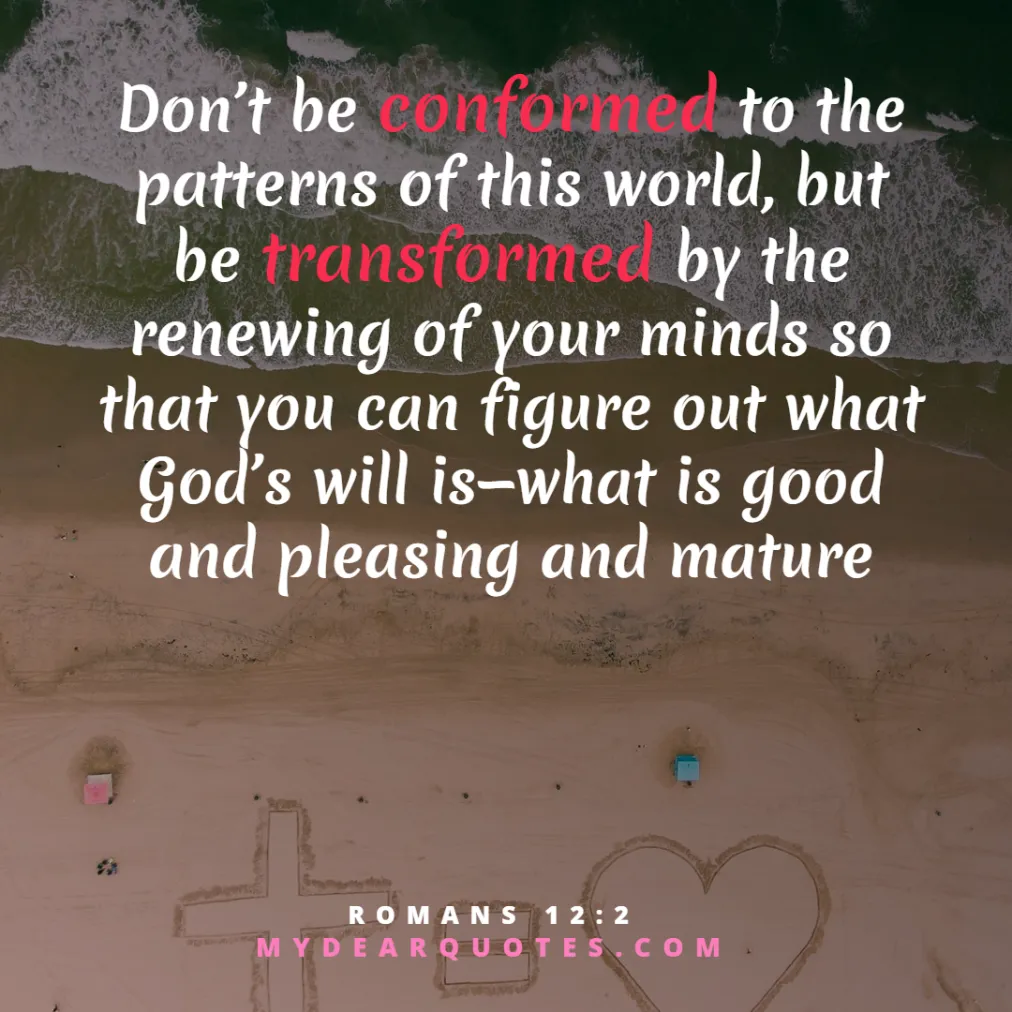 Don't be conformed to the patterns of this world, but be transformed by the renewing of your minds so that you can figure out what God's will is—what is good and pleasing and mature | Romans 12:2
---
We receive whatever we ask from him because we keep his commandments and do what pleases him | 1 John 3:22
---
Great Bible Verses For You
Positive encouraging bible verses
---
I know the plans I have in mind for you, declares the Lord; they are plans for peace, not disaster, to give you a future filled with hope | Jeremiah 29:11
---
Don't give me over to the desires of my enemies, because false witnesses and violent accusers have taken their stand against me | Psalm 27:12
---
The name of the LORD is a strong tower; the righteous man runs into it and is safe | Proverbs 18:10
---
You are my hiding place and my shield;I hope in your word. Depart from me, you evildoers, that I may keep the commandments of my God | Psalm 119:114-115
---
Jesus looked at them and said, 'With man it is impossible, but not with God. For all things are possible with God | Mark 10:27
---
And my God will supply every need of yours according to his riches in glory in Christ Jesus | Philippians 4:19
---
Oh, taste and see that the LORD is good! Blessed is the man who takes refuge in him | Psalm 34:8
---
Positive scripture quotes
---
For the Spirit God gave us does not make us timid, but gives us power, love and self-discipline | 2 Timothy 1:7
---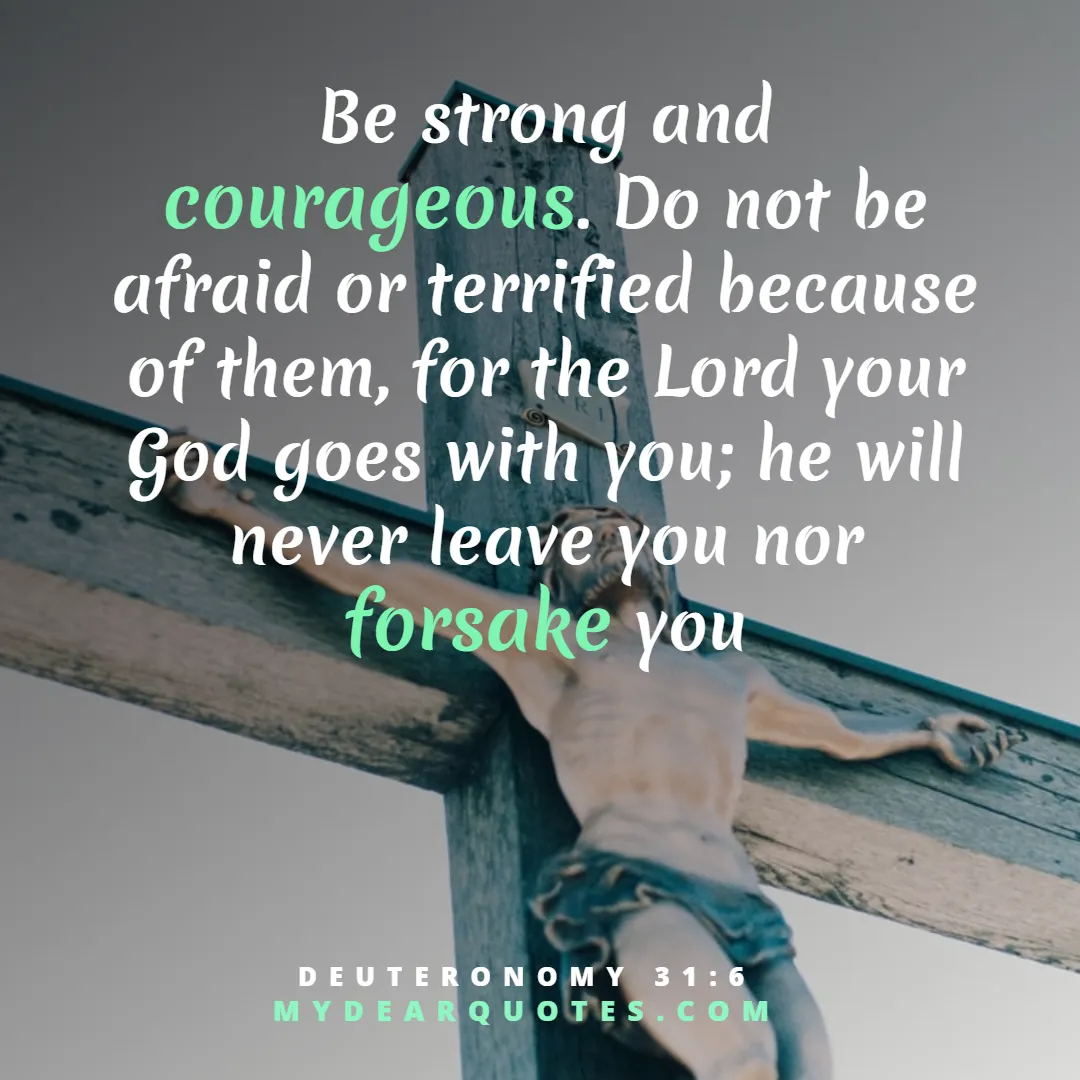 Be strong and courageous. Do not be afraid or terrified because of them, for the Lord your God goes with you; he will never leave you nor forsake you | Deuteronomy 31:6
---
The wicked flee though no one pursues, but the righteous are as bold as a lion | Proverbs 28:1
---
They will have no fear of bad news; their hearts are steadfast, trusting in the Lord | Psalm 112:7
---
For everything that was written in the past was written to teach us, so that through the endurance taught in the Scriptures and the encouragement they provide we might have hope | Romans 15:4
---
She is clothed with strength and dignity; she can laugh at the days to come | Proverbs 31:25
---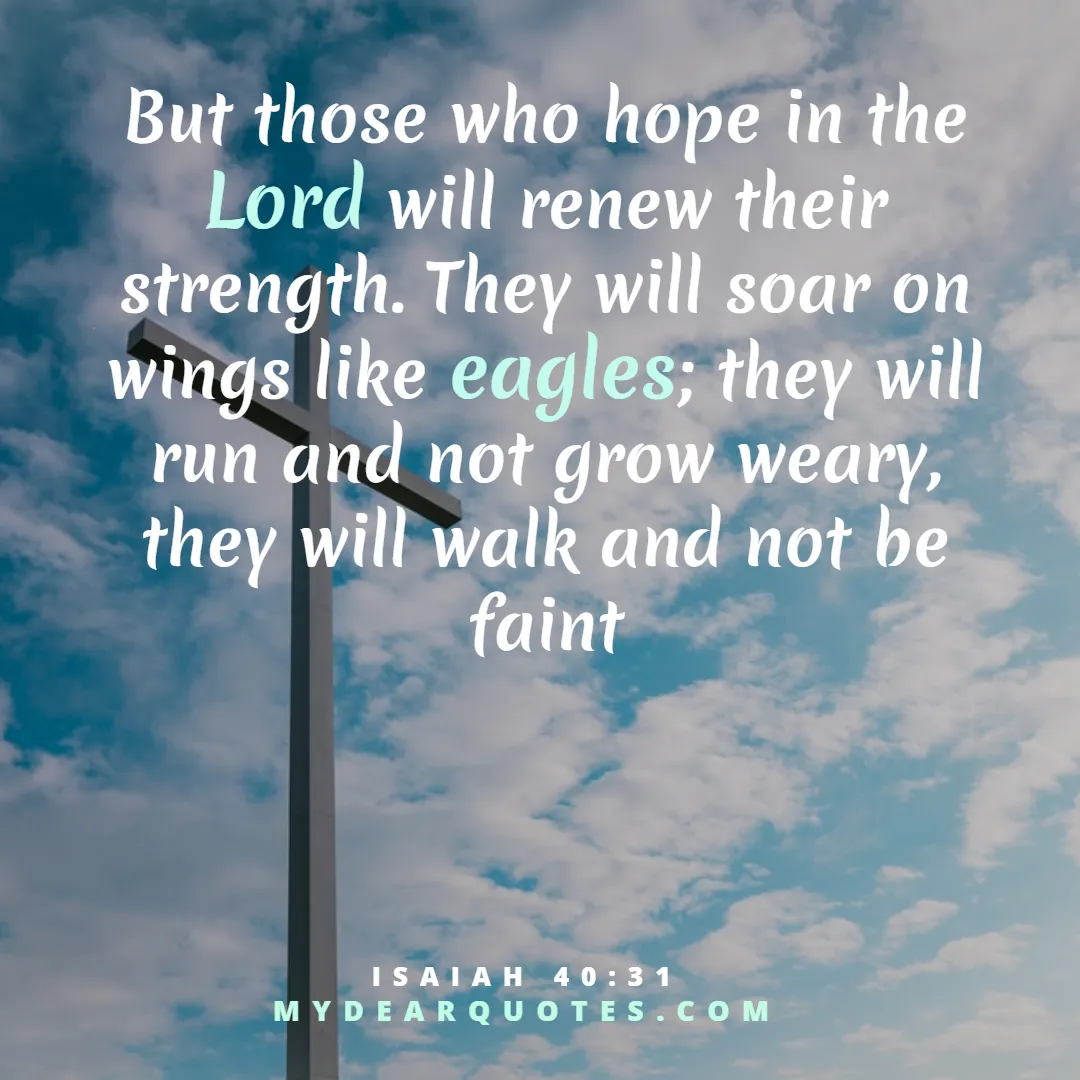 But those who hope in the Lord will renew their strength. They will soar on wings like eagles; they will run and not grow weary, they will walk and not be faint | Isaiah 40:31
---
More Prayers From Us
Bible verses about being positive
---
Through him we have also obtained access by faith into this grace in which we stand, and we rejoice in hope of the glory of God | Romans 5:1
---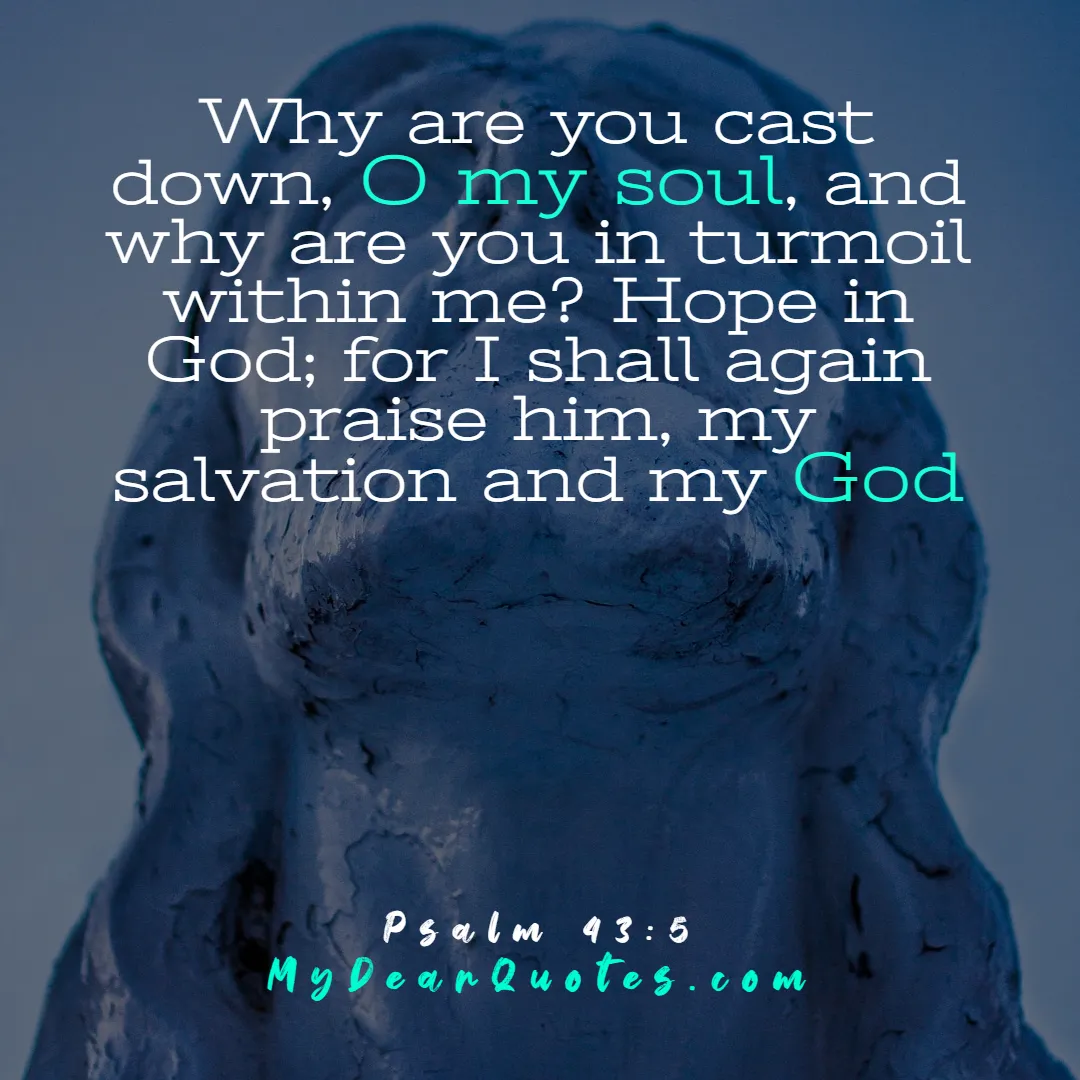 Why are you cast down, O my soul, and why are you in turmoil within me? Hope in God; for I shall again praise him, my salvation and my God | Psalm 43:5
---
He saves the needy from the sword in their mouth; he saves them from the clutches of the powerful. So the poor have hope, and injustice shuts its mouth | Job 5:15-16
---
Remembering before our God and Father your work of faith and labor of love and steadfastness of hope in our Lord Jesus Christ | 1 Thessalonians 1:3
---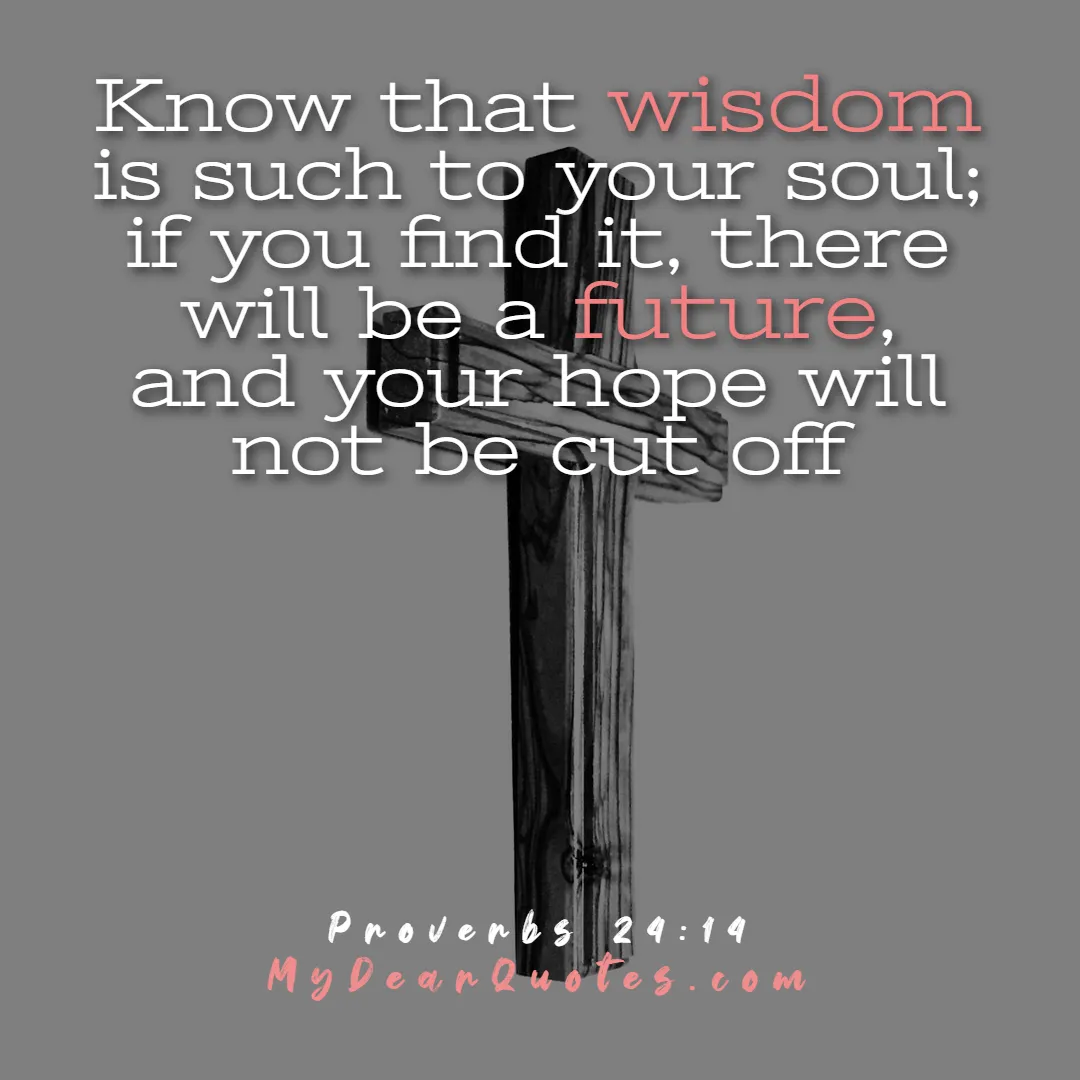 Know that wisdom is such to your soul; if you find it, there will be a future, and your hope will not be cut off | Proverbs 24:14
---
The name of the Lord is a strong tower; the righteous run into it and are safe | Proverbs 18:10
---
I sought the Lord, and he answered me, and delivered me from all my fears | Psalm 34:4
---
My soul finds rest in God alone; my salvation comes from him. He alone is my rock and my salvation; he is my fortress, I will never be shaken | Psalm 62:1-2
---
Difference Between Joy And Happiness
You may notice that the Bible often uses the word joy instead of happiness. Finding happiness in the Bible is not easy. And that's because the Bible doesn't care about making people happy. Instead, the Bible focuses on joy. These two words are often used interchangeably, but they are not the same.
Rachel Fearnley, a lifestyle mentor, describes the difference between joy and happiness as this: 'Joy is more consistent and nurtured from within. It comes when you come to terms with who you are, why you are, and how you are, while happiness is usually driven from the outside and is based on other people, things, places, thoughts, and events. '
In the modern world, joy is something we experience that is deeper and more meaningful. Happiness is something we feel because of our situation or circumstances. We are happy because something has made us happy, but we are happy because of something in us. The world tells us that we can only be happy if our situation is right. But we can look at Hollywood and see that many cases are not true.
Many people who have everything they could ever want are not happy. And on the other hand, many people have little in life, but they have true joy that comes deep inside. As you study the Bible verses about happiness, you will find ways to experience true happiness.
We hope you liked our collection of Positive Verses In The Bible. If you did, spread the word on Social Media. Thank You.
---