30+ Bible Verses For ENCOURAGEMENT
A Collection Of Bible Verses For Encouragement With Images that will inspire and encourage you to tackle your problems and be prepared for everything.
Today we will talk about encouragement. More specifically, we will study encouraging Bible verses. These Bible verses will lift our spirits as we go through life. It takes knowledge to be free in life, and the word of God is the source of all knowledge.
Do you face any discouraging challenges in life? Do you feel like giving up or giving up? Do you think that all hope is gone and that you cannot make further progress in life? If your answer to any of these questions is yes, then rejoice, because these encouraging Bible verses will bring life back to your spirit, raise your hope, and open your eyes to your challenges.
Do you need encouragement? Find it in these 30 Bible verses. There are several hundred verses written in the Bible that can encourage us and lift our spirits. When difficult events unfold and we are surrounded by depressing news, as has been happening to us lately, one of the best places we can find encouragement is the Bible.
*If you are using our images on your website, make sure to put a link back to us. THX.
---
Bible verse about encouraging others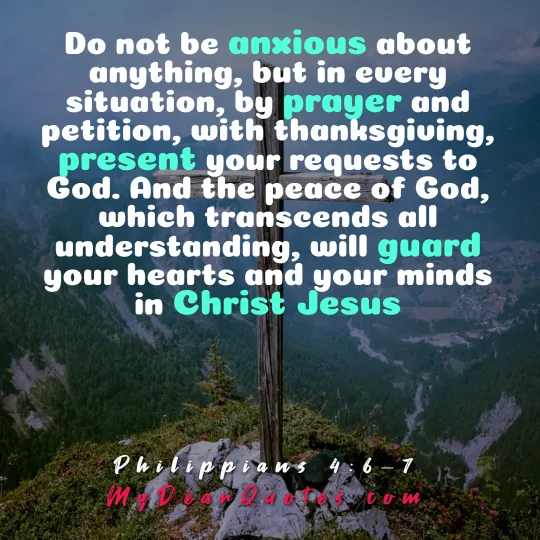 Do not be anxious about anything, but in every situation, by prayer and petition, with thanksgiving, present your requests to God. And the peace of God, which transcends all understanding, will guard your hearts and your minds in Christ Jesus | Philippians 4:6–7
---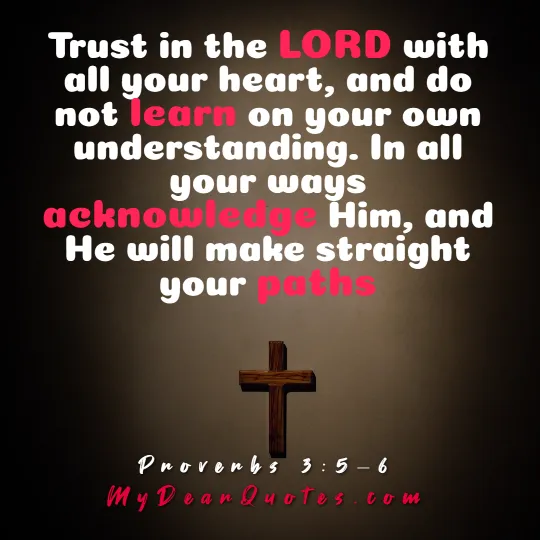 Trust in the LORD with all your heart, and do not learn on your own understanding. In all your ways acknowledge Him, and He will make straight your paths | Proverbs 3:5–6
---
Do nothing from selfish ambition or conceit, but in humility count others more significant than yourselves. Let each of you look not only to his own interests, but also to the interests of others | Philippians 2:3–4
---
The steadfast love of the LORD never ceases; his mercies never come to an end; they are new every morning; great is your faithfulness | Lamentations 3:22-23
---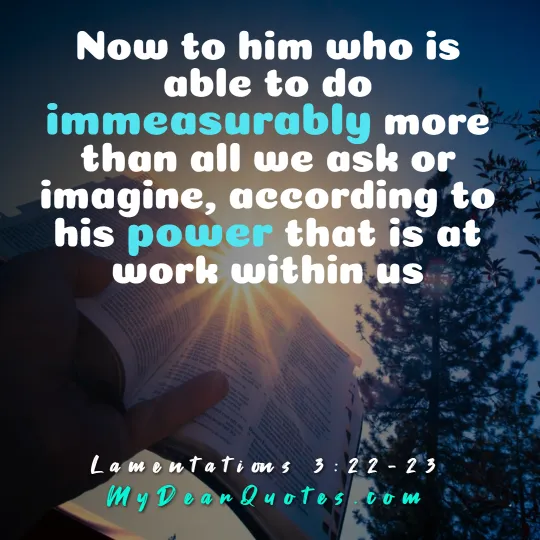 Now to him who is able to do immeasurably more than all we ask or imagine, according to his power that is at work within us | Ephesians 3:20
---
There is no fear in love. But perfect love drives out fear, because fear has to do with punishment. The one who fears is not made perfect in love | John 4:18
---
Jesus looked at them and said, 'With man it is impossible, but not with God. For all things are possible with God.' | Mark 10:27
---
For the Spirit God gave us does not make us timid, but gives us power, love and self-discipline | 2 Timothy 1:7
---
Words of encouragement from the bible
---
Let the peace of Christ rule in your hearts, since as members of one body you were called to peace. And be thankful | Colossians 3:15
---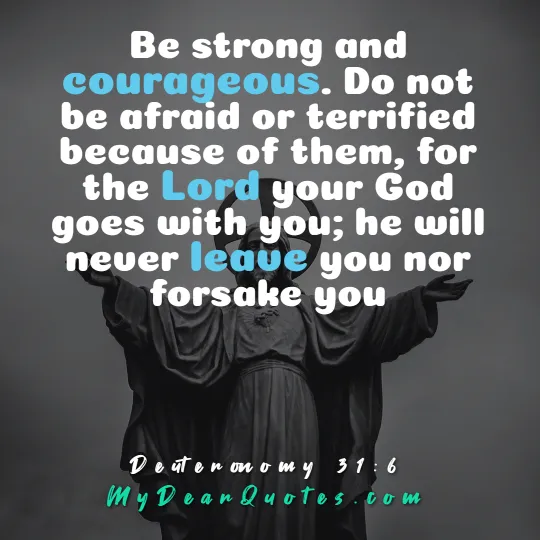 Be strong and courageous. Do not be afraid or terrified because of them, for the Lord your God goes with you; he will never leave you nor forsake you | Deuteronomy 31:6
---
The Lord is my light and my salvation- whom shall I fear? The Lord is the stronghold of my life- of whom shall I be afraid | Psalm 27:1
---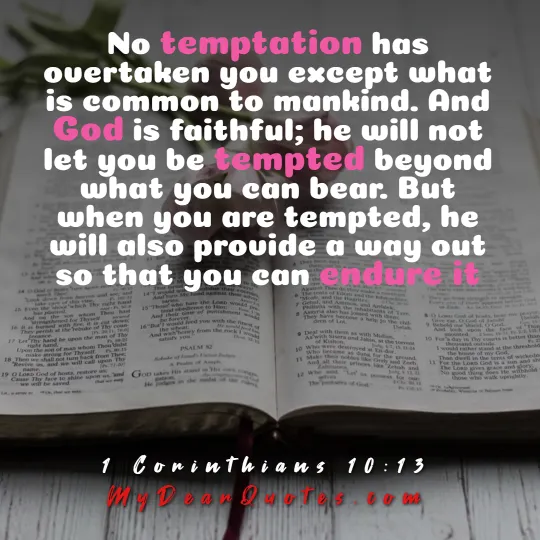 No temptation has overtaken you except what is common to mankind. And God is faithful; he will not let you be tempted beyond what you can bear. But when you are tempted, he will also provide a way out so that you can endure it | 1 Corinthians 10:13
---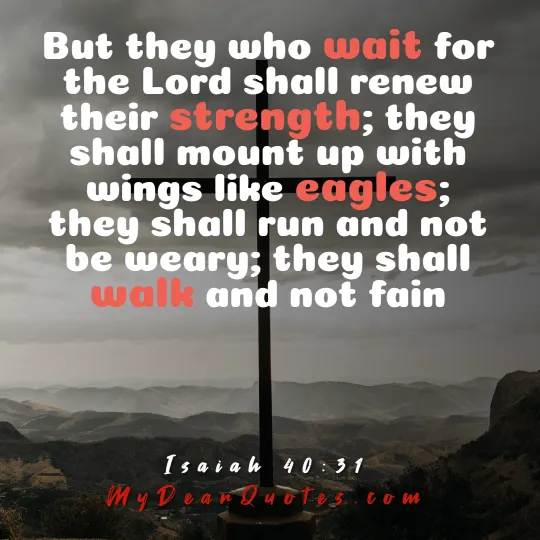 But they who wait for the Lord shall renew their strength; they shall mount up with wings like eagles; they shall run and not be weary; they shall walk and not fain | Isaiah 40:31
---
Behold, God is my salvation; I will trust, and will not be afraid; for the Lord God is my strength and my song, and he has become my salvation | Isaiah 12:2
---
May the Lord give strength to his people! May the Lord bless his people with peace | Psalm 29:11
---
Bible verses for strength and courage
---
Even though I walk through the valley of the shadow of death, I will fear no evil, for you are with me; your rod and your staff, they comfort me | Psalm 23:4
---
And without faith it is impossible to please him, for whoever would draw near to God must believe that he exists and that he rewards those who seek him | Hebrews 11:6
---
The Lord himself goes before you and will be with you; he will never leave you nor forsake you. Do not be afraid; do not be discouraged | Deuteronomy 31:8
---
Be strong and take heart, all you who hope in the Lord | Psalm 31:24
---
I have told you these things, so that in me you may have peace. In this world you will have trouble. But take heart! I have overcome the world | John 16:33
---
For you know that we dealt with each of you as a father deals with his own children, encouraging, comforting and urging you to live lives worthy of God, who calls you into his kingdom and glory | 1 Thessalonians 2:11-12
---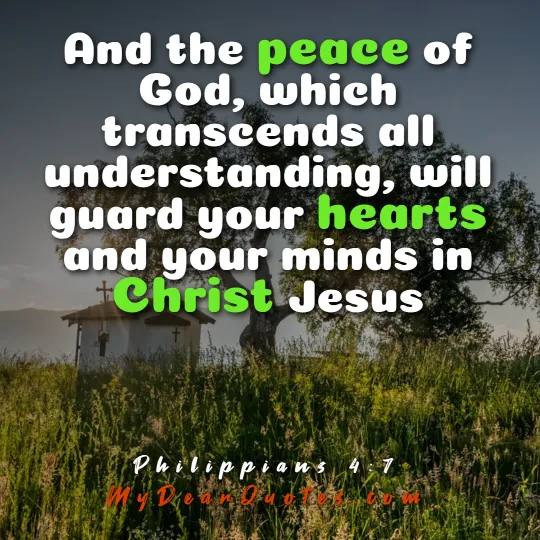 And the peace of God, which transcends all understanding, will guard your hearts and your minds in Christ Jesus | Philippians 4:7
---
Other Great Posts From Our Site
Quotes From David Goggins
Catholic Prayers Before And After Dinner
Wedding Blessings And Prayers
Affirmations For Successful Business
Encouraging bible quotes
---
Fight the good fight of the faith. Take hold of the eternal life to which you were called when you made your good confession in the presence of many witnesses | 1 Timothy 6:12
---
Praise be to the LORD for He has heard my cry for mercy. The LORD is my strength and my shield; my heart trusts in him, and he helps me. My heart leaps for joy, and with my song I praise him | Psalm 28:6-7
---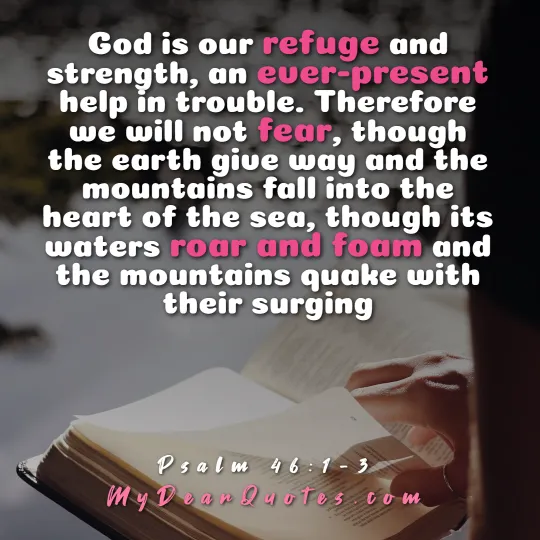 God is our refuge and strength, an ever-present help in trouble. Therefore we will not fear, though the earth give way and the mountains fall into the heart of the sea, though its waters roar and foam and the mountains quake with their surging | Psalm 46:1-3
---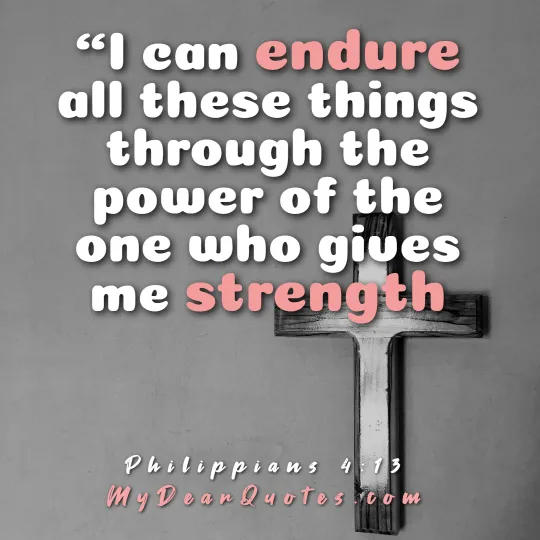 "I can endure all these things through the power of the one who gives me strength | Philippians 4:13
---
But those who hope in the Lord will renew their strength; they will fly up on wings like eagles; they will run and not be tired; they will walk and not be weary | Isaiah 40:31
---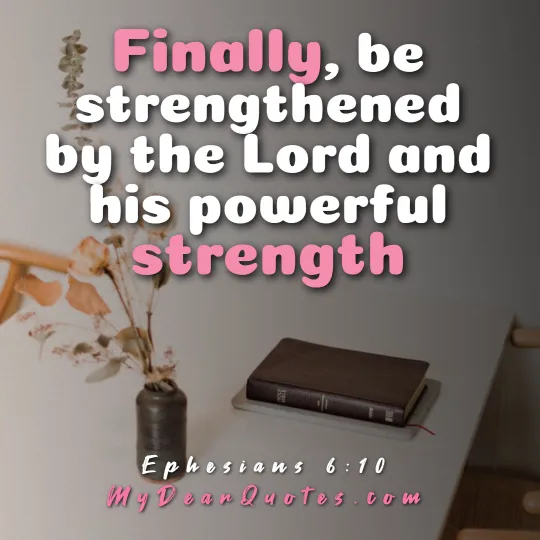 Finally, be strengthened by the Lord and his powerful strength | Ephesians 6:10
---
I've commanded you to be brave and strong, haven't I? Don't be alarmed or terrified, because the Lord your God is with you wherever you go | Joshua 1:9
---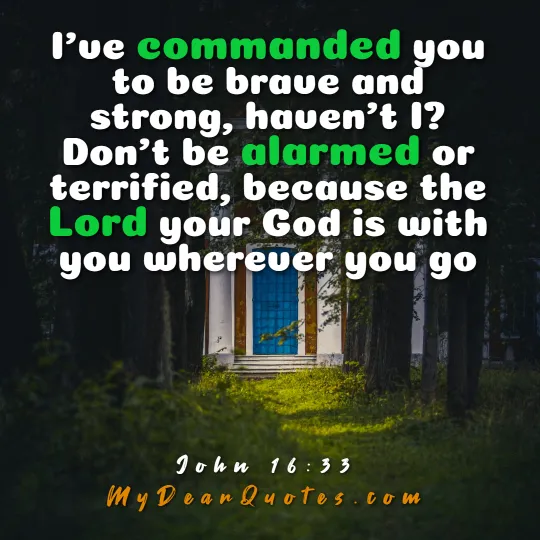 I've said these things to you so that you will have peace in me. In the world you have distress. But be encouraged! I have conquered the world | John 16:33
---
What does the bible say about Life and Death?
The first book of the Bible says that God said to the first man, Adam, "Eat freely from every tree in the garden until you are full." But thou shalt not eat of the tree of the knowledge of good and evil: for the day that thou eatest thereof thou shalt surely die. "- Genesis 2:16, 17. If Adam had obeyed this commandment of God, he would never have died. He would live in the Garden of Eden forever.
However, Adam did not obey God and tasted the forbidden fruit given to him by his wife, Eve (Genesis 3: 1-6). We feel the consequences of that disobedience today. The Apostle Paul said, "Through one man sin entered into the world, and death through sin; and so death spread to all men, for all have sinned" (Romans 5:12). There is no doubt that the man we are talking about here is Adam. But what sin did he commit and why did it lead to death?
Deliberately breaking God's commandments is a sin (1 John 3: 4). Adam did just that. The punishment for that sin is death, just as God said. As long as Adam and his descendants were obedient to God, they would not die. So, God did not create people to die like that, but to live forever.
It is obvious that "death has spread to all people," as stated in the verse just mentioned. But does any intangible part of us continue to live after the death of the body? Many believe that. However, that would mean that God lied to Adam when he said that he would die if he tasted the fruit. If after death some part of us continues to live in another world, then death is no punishment for sin.
But Scripture says, "It is impossible for God to lie" (Hebrews 6:18). In fact, it was Satan who lied when He said to Eve, "Surely you will not die" (Genesis 3: 4). So, the belief that we continue to live somewhere after death is based on lies.
We Hope You Liked Our Post On Bible Verses For Encouragement. All of the pictures have a share option on hover. Feel free to spread the word on Social Media. Thank You.
---