Short Prayer For Healing And Recovery [+ Spiritual IMAGES]
Awesome Spirit-Cleansing Short Prayer For Healing And Recovery When You Need Devine Help To Get Well Fast. All Prayers Comes With Beautiful Images. You Can Use Them For Social Sharing.
I am often scared when I need to pray for someone's healing. I worry that if I say sinful words or I do not have enough faith or I do not put my hands on my family or friends, God will not heal them. Praying for the health of a family member or a friend should be a simple thing, but I am so scared that I would rather not put my hands on anyone or open my mouth.
In ancient times, when this happens, I have to stop and say, "Since when has the burden of healing been on the one who prays or on the sick person, instead of on our great, merciful God?"
*If you are using our images on your website, make sure to put a link back to us. THX.
---
Short Prayer For Healing And Recovery For Someone
Loving God, I pray that you will comfort me in my suffering, lend skill to the hands of my healers, and bless the means used for my cure | Enriching Our Worship 2
---
Lord, look upon me with eyes of mercy. May Your healing hand rest upon me, may Your life-giving powers flow into every cell of my body and into the depths of my soul | Cope by Faith
---
Lord, please heal my broken heart. Fill me with the peace and joy I know can only come from You during this hard time | Unknown
---
Dear God, I know that the first step in all spiritual healing is to believe. I believe! I open my mind and heart believing in your infinite power and possibility | Unknown
---
Jesus, with just one touch from your Almighty creative hand, You have healed the sick and raised the dead. How amazing is your Lordship over all the earth, how powerful is your redeeming love | Unknown
---
Lord Jesus, you are the master of life and death. Everything I have is yours, and I love you very deeply | Unknown
---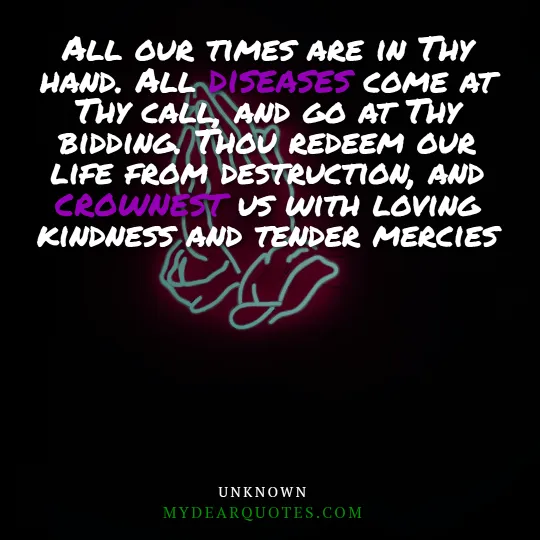 All our times are in Thy hand. All diseases come at Thy call, and go at Thy bidding. Thou redeem our life from destruction, and crownest us with loving kindness and tender mercies | Unknown
---
Worship the Lord your God, and his blessing will be on your food and water. I will take away sickness from among you | Exodus 23:25
---
Short Prayer For Healing And Recovery For A Friend
---
Heal me, O lord, and I shall be healed, save me, and I shall be saved; for you are my praise | Jeremiah 17:14
---
He sent out his word and healed them; he rescued them from the grave. Let them give thanks to the Lord for his unfailing love and his wonderful deeds for mankind | Psalm 107:20-21
---
Lord, You still perform miracles today, and I praise You for Your promises of healing and restoration. Today, I claim those promises for my friend
---
Dear Lord, I ask You to be kind to me as I suffer, to strengthen the hands of my healers, and to bless how they treat me
---
By your faithfulness in suffering, Lord Jesus Christ, You've given us a perfect example of obeying Your Father's will. My Lord and my God, help me in times of weakness and pain
---
Lord, it seems as if my world has collapsed, hurling me into a deep, dark pit. I come to you in complete surrender. I am desperate for you, helpless and afraid. Please lift me out of this pit and show me the way, Lord | Mary Southerland
---
Almighty God, you are the only source of health and healing. In you there is calm, and the only true peace in the universe. Heal me, my dear God | The Nazarene
---
Short prayer for healing and recovery for a family member
---
Father, help me get my focus back on you. I know I need to stop dwelling on my hurts and frustrations. Help me be faithful in prayer and put my hope in you
---
Lord, I come before you today in need of your healing hand. In you all things are possible. Hold my heart within yours, and renew my mind, body, and soul
---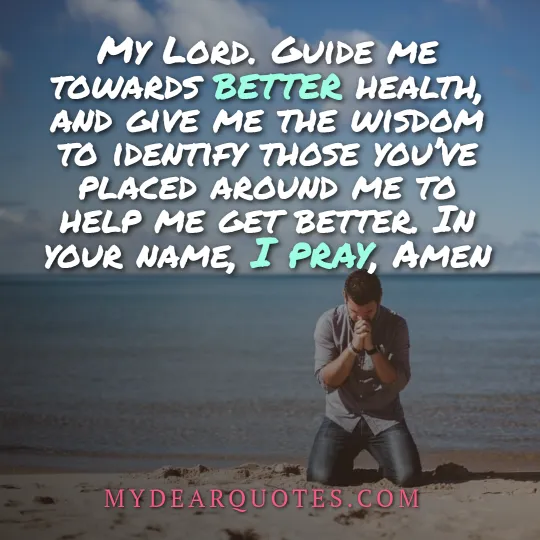 My Lord. Guide me towards better health, and give me the wisdom to identify those you've placed around me to help me get better. In your name, I pray, Amen
---
We, therefore, pray that You bless our friend with Your loving care, renew his strength, and heal what ails him in Your loving name
---
Lord, Your scripture says that you heal all diseases and whoever believes in You will not perish but have everlasting life. Strengthen me, Lord, in this time of illness
---
I thank you in advance for the healing and recovery that is going to take place. Thank you for being the ultimate healer and restorer over our physical bodies
---
Father God, many of us need healing. I need healing for past hurts, random physical pains that I allow to waylay my days and Spiritual healing for various reasons | Dawn Mast
---
More Prayers From Us
THE LORD'S PRAYER
Angel Of God Catholic Prayer
Salve Regina Prayer
Niebuhr`s Serenity Prayer
Recovery Prayers From The Bible
---
Dear Lord, I come humbly before You asking You to heal me in every area of my life. I give You my heart in faith that You can make me whole praise Your name
---
God, you know me so well. You created me. I'm coming to you today as your child, longing to hear from you and asking for your divine healing
---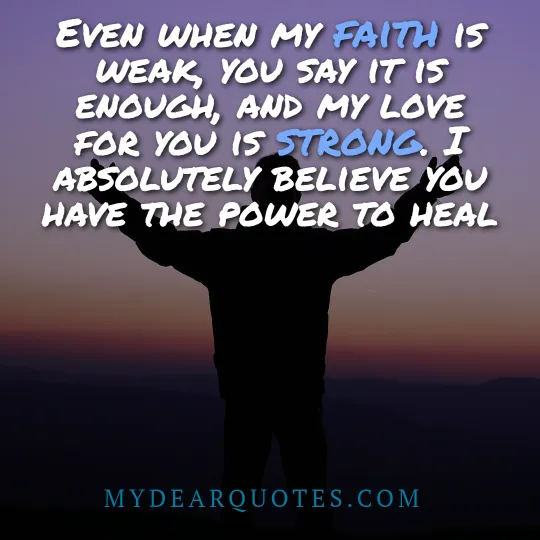 Even when my faith is weak, you say it is enough, and my love for you is strong. I absolutely believe you have the power to heal
---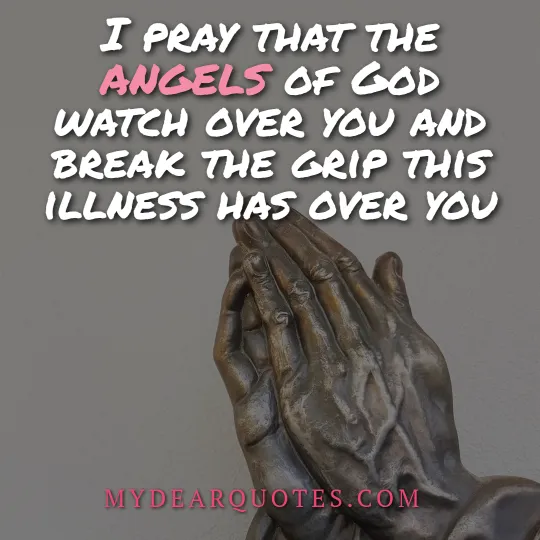 I pray that the angels of God watch over you and break the grip this illness has over you
---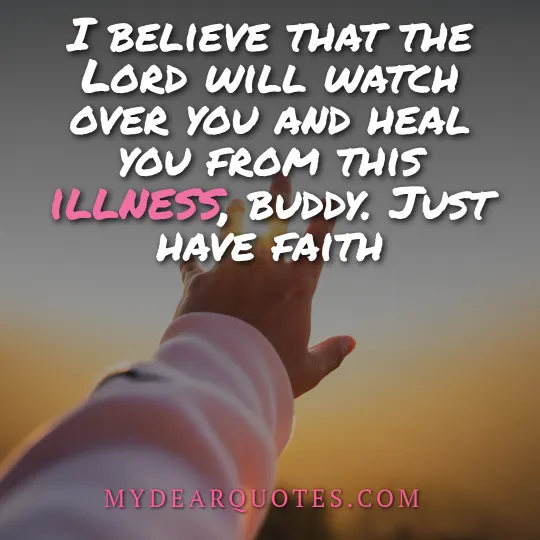 I believe that the Lord will watch over you and heal you from this illness, buddy. Just have faith
---
More than ever I find myself in the hands of God. It is indeed a profound spiritual experience to know and feel myself so totally in God's hands
---
Holy Spirit, drive away from me all forms of sickness and disease. restore strength to my body and joy to my spirit
---
Your love has held me and kept me through this suffering. Now may your hope and healing lead me quickly to a place of restoration
---
This is where our short prayer for healing and recovery ends. We hope that you liked it. If you did, share on Social Media.
---