Funny Confucius Quotes [Satirical]
Funny Confucius Quotes That Are Made up But Also Very Popular. He Is One Of The Most Recognized Philosophers In History. He Lived In China In 5 Century A.D. As I Said, These Quotes Are Made Up, But I Think That You Will Find Them Very Funny. Also, Above The Quotes There Are Beautiful Images For Social Sharing.
*If you are using our images on your website, make sure to put a link back to us. THX.
Confucius Says Funny
---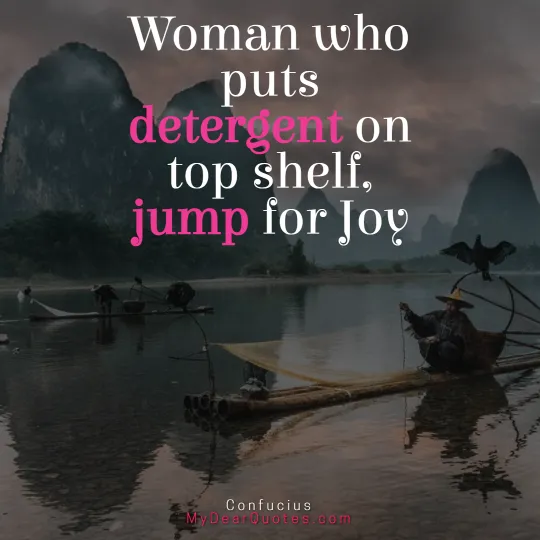 Woman who puts detergent on top shelf, jump for Joy
---
He who places head in sand, will get kicked in the end
---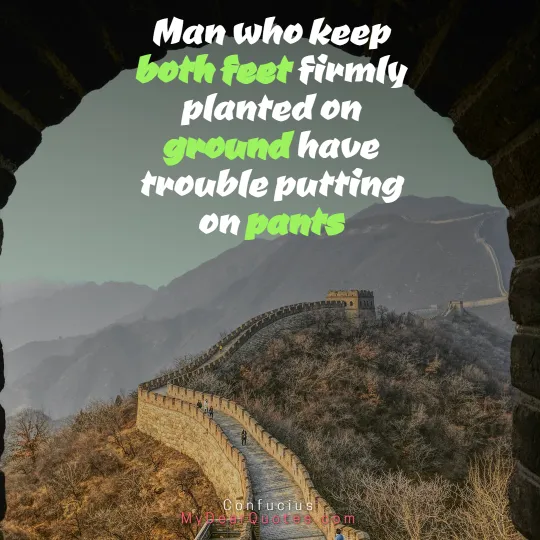 Man who keep both feet firmly planted on ground have trouble putting on pants
---
If you want a pretty nurse, you got to be a patient
---
A butler with no teeth is called an indentured servant
---
Man who was a dude before marriage is now subdued
---
Foolish man give wife grand piano, wise man give wife upright organ
---
He who eats too many prunes, sits on toilet many moons
---
Confucius Says Funny Quotes
---
Man who put head on Railroad track to listen for train likely to end up with splitting headache
---
Banker who sits in freezer, will have frozen assets
---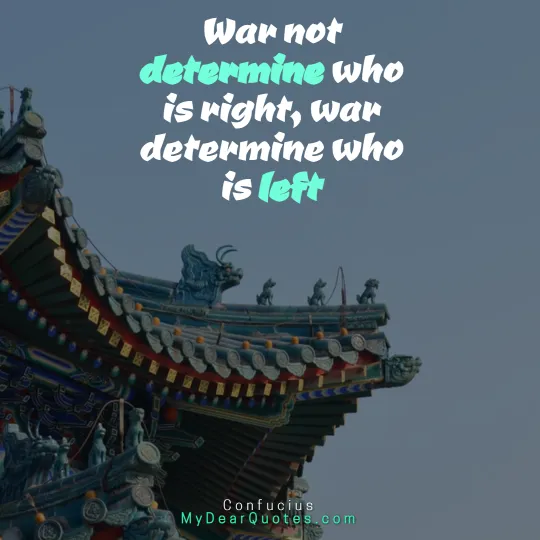 War not determine who is right, war determine who is left
---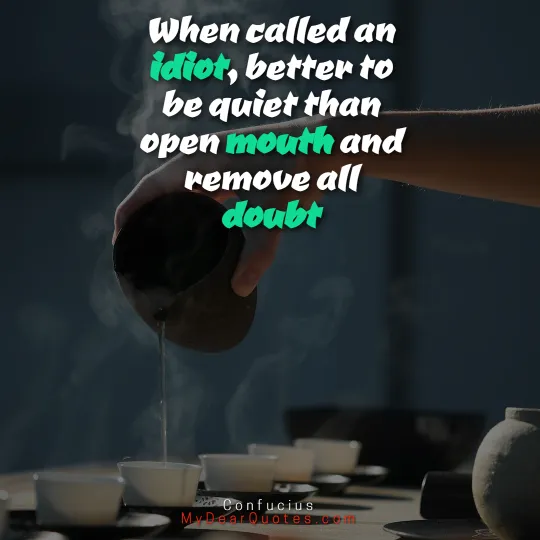 When called an idiot, better to be quiet than open mouth and remove all doubt
---
Man who pushes piano down mineshaft get tone of A flat miner
---
Marriage is like game of poker. You start with pair and end with full house
---
Man who lay girl on hillside is not on the level
---
Confucius Joke Quotes
---
Woman who sink in man's arms, soon have arms in man's sink
---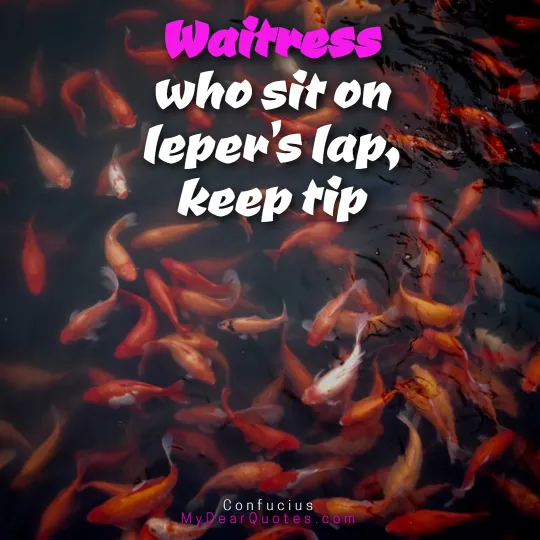 Waitress who sit on leper's lap, keep tip
---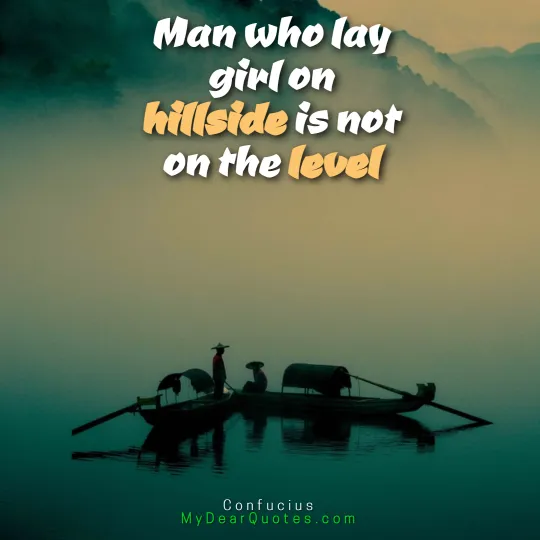 Man who lay woman on hillside is not on the level
---
Man who leap off cliff, jump to conclusion
---
Man who sneeze without tissue takes matter in own hand
---
Man with hole in both pockets does not feel too cocky
---
Passionate kiss, like spider web, leads to undoing of fly
---
Searching For Different Quotes?
QUOTES ABOUT TAKING CHANCES IN LIFE
GREAT ARISTOTLE QUOTES ABOUT EXELLENCE
COMFORTING QUOTES FOR DEATH AND LOSS
More Funny Jokes And Sayings
---
Girl who sit on lap of judge, get honorable discharge
---
Drunk man's words are a sober man's thoughts
---
Baby conceived in back seat of automatic car grow up to be shiftless
---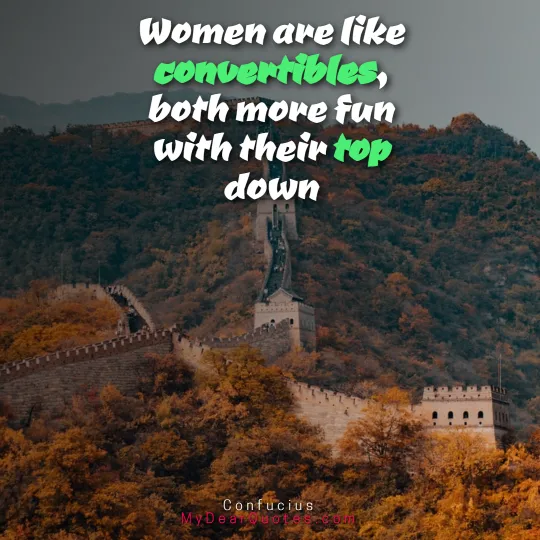 Women are like convertibles, both more fun with their top down
---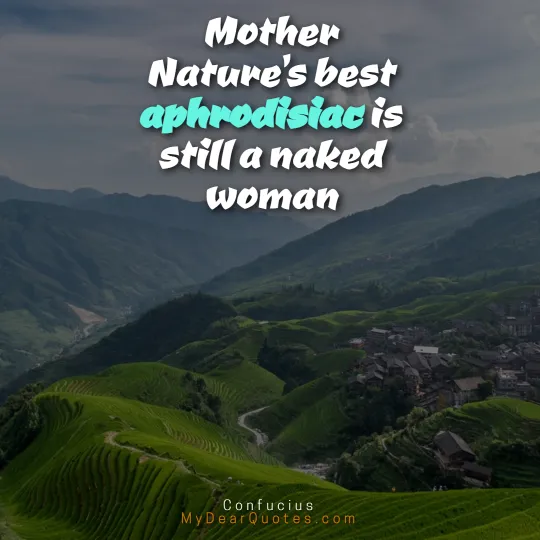 Mother Nature's best aphrodisiac is still a naked woman
---
Man with hand in bush not necessarily trimming shrubs
---
Man with hard problem usually give it to woman
---
Optimist is a man who hasn't had many experiences yet
---