30+ Bible Verses For Overwhelming Times
Bible Verses For Overwhelming Times and in need of God`s strength and guidance. All quotes have beautiful images that you can use for social sharing.
*If you are using our images on your website, make sure to put a link back to us. THX.
POWERFUL ADVICE FROM ANCIENT GREEK PHILOSOPHERS ABOUT OVERWHELMING TIMES
Develop an awareness of your own values
We control nothing, except ourselves
Free your emotions
Stop and take a deep breath
Cognitive distancing
Making a big deal out of nothing
Negative visualization
Control over unhealthy desires
Strength through experience
Getting rid of excessive connection for external factors
Overwhelming Times Bible Verses
God is our refuge and strength, a very present help in trouble | Psalms 46:1
---
But they that wait upon the Lord shall renew their strength; they shall mount up with wings as eagles; they shall run, and not be weary; and they shall walk, and not faint | Isaiah 40:31
---
The Lord is my rock, and my fortress, and my deliverer; my God, my strength, in whom I will trust; my buckler, and the horn of my salvation, and my high tower | Psalms 18:2
---
Therefore did my heart rejoice, and my tongue was glad; moreover also my flesh shall rest in hope | Acts 2:26
---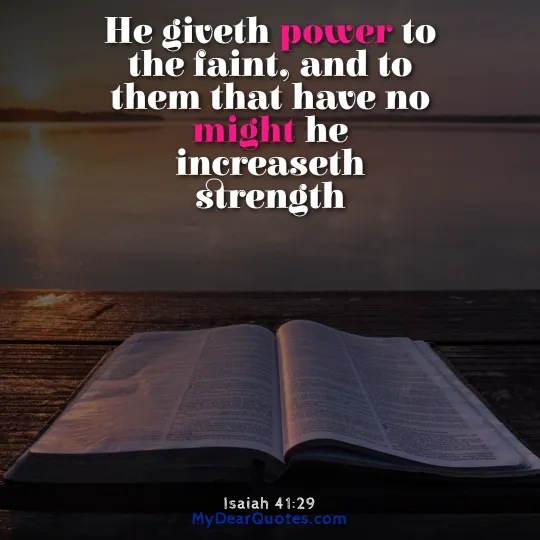 He giveth power to the faint, and to them that have no might he increaseth strength | Isaiah 41:29
---
Now the Lord of peace himself give you peace always by all means. The Lord be with you all | 2 Thessalonians 3:16
---
Cast they burden upon the Lord, and he shall sustain thee: he shall never suffer the righteous to be moved | Psalms 55:22
---
How excellent is they lovingkindness, O God! Therefore the children of men put their trust under the shadow of thy wings | Psalms 36:7
---
Bible Verses When You Feel Overwhelmed
---
But the Lord is faithful, who shall stablish you, and keep you from evil | 2 Thessalonians 3:3
---
Behold, the eye of the Lord is upon them that fear him, upon, upon them that hope in his mercy | Psalms 33:18
---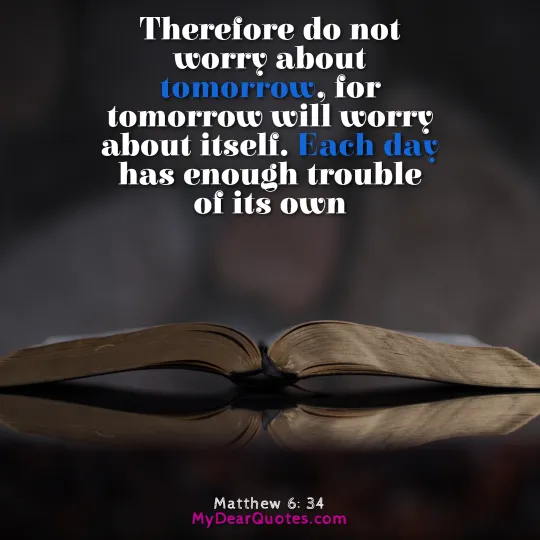 Therefore do not worry about tomorrow, for tomorrow will worry about itself. Each day has enough trouble of its own | Matthew 6: 34
---
Your word is a lamp for my feet, a light on my path | Psalm 119: 105
---
I praise you because I am fearfully and wonderfully made; your works are wonderful, I know that full well | Psalm 139: 14
---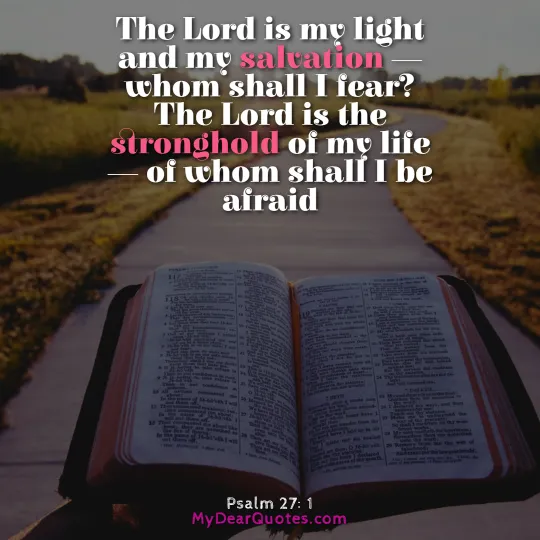 The Lord is my light and my salvation — whom shall I fear? The Lord is the stronghold of my life — of whom shall I be afraid | Psalm 27: 1
---
Let us not become weary in doing good, for at the proper time we will reap a harvest if we do not give up | Galatians 6: 9
---
Scriptures For Overwhelming Times
---
So don't worry about tomorrow, for tomorrow will bring its own worries. Today's trouble is enough for today | Matthew 6:34
---
No one will be able to stand against you all the days of your life. As I was with Moses, so I will be with you; I will never leave you nor forsake you | Joshua 1:5
---
I consider that our present sufferings are not worth comparing with the glory that will be revealed in us | Romans 8:18
---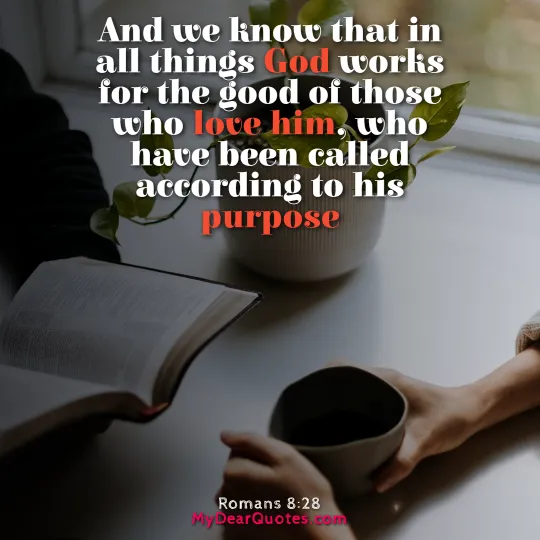 And we know that in all things God works for the good of those who love him, who have been called according to his purpose | Romans 8:28
---
The Lord is with me; I will not be afraid. What can mere mortals do to me? | Psalm 118:6
---
I will not fear though tens of thousands assail me on every side | Psalm 3:6
---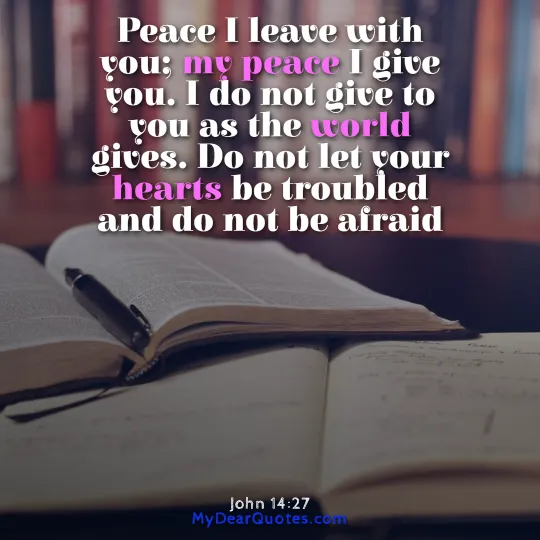 Peace I leave with you; my peace I give you. I do not give to you as the world gives. Do not let your hearts be troubled and do not be afraid | John 14:27
---
More Bible Verses
UPLIFTING SCRIPTURES FROM THE BIBLE
FOR GOD SO LOVED THE WORLD SCRIPTURE
Bad Times Bible Quotes
---
They are new every morning; great is your faithfulness | Lamentations 3:23
---
For the Lord your God is the one who goes with you to fight for you against your enemies to give you victory | Deuteronomy 20:4
---
Stand firm, and you will win life | Luke 21:19
---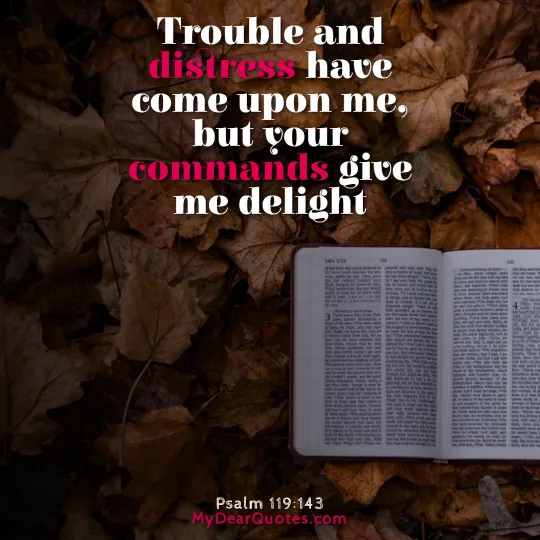 Trouble and distress have come upon me, but your commands give me delight | Psalm 119:143
---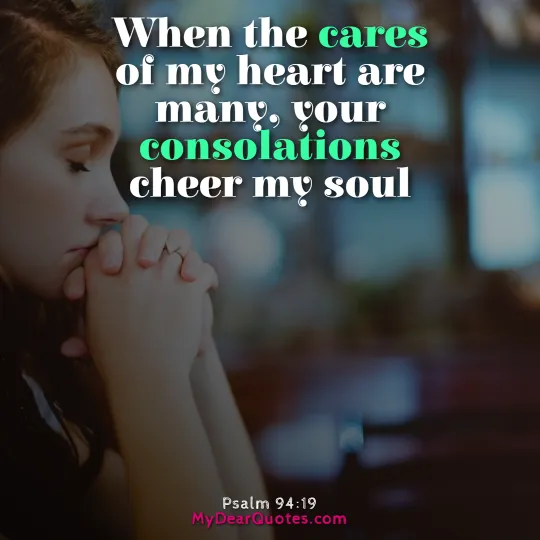 When the cares of my heart are many, your consolations cheer my soul | Psalm 94:19
---
Cast your burden on the Lord, and he will sustain you; he will never permit the righteous to be moved | Psalm 55:22
---
The name of the LORD is a strong tower; the righteous man runs into it and is safe | Proverbs 18:10
---
I lift up my eyes to the hills. From where does my help come? My help comes from the LORD, who made heaven and earth | Psalm 121:1–2
---

How To Stay Happy In Overwhelming And Hard Times
Divert your thoughts
It is easy to fall into a state of constant thinking and dealing with a topic that disturbs us, whether it is a pandemic, a state of emergency, or what will happen next. Or something else. But, preventing thoughts from constantly returning to that topic, that is, preventing rumors about stressful events by drawing attention to something else, can significantly lower the pressure and return it to normal values ​​faster.
If you meditate, keep in mind that it does not help everyone
In overwhelming times like these, meditation would help many. But it may not help others at all – just for the previous reason. For some, exercising calm can simply be a trigger for rumination (repetitive thoughts).
Turn the situation around
How we interpret our emotions largely depends on the context. For example, in his book "Happiness", Darren Brown gives the example of a tennis player who enters a match with the imperative of the thought "I have to win". If he sets the expectation that victory is everything, and the player starts to lose, it will feel like a failure.
Don't be obsessive about being positive or happy
This may seem constructive: it may turn out to be a bad idea to chase positive emotions. Actively pursuing happiness can have the opposite effect.
Focus on the little things
It is wise to spend less time trying to be happy and focus on the little things that make us happy. Please answer the following six questions, a task that lasts about ten minutes can help us find more happiness in life.
What experiences, even everyday ones, make you happy?
What compliments and feedback did you receive?
What were those moments of pure happiness?
What are your achievements, no matter how small?
What made you feel grateful?
How did you show kindness?
Balance the time you spend on social media
Social networks are full of bad news, but for many, it is a key way to stay informed, but also connected with friends and loved ones. Keeping your phone out of the bedroom, or limiting the time you spend without technology, can help balance the pros and cons of social media.
If you liked our Bible Verses For Overwhelming Times, share them on social media.
---