28+ Uplifting Bible Verses For You
Powerful Uplifting Bible Verses To Lift Your Spirit And Help You Understand That God Will Always Be on Your Side. All Of The Verses Come With Great Images That You Can Use Them For Social Share Or Send To A Friend That Has A Tough Time.
Bible Verses can be an encouragement to you in times of sorrow, loss, grief, sorrow, or helplessness. The Holy Book has many inspirational paragraphs which can strengthen your mind and give you the strength to make the day.
The second chapter of Timothy 3:16 tells us that the Holy Book was inspired by God, that it is useful for the study, training, and training of the prophet. The Bible was written by people, who were inspired by God.
There is no better inspiration than the Creator! If you are looking for motivation, encouragement, comfort, or peace, you need to be better than others. You will be greatly blessed with a better life.
*If you are using our images on your website, make sure to put a link back to us. THX.
---
Uplifting Scriptures from The Bible
In the world you will have tribulation. But take heart; I have overcome the world | John 16:33
---
So do not fear, for I am with you; do not be dismayed, for I am your God. I will strengthen you and help you; I will uphold you with my righteous right hand | Isaiah 41:10
---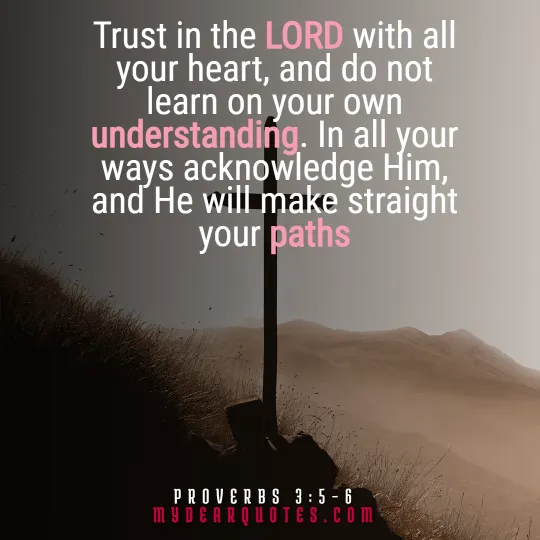 Trust in the LORD with all your heart, and do not learn on your own understanding. In all your ways acknowledge Him, and He will make straight your paths | Proverbs 3:5–6
---
He will wipe away every tear from their eyes, and death shall be no more, neither shall there be mourning, nor crying, nor pain anymore, for the former things have passed away | Revelation 21:4
---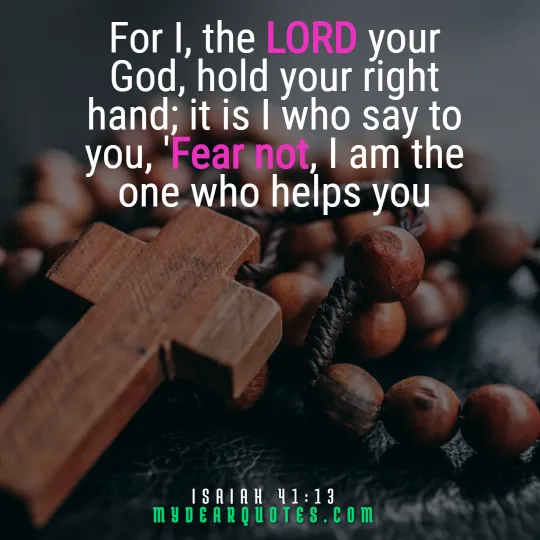 For I, the LORD your God, hold your right hand; it is I who say to you, 'Fear not, I am the one who helps you | Isaiah 41:13
---
He only is my rock and my salvation, my fortress; I shall not be shaken | Psalm 62:6
---
But they who wait for the Lord shall renew their strength; they shall mount up with wings like eagles; they shall run and not be weary; they shall walk and not faint | Isaiah 40:31
---
Short Encouraging Bible Verses
---
What then shall we say to these things? If God is for us, who can be against us? | Romans 8:31
---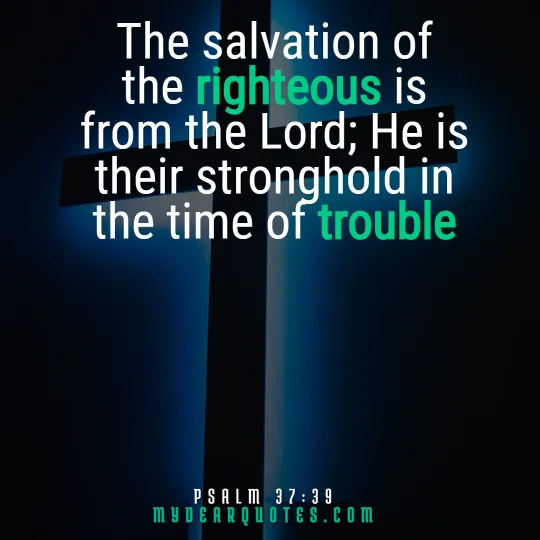 The salvation of the righteous is from the Lord; He is their stronghold in the time of trouble | Psalm 37:39
---
Be watchful, stand firm in the faith, act like men, be strong | 1 Corinthians 16:13
---
Be strong and take heart, all you who hope in the Lord | Psalm 31:24
---
I lift up my eyes to the mountains — where does my help come from? My help comes from the Lord, the Maker of heaven and earth | Psalm 121:1-2
---
Be on your guard, stand firm in the faith, be courageous, be strong | 1 Corinthians 16:13
---
Therefore encourage one another and build each other up, just as in fact you are doing | 1 Thessalonians 5:11
---
Uplifting Bible Quotes
---
For just as we share abundantly in the sufferings of Christ, so also our comfort abounds through Christ | 2 Corinthians 1:5
---
Cast your burden on the LORD, and he will sustain you; he will never permit the righteous to be moved | Psalm 55:22
---
The Lord is a refuge for the oppressed, a stronghold in times of trouble | Psalm 9:9-10
---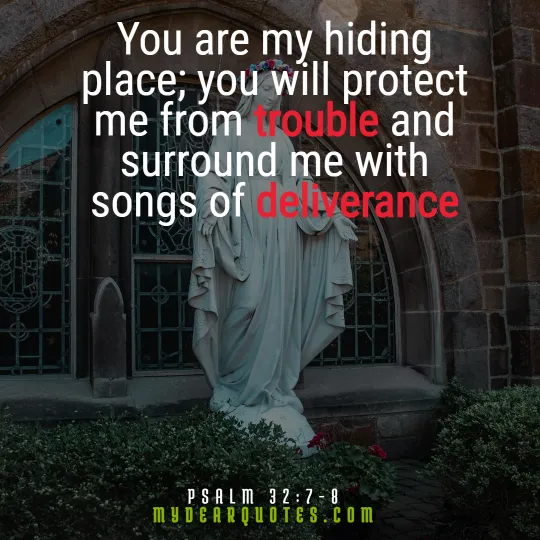 You are my hiding place; you will protect me from trouble and surround me with songs of deliverance | Psalm 32:7-8
---
Sing for joy, O heavens, and exult, O earth; break forth, O mountains, into singing! For the Lord has comforted his people and will have compassion on his afflicted | Isaiah 49:13
---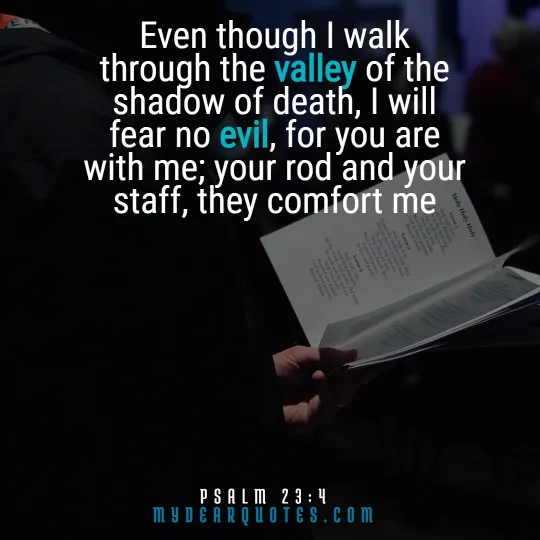 Even though I walk through the valley of the shadow of death, I will fear no evil, for you are with me; your rod and your staff, they comfort me | Psalm 23:4
---
And he said to me, "It is done! I am the Alpha and the Omega, the beginning and the end. To the thirsty I will give from the spring of the water of life without payment | Revelation 21:6
---
Other Verses And Scriptures from the bible From Us
Scriptures On Peace From The Bible
Communion Scripture With Pictures
Words Of Encouragement Bible Verses
---
So we do not lose heart. Though our outer self is wasting away, our inner self is being renewed day by day | 2 Corinthians 4:16
---
And there is salvation in no one else, for there is no other name under heaven given among men by which we must be saved | Acts 4:12
---
The Lord is good, a stronghold in the day of trouble; he knows those who take refuge in him | Nahum 1:7
---
As for me, I will always have hope; I will praise You more and more | Psalm 71:14
---
For whatever things were written before were written for our learning, that we through the patience and comfort of the Scriptures might have hope | Romans 15:4
---
And we know that in all things God works for the good of those who love Him, who have been called according to His purpose | Romans 8:28
---
'The LORD is my portion,' says my soul, 'therefore I hope in Him!' | Lamentations 3:24
---

How Does Heaven Look?
What does heaven look like and is it a real place? In the Bible, the word "heaven", is mentioned 276 times in the New Testament. Heaven is a real place and is ordained as a beautiful place of worship for those who believe in Christ as their Father.
How will it be in heaven according to the Bible? The view of heaven is somewhat mentioned by Apostle Paul, who said that he "ascended to the third heaven", but did not dare to say what he saw there (2 Corinthians 12: 1-9). If there is a third Heaven, what are the first two?
First, Second, And Third Heaven
Scientists believe that the first heaven, that is, what it also calls the sky or the celestial water, is the rotor that holds the clouds, that is, the atmosphere that rises above the Earth. The second heaven refers to what we call the "universe" or the birthplace in which the stars and galaxies are found (Genesis 1: 14-18).
The third heaven, which Paul did not dare to say, is the place where God lives with Angels and Christian souls, the place which God prepared for us (John 14: 2). Apostles from the Old Testament also live there, believing in God's promise of eternal glory (Ephesians 4: 8).
If you liked our Uplifting Bible Verses, smash that share button.
---