Blessed Good NIGHT TIME PRAYERS With Images
Super Special Night Time Prayers With Images To End Your Day Thanking God For Everything That He's Provided For You Today. We really hope you gonna like the prayers we have selected for you.
In our time, man communicates with the Lord only when he needs something. At every other moment, he simply forgets the existence of God or does not believe in him at all. However, if there is a life shock or a person gets sick, he immediately remembers God and asks him to help. Such an algorithm is in itself wrong, for man should always be grateful to the Lord, regardless of material wealth, health, or mood.
Many troubles, catastrophes, and accidents happen in the world because man begins to forget his connection with God. If you forget the Lord or rebuke Him for lack of support, you can completely lose the Lord's attention. Therefore, it is important to always be in touch with God and be sure to read our night time prayers.
Sleep prayers are usually very short, but extremely effective and efficient. With its help, you can put your thoughts in order, as well as protect yourself from many diseases, accidents and failures.
*If you are using our images on your website, make sure to put a link back to us. THX.
---
Night Time Prayers For Family
Dear Lord, please help me trust You and empower me through Your Spirit to stop my emotions from bossing me around. I want to quit worrying about what might happen and focus on what has already happened by remembering and praising You for Your faithfulness in my life. In Jesus' Name, Amen
---
Lord, I've shouldered my cares as if I'm the one in control. Help me become like a child, handing all my stresses, worries and responsibilities to You, my faithful Father. I trust You. In Jesus' Name, Amen
---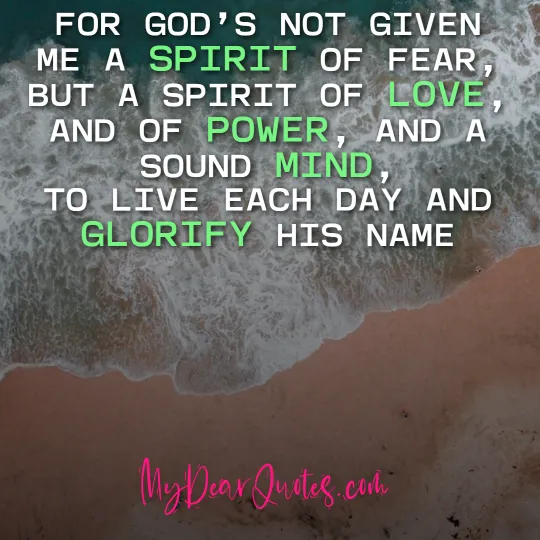 For God's not given me a spirit of fear, But a spirit of love, and of power, and a sound mind, to live each day and glorify his name
---
Dear Jesus, teach me to daily lay my burdens at your feet. Show me I can trust in your loving care. Grant me, your beloved, the nourishing blessing of rest and peaceful sleep
---
Dear God, I'm realizing it's not my curse that I believe I'm not enough; it's my sin that I keep trying to be. Thank You for the reminder that life with You means I can rest, and I have nothing to prove. Will You continue to show me Your freedom, Your power and my need to stop striving to please You and instead just live life with You? In Jesus' Name, Amen
---
I lay down and slept, yet I woke up in safety, for the Lord was watching over me
---
Whoever dwells in the shelter of the Most High will rest in the shadow of the Almighty
---
Lord, you have blessed me beyond my comprehension, you have given me a firm footing, you have placed me ahead, but I have still doubted. Forgive me for the areas, when I felt I could think beyond the goodness of your plan for me. Forgive me for the times when I have left the safety of your rest and have wandered through life in my own understanding
---
Bedtime prayers catholic
---
Beloved Shepherd of our souls and bodies, you never slumber nor sleep. Spread your holy protection over us and cover us with your mighty wings, that no terrors of the night may disturb us, and let your divine majesty watch over our minds while we sleep; through Jesus Christ our Lord. Amen.
---
O Lord God, grant your peace to us, for you have supplied us with all things — the peace of rest, the peace of the Sabbath which has no evening; through Jesus Christ our Lord
---
Heavenly Father, I want to thank you for the many blessings that you have given me today. Thank you for your love and protection. Thank you for watching over my family and me throughout the day. Lord, I ask you to watch over us throughout the night too. Keep us safe from any evil that the enemy has planned against us this night. In Jesus' name, I believe and pray, Amen
---
Lord, bless my family and me this night with quality sleep. May we wake up tomorrow when we are fresh and rejuvenated. Bless our home and neighborhood and keep as safe. Cover us with your wings of love tonight and when we wake up tomorrow helps us to do so with joyful smiles. May all the glory come back to you Father, in Jesus' name I pray, Amen
---
Precious Father, I come before you tonight to ask you for forgiveness. There are so many things that I have done today that I am not proud of. Please forgive me, Lord, teach me your ways and hide your word in my heart that I may not sin against you when I wake up tomorrow. Deal with my heart tonight and help me to be light in a world that is full of darkness. Remove guilt from my heart and help me to sleep knowing that I am forgiven and restored, in Jesus' name, I pray, Amen
---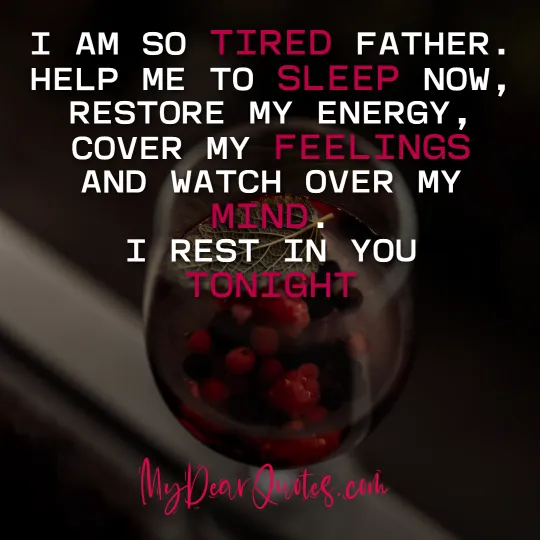 I am so tired Father. Help me to sleep now, restore my energy, Cover my feelings and watch over my mind. I rest in you tonight
---
Father, thank you that you care for me. In this moment, I recall all the times when you have been faithful to me, for you are a rock beneath my feet and a secure fortress around me. Come guard my heart, protect my mind and cover my whole being with your love. I place all my trust in you. Amen.
---
Blessing good night prayer
---
Heavenly Father we thank you for the day that is ending. You have given us what we need for today. We ask your blessings on us as we sleep, send us peaceful dreams. We do not know what tomorrow will bring us, but you do. Thank you for holding us in your hands and keeping us from harm. We love you and trust in your power. Amen.
---
I will trust in you, Lord. When the storms threaten, I trust; when worries attack me, I trust; if others betray me, I will trust in you. You will watch over me as I sleep. You will refresh me when I wake. I know you protect me always and that you are here beside me as I end my day. You love me, and I will trust in you to turn my sorrows to joy, my fear to resolve and to calm my anxious mind. Amen.
---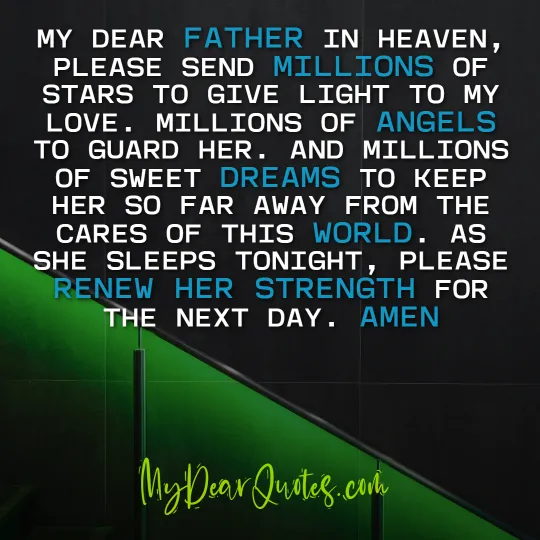 My dear Father in heaven, please send millions of stars to give light to my love. Millions of angels to guard her. And millions of sweet dreams to keep her so far away from the cares of this world. As she sleeps tonight, please renew her strength for the next day. Amen
---
Dear God, as my babe and I close our eyes to sleep tonight, I place our lives under your protection because I believe that You'll keep us safe through the night. Thank You for answering my prayers
---
God you give us lots of good things. Thank you for caring for us. Today has been a wonderful day. Thank you for my family and my friends. Thank you I could go outside to play. Please help me to do what is right, to listen and to obey. Let me dream of your wonderful world and all that tomorrow has in store for me. I love you Jesus, Amen
---
Lord Jesus Christ, you received the child­ren who came to you, receive also from the lips of your child this evening prayer. Shel­ter me under the protection of your wings that I may lie down in peace and sleep. Awaken me in due time that I may glorify you, for you alone are good and love all people
---
More Posts From Us
Affirmations For Women
God Is Good
Super Monday Blessings
Friedrich Nietzsche Sayings
Family protection night prayer
---
Theotokos virgin, hail most blessed Mary, the Lord is with you. Blessed are you among women, and blessed is the fruit of your womb, for you have given birth to the Savior of our souls
---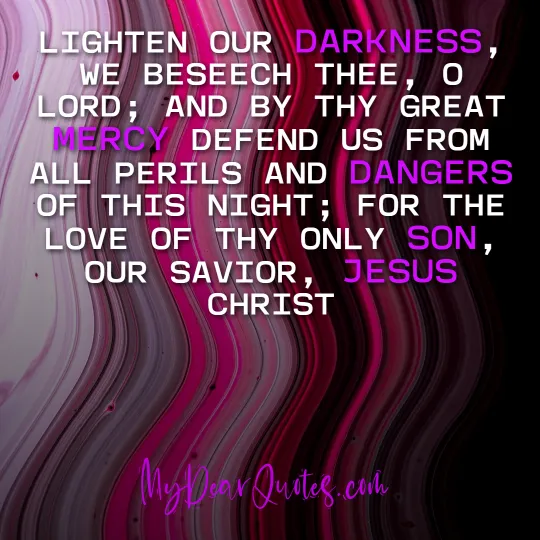 Lighten our darkness, we beseech thee, O Lord; and by thy great mercy defend us from all perils and dangers of this night; for the love of thy only Son, our Savior, Jesus Christ
---
Jesus Christ, my God, I adore You and thank you for all the graces You have given me this day. I offer You my sleep and all the moments of this night, and I beg of you to keep me without sin. Therefore, I put myself within your sacred care and under the mantle of your Holy Spirit. Let Your holy angels stand about me and keep me in peace, and let your blessing be upon me
---
Give me light in the season of night, I beseech you, O Lord, and grant that my rest may be without sin, and my waking to your service; that I may come in peace and safety to the waking of the great day; through Jesus Christ our Lord. Amen
---
Before I sleep tonight, I want to say a prayer for all the people – known to me and unknown to me – for whom this has been a special day of gladness or of grief, of trouble or of joy. Bless all the homes in which today life has ended or life has begun
---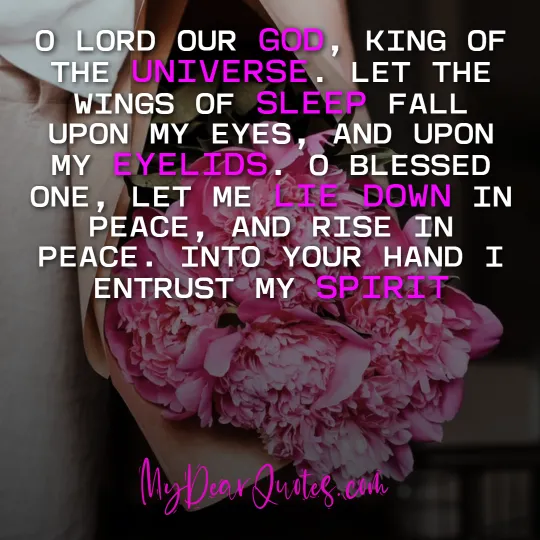 O Lord our God, King of the Universe. Let the wings of sleep fall upon my eyes, and upon my eyelids. O Blessed One, Let me lie down in peace, and rise in peace. Into Your hand I entrust my spirit
---
Lord God, Yours is a never-ceasing mercy. You called us when we were unworthy and for that I will forever remain thankful. You pulled me from the jaws of evil and brought me into Your loving closure for protection and peace. Thank you for your peace and protection. Take me safely through the night. I praise and glorify your name, Amen
---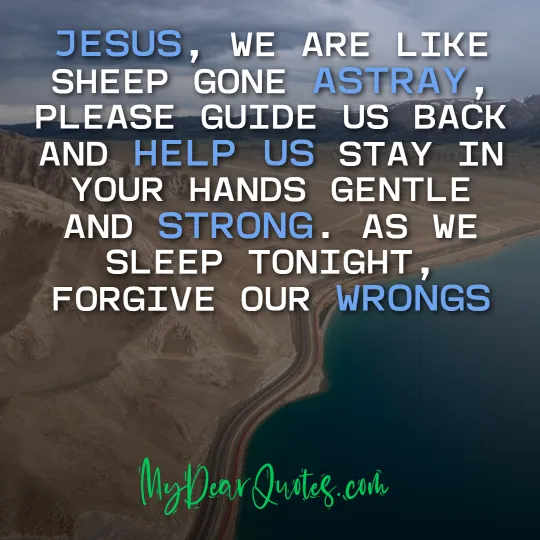 Jesus, we are like sheep gone astray, Please guide us back and help us stay In your hands gentle and strong. As we sleep tonight, forgive our wrongs
---
God of creation, I thank you for the night, thank you for the stars alight. Your blessings are many, and your mercy is great. Give us good rest as upon you we wait
---
The Power Of Night Time Prayers
The effective power of prayer has long been proven by well-known theologians, so it is impossible to doubt their meaning. But it should be borne in mind that it is necessary to pray not out of selfish motives (to get something from the Lord), but out of a pure heart because God always sees lies and there is no need to try to deceive Him.
For every Christian, prayer is a moment of communion with the heavenly Father. Crying out in prayerful humility to the Almighty, we open our hearts to him, to fill our bodies with His light and goodness. Night time prayers are one of the most important rituals that not only honors the Lord but allow us to analyze, look back on the past day and ask the Almighty for protection from bad sleep – calming the soul for the coming dream.
The Bible says that prayer is the duty of every Christian before God. Pray when you are awake, pray, go to sleep or start any business, and teach your child that, because our life is a gift of the Creator, for which he seeks only that small part. The duty of a pious layman is morning and evening prayer – this is the rule in which there is a source of wisdom.
This little sacrifice from you is enough to live under His protection, not knowing sorrow during the day and resting without fear at night. And if in the morning it is considered reasonable to devote a little more time to prayer, so that the blessing of the Lord will accompany the whole day, then, when you go to sleep, you can use night time prayers. In them, it is customary to utter words of gratitude for the past day and to mention your guardian angel for his patronage, seeking guidance in life. He is attached to the child, as a pure soul, so that the Lord will always have a place in his heart.
The post about Night Time Prayers ends here. We really hope you liked it. If you did, please spread the word on Social Media. Thank You.
---