Beautiful BABY Prayers For Protection [With IMAGES]
Our loving baby prayers will help you in times when you are seeking guidance and help from our Lord for your newborn baby.
When you bring a baby into this world, a new life of yours begins in a way; a stage in which you will forever love, cherish, and think of the wonders of God bestowed upon you.
The first days of meeting the child and the mother are interwoven with tenderness, touches, tears, the first magical glances of the two beings.
At the same time, you need more strength, both spiritual and physical. Bring prayer into the space you are staying with the child, into the new relationship you are building with him. It doesn't take much time, just a few sentences that came from a sincere heart are enough to bring you closer to Heavenly Father.
Bring to your child God to acquaint Him with the first breaths, to be breastfed with Him with your milk. The Creator is full of love. Is your child still a little reminiscent of Him?
It seems as if you can still smell a little Heaven on your newborn's hands. Here are suggestions for some prayer for a baby you can use with your newborn in the first days / moments you share with him.
*If you are using our images on your website, make sure to put a link back to us. THX.
---
PRAYER FOR A NEWBORN BABY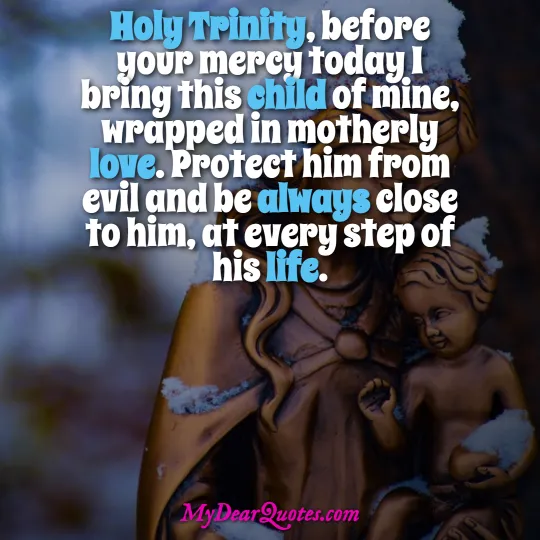 (You can pray by making the sign of the cross on the child's forehead with blessed water)

Holy Trinity, before your mercy today I bring this child of mine, wrapped in motherly love. Receive it as my most precious gift. Touch his being with your Spirit and bless him. May it grow in serenity, peace and the flight of discovering your beautiful world. Protect him from evil and be always close to him, at every step of his life. I pray this through Christ our Lord. Amen.
---
PRAYER FOR A BREASTFEEDING MOTHER

Most Holy Virgin, my Mother and Jesus, who nursed your Child in the cave of Bethlehem! Come close to me and my baby while I breastfeed him, while I adjust the flow of milk from the breast to his mouth. Please caress us and sprinkle us with the holy presence of God in these moments of blissful nourishment. I pray for the relaxation of the body, for the security of closeness, that with my milk this child may be nurtured by God. You, Mother, have mercy on him and bring him before the Face of God to feel Him in your innocence in this moment.
---
PRAYER FOR SHOWING DIFFICULTIES AND PAIN FOR A BABY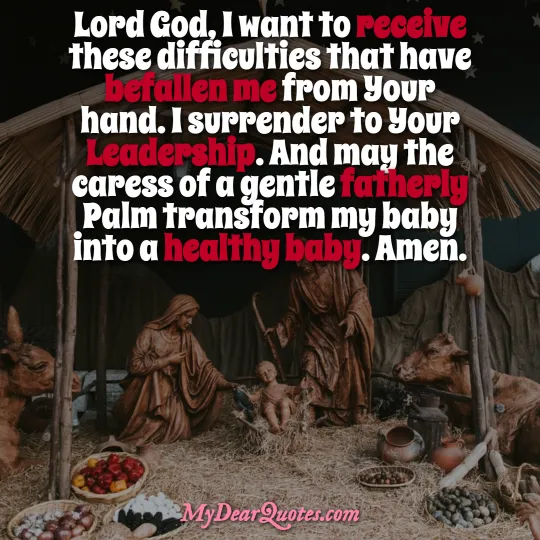 Lord God, I want to receive these difficulties that have befallen me from Your hand with all the humility and love with which You sent them to me. I believe that everything will be fine. I surrender to Your Leadership: may your Spirit heal my worries and anxieties. And may the caress of a gentle fatherly Palm transform my baby into a healthy baby. Amen.
---
PRAYER FOR CHILDREN WHO ARE NOT PRESENT
Lord God, it is wonderful to watch this newborn as he sleeps, as he sucks, as he breathes the first breaths of his life. But my heart is indivisible in love. Bless, please, the children I miss (bless each child by name). I show you my motherly longing for them as a prayer for their joy and fulfillment in life. Be close to them, send your angels to play with them and help them. Let them be good to those who care for them now. May the Blessed Virgin Mary make up for my lack. Let them grow into great people with a big heart filled with love for the Lord and the brother of man. Amen
---
PRAYER FOR MEDICAL STAFF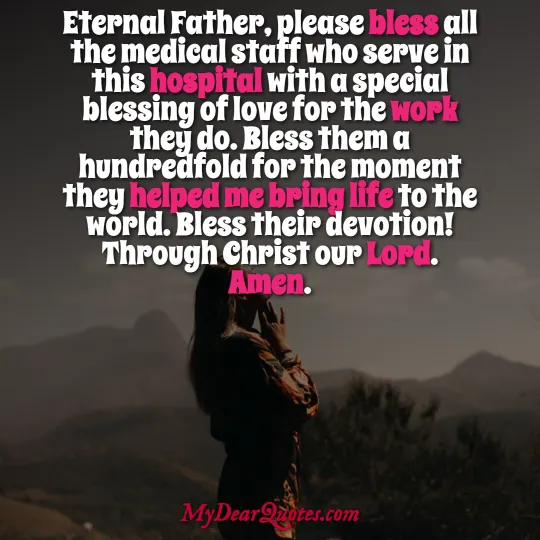 Eternal Father, please bless all the medical staff who serve in this hospital with a special blessing of love for the work they do. I pray for the nurses and doctors who participated in my birth. Bless them a hundredfold for the moment they helped me bring life to the world. I pray for all the nurses who are in this shift, give them the strength to endure the weight of work with compassion for every mother. Give doctors even more concentration and conscientiousness in their work. Bless their devotion! Through Christ our Lord. Amen.
---
PRAYER FOR A CHILD SEPARATED FROM THE MOTHER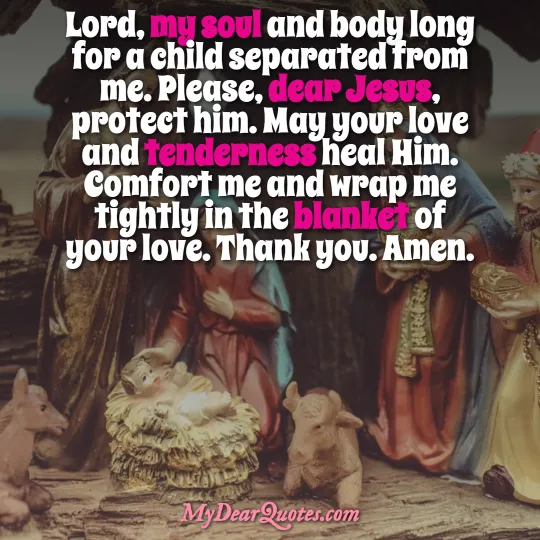 Lord, my soul and body long for a child separated from me. Please, dear Jesus, protect him. Put your gentle hand on Him and caress the area where it hurts. May your love and tenderness heal Him. Lord, it's hard for me. Comfort me and wrap me tightly in the blanket of your love. Thank you. Amen.
---
THANK YOU PRAYER FOR A NEWBORN BABY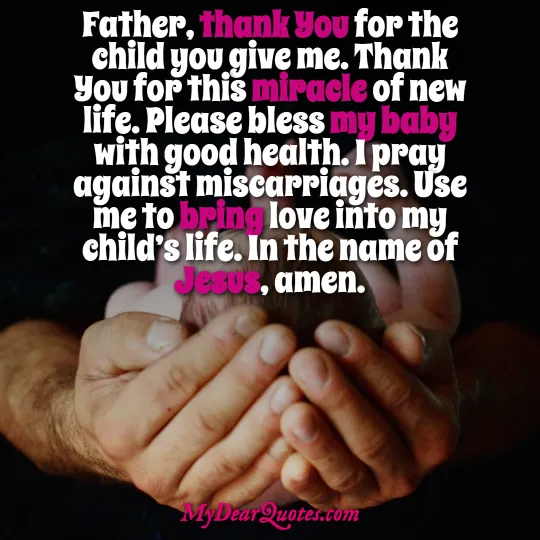 Dear Heavenly Father, thank You for the child you give me. Thank You for this miracle of new life. Please bless my baby with good health. Father, help me to feel physically well and eliminate any morning sickness or other difficulties. I pray against miscarriages. I know how common this is, but I believe you want me to have a healthy baby and that is why I am asking for Your blessing throughout my pregnancy. I know that love is the most important gift I can give to my baby, so help me to be a mother who sincerely loves. Use me to bring love into my child's life. In the name of Jesus, amen.
---
More prayers from our collection
SET ASIDE PRAYER FOR FAST RECOVERY
---
PRAYER FOR BABY'S BRAIN

Dear Lord, I pray for the development of my baby's brain. I pray that my baby has a healthy brain and grows normally, in accordance with your pregnancy plan. I ask that the cells multiply and grow and that the brain and spinal cord develop properly. Give my baby a strong spinal cord and a healthy mind. And since You said, "Whatever you ask in My name, I will do it" (John 14:13), I obey Your Word, asking You to bless the growth of my child and make him healthy and strong. Amen.
---
PRAYER FOR BABY'S HEART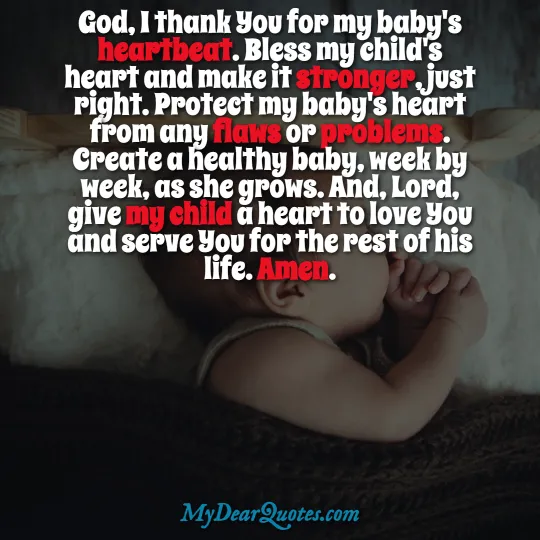 God, I thank You for my baby's heartbeat. Bless my child's heart and make it stronger, just right. Protect my baby's heart from any flaws or problems. Create a healthy baby, week by week, as she grows. And, Lord, give my child a heart to love You and serve You for the rest of his life. Amen.
---
PRAYER FOR BABY'S HANDS AND FEET

Dear Lord, I pray for the child's hands and fingers, feet and toes to grow and develop properly. I pray for the elbows and wrists that are also developing, to be good and strong and to bend as they should. Please bless my baby's hands and use them for the good of Your Kingdom. Help him to be diligent in his work and to have a pious character. Bless my child's feet so that he/she can go where You want, for Your service. I know that every good and perfect gift comes from above, and I acknowledge You as our Creator and God. I praise You for all that You have done and for all that You will do. In the name of Jesus, amen.
---
PRAYER FOR BABY'S EYES

God, I thank You for giving us spiritual insight through Your Word. I pray that my baby grows up to have a sharp spiritual vision. May He experience Your call to surrender His life to You at an early age. Open the eyes of her heart and enlighten her mind with your Word. I also ask that my baby's physical vision develop properly. If there is anything that threatens my child's vision, please cure it immediately and create the perfect retina, optic nerve, and perfect interpretation of the image in her brain. In Jesus' name I pray, amen.
---
PRAYER FOR BABY'S EARS

Dear Lord, I pray for the hearing of my developing baby. Give her perfect hearing with the proper functioning of the ears and inner parts of the ear. I also ask my child to hear and recognize Your voice. Give her spiritual ears to hear Your Word and carry it out in obedience. I ask that my child love Your voice and be sensitive to it. I also pray that my baby hears only good things coming out of my mouth. Help me to glorify You in word and deed. Amen!
---
PRAYER FOR BABY'S VOICE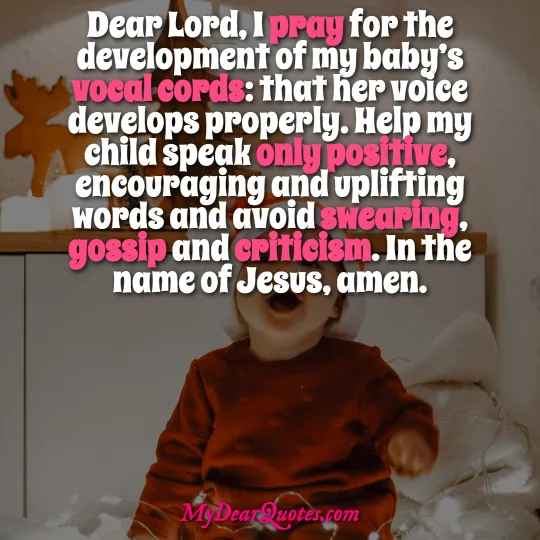 Dear Lord, I pray for the development of my baby's vocal cords: that her voice develops properly. Help in shaping her mouth, throat, larynx and trachea as you should. Help my child speak only positive, encouraging and uplifting words and avoid swearing, gossip and criticism. Help me too so that I may be a good example in pious speech. In the name of Jesus, amen.
---
All images from our Prayer for a baby post are shareable. So make sure to spread the word.
---